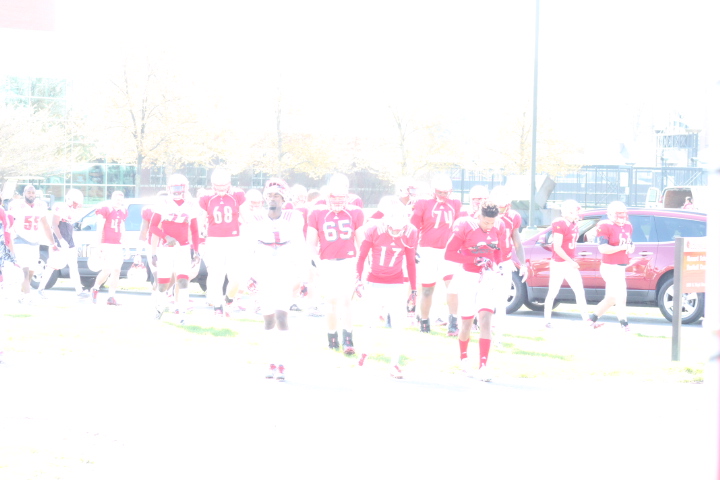 Yes in one week I have gone from showing me Louisville Football is back to just showing me something…
The one thing that Coach Strong established again quickly when he took over was confidence and a winning attitude. During his time at Louisville, he had his team believing they could play and beat anybody and anywhere. His teams were world beaters. We've got to get that confidence back.
I've seen the Cardinals finish just one season with that type of confidence/swagger since Coach Strong left. The 2015 group won 6 of the last seven games including that big win against A&M in the Bowl game. That group finished as world beaters. Hey Coach Satterfield stop giving me excuses and give me some of that.
I'm hoping that the game Friday night brings out more of a winning attitude and spirit from this team. I saw individual plays in the Syracuse game that showed some attitude but nothing as far as the team as a whole. We heard all offseason of a team refocused and a team committed to being better. They came out and did a belly flop. And not a very good one. It sure knocked the air out of me.
This game is another opportunity for this Louisville Football team to show me a winning attitude or any attitude at all. Just show me that you want to win more than I want you to win. Just show me something. Louisville Football fans are back in. We are talking the talk now it's time for that dog to bark. Or at least yap a little.
By my count, there are 16 guys on the Louisville roster from Florida. Not as many as it used to be but still a lot of dudes from that area. Families are going to be at this game. Grandma is going to be at this game. They are going to know guys on the UCF roster and there are going to be some rivalries playing out on the field.
Games against the Florida schools usually evoke special energy as a result of these personal connections and rivalries. If this team doesn't respond to this energy on Friday night this might become Chicken Littles Beak preview next week.
Instead of talking football this week, it was everyone telling their version of how this coaching staff and the team have put themselves behind the eight ball.
The Cardinals have lost 3 of their last 5 road games. Now they go on the road again to play a team that has won each of their last 8 at home and been one of the best home teams in the country over the last five years or so. UCF hasn't lost at home since November 2020 and looks to be on a path to another solid season.
UCF has a big-time playmaker at quarterback in Rhys Plumlee. He is completing 64.5 percent of his passes for 308 yards, 4 touchdowns, and 0 interceptions. He also leads the team with 86 yards and 1 rushing touchdown. The Louisville defense had no answer for the Cuse QB on Saturday. Don't know how they will contain this guy.
Monty Montgomery leads the Louisville defense coming in with 8 tackles along with Ashton Gillotte with 1.5 sacks. We are going to need to see other signs of life in this unit to contain Plumlee and the Gus Malzahn-led offense. You can bet he wants to score and score a lot.
Speaking of signs of life… Earth to Lance Taylor… Earth to Lance Taylor… 7 points brah? Coming into this season I had no worries about an offense that added two studs during the offseason. The Newcomers Tyler Hudson and Tiyon Evans each performed well in their UofL debut. Hudson caught eight passes for 102 yards, while Evans rushed 13 times for 89 yards, scoring the lone touchdown on a 36-yard rush in the first quarter.
While Malik was just over 150 yards passing with two interceptions and other contributors like Huggins-Bruce and Marshon Ford were a non-factor.
These guys can not be a nonfactor in this game. If we don't hear our studs names called repeatedly Louisville football will be headed to an 0-2 home opener against Florida State.
This Louisville team might come out like men possessed and still fall short in this game. UCF is that tough at home. But if they give me any type of sign that they believe in themselves it will be a start. We are still waiting for them to start something.
Show me a sign of life Friday night Louisville Football. Go Cards!

GOCARDS.COM COUNTDOWN TO KICKOFF