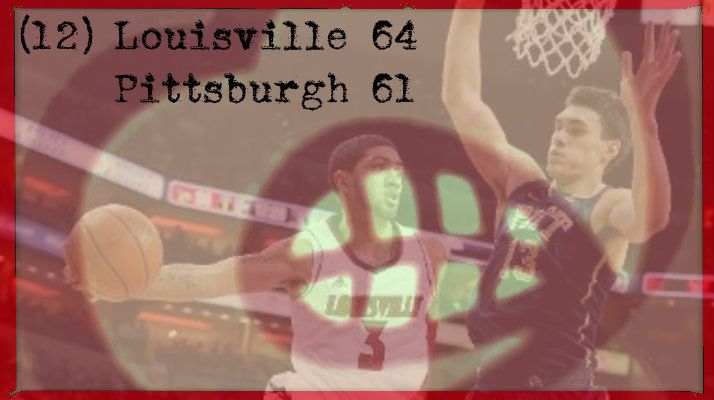 Our Louisville Cardinals got back to their winning ways Monday night. With a starter and a reserve out for the game the Cards got the monkey off their back beating Pittsburgh 64-61. Louisville has now won four straight over the Panthers, leading the all-time series 8-5 and are now 5-3 in the Big East.
When the polls came out early Monday afternoon the voters showed their confidence in the Cardinals. After their 3 game losing skid the Cards still received enough votes to remain just outside the top 10 ranked at 12 and 13 respectively. The Cards responded well to that confidence Monday night as they got back to doing the things that had them sitting at the top of those polls a few weeks ago.
It all starts with defense when you are talking about success with the Cards. And Monday night the defense did a good job at disrupting a very efficient Pitt offense. They forced them into taking quick shots at times and forced 15 turnovers with 7 steals. For much of the game the Cardinals didn't let Pitt get into any kind of offensive rhythm. Peyton Siva looked a lot more like himself as he was coming off screens, getting into creases and dishing it off to open teammates. He ended up with a very impressive 10 assist. Russ Smith was back to being "Russdiculous". He had that competitive ego back making athletic plays all over the court both defensively and offensively as he finished with 20 points. Gorgui Dieng looked as confident as I've seen him since coming back from his injury. He was very aggressive in the post and went blow for blow with a very tall and competitive Pitt front court. He had his 5th double-double of the season with 14 points and 12 rebounds. He also had 5 blocked shots. Luke Hancock is ranked 6th in 3 point field goal percentage in the Big East and we know he can shot the ball but tonight he showed that he could also play some solid defense making some great plays. He had 3 steals and played a very effective role in the press. Chane Behanan seemed to have some of his swagger back as he was hitting the boards and making plays in the paint. He scored 12 points and grabbed 5 boards. The bench scored 11 points with Montrezl Harrell again leading the way with 8 points. Tim Henderson scored 3 points as he and Michael Baffour provided some quality minutes in lieu of Wayne Blackshear being out with a shoulder injury and Kevin Ware's suspension.
Coach Pitino: "This was a great win for us. We needed it. Obviously you don't want to lose at home. But we've got another great game coming up."
It was really nice seeing our Cards get back to their winning ways and to do it against one of the Big East's hottest teams was even more impressive. Hopefully this restored some of the confidence lost and they take that into Sunday as it will be another tough battle against Marquette.