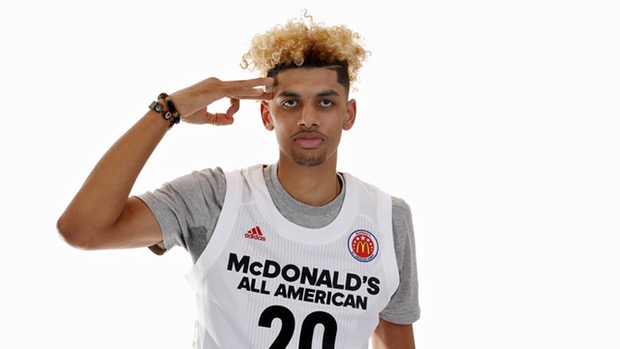 I have been waiting to post this big news ever since the rumor mill started spinning this week about Brian Bowen but I didn't want to talk about it or count my chickens before they hatched. But now it is official and Bowen is going to be a Cardinal. Bowen is a legit 5* and an incredible athlete. He has a scoring prowess that should have a profound impact on the Cardinal Basketball season. His addition really should put Louisville right back in the conversation as National Title contenders.
This late addition to the Cardinals 2017 recruiting class is big in so many ways… It really shows that coach Pitino can still go out and land the great talent and its just further proof that this coaching staff is doing a great job to keep up with the growing challenge of keeping a college basketball program in the mix with the best in the country. Just this week it was reported that Louisville basketball had finished 7 consecutive seasons ranked in the AP Top 25 and that they were only 1 of 3 schools to achieve that feat in that time-frame. The way things are looking that streak will likely continue.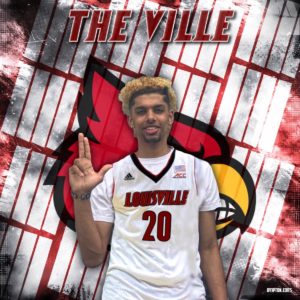 And after all the turmoil and chaos surrounding the stripper scandal news like today is just a breath of fresh air breathed back into the program that I love so dearly. I think that this solid recruiting class is just further proof that we have all that crap in the rear-view and that things are only looking up from here. Louisville Basketball is trending upward and we have a lot of great basketball ahead. We will have one of the best teams in the country this season and are looking head on at another great recruiting class next season with the possible addition of the best underclassman in the country 5* Romeo Langford. The future looks bright.
The commitment by Brian Bowen today pretty much backs up my sentiments. His camp sits back and watched how things unfolded during the college basketball off season. They studied the top teams carefully watching what key guys left early for the NBA draft, looked at the talent teams had coming back, and decided that Louisville would be the best spot for his development, get his minutes and to make a serious tourney run.
Folks I'm so excited today and nothing could wipe this smile off my face. Bowen has a jump shot that is as sweet as churned butter. And I love his hair. Trust me when I say that you all are going to enjoy watching this kid for hopefully a few years. Have a drink of your favorite beverage today and be sure to make a toast to the Louisville coaching staff. This was as clutch of a late add as you will ever see. Go Cards!
ESPN Evaluation
Strengths:
Bowen is a big and skilled wing who is full of upside. He is a legit six-foot-seven right now and pushing six-foot-eight. He has grown almost two inches since the end of his 8th grade year and might not be done yet gauging from his big feet and lanky frame. He has become a somewhat prolific scoring from all three levels on the floor. From a results standpoint he is extremely effective and efficient from the catch and shoot three point shot an dwell as the one dribble pull-up. He can put the ball on the floor going in either direction with outstanding perimeter footwork, and is a virtually ambidextrous scorer inside the paint with his floater game. His shooting stroke has made considerable progress when he is able to set his feet and fire with room and rhythm and will even take smaller defenders to the low post. His length gives him a definite weapon on the defensive end of the floor.

Weaknesses: A solid athlete who can play above the rim but doesn't yet possess explosiveness or blow-by quickness off the bounce. His frame is long and lean so overall body strength and muscle to fill out his frame is a must. He is working through contact and can consequently be bumped off the line of his drive or finish. The release on his jumper is sometimes slow, and so he can consequently spray shots when his stroke is rushed. His skills say he needs a little time and space and he will do that best by learning to cut off and read screens and move without the ball.

Bottom Line: For a player who scores points and is a high level shot maker Bowen understands when he is open and doesn't force the issue. In the college he can play at the four spot for some small ball game. Run a quick hitter or a set play and free up Bowen and the percentage s are good that he is making the shot. As he continues to fill out his frame and become a committed defender in a constant stance he will be an impact at the high major level. Bowen has become one of the better shooters in the class and as he continues to fill out his frame, become defensive minded he could easily grow in a 3 and D player for the NBA.
Bowen Highlights: