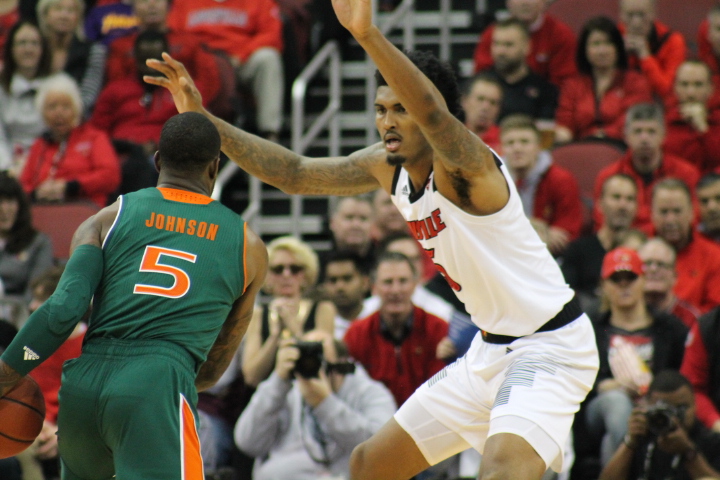 Big Monday for our Cardinals. It really is big. Tonight's second matchup with Florida State could very well determine who ends up with the ACC regular-season title. Whichever team wins tonight will also be able to carry all that momentum into the conference tourney here in a few weeks.
The Louisville team that the Seminoles will see tonight is not the same one they beat 78-65 back in January at the Yum Center. That Louisville team was just a shell of what it is now. Over the last month, our guys have found their roles and each of them knows what they are supposed to do in order for the team to be successful.
And then there is David Johnson. He has been a spark plug for the offense over that last couple of weeks since being injected into the starting lineup. 20 assist to just 4 turnovers in the last three games. The Cardinals have been reenergized as a result. In the back to back losses to Georgia Tech and Clemson, the offense scored 120 combined points. Since then Louisville has bounced back with 90 versus Syracuse and 72 in the North Carolina game.
Another guy who has seemed to find his groove again as a result of the reenergized offense is Jordan Nwora. A lot of folks have been very critical of Jordan this season and his struggles have been well documented. The biggest gripe from fans is that Jordan disappears in big games. I think he redeems himself tonight and will have a good game. Not going to be easy for him as he will draw all of their attention. Just think he's ready for that performance.
Malik Williams has been the most clutch player in college basketball down the stretch stepping up and hitting big shots, hitting key free throws and getting some big defensive stops. He was still finding his way back from injury the last time these teams played. He has scored in double figures in five of his last six and grabbed 13 rebounds on four other occasions. He just had his fifth career double-double against Cuse and was two points shy of a career-high against UNC. This dude is balling. Will be big tonight against FSU. Maybe the X-factor.
Things seem to be taking shape for this Louisville team to make a big run to the finish. As I pointed out in my last pregame it's starting to be more about their execution and less about who their opponent is. I don't think it matters what FSU does tonight or how well they play. Team 106 is on a mission. I think the Cards win a great battle here and claim that ACC regular-season crown.
Go Cards!