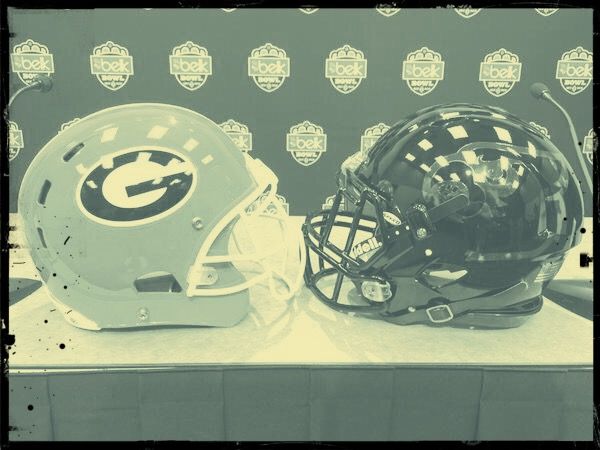 We are headed into the heart of the college basketball season, but before we throw our full attention to the hardwood we will celebrate another successful football season at the Belk Bowl in Charlotte. This will be the 5th straight season that we have ended a football season in a bowl game and are 3-1 in recent Bowl games. For the second time in three seasons the Cardinals will face an SEC team in a bowl game. The Cardinals beat Florida in the 2012 Sugar Bowl and will now face Georgia for the very first time in the program's history. Both teams come into this game at 9-3 with Georgia ranked 13th and Louisville ranked 20th. Two very good football teams, with former Georgia players and the former Georgia defensive coach now on the Louisville sideline this one will have it all.
Georgia entered this football season with high expectations and hopes of raising up another SEC title along with a shot at a national championship. A few tough losses to South Carolina and then to Florida coupled with the loss of Todd Gurley would dash those hopes. This is still a very good Georgia team on both sides of the ball and they won't want to leave Charlotte losing their last game of the season to the Cardinals. The Bulldogs come into this game ranked 29th in total offense and with the nations 12th ranked rushing attack averaging 255 yards a game. They outscored their opponents 500-255 this season and racked up 455 total yards per game. They love the ground attack but have proved all season that they can win in multiple ways.
Leading the Bulldogs offense is veteran QB Hutson Mason. He has been efficient and consistent behind center all season. He has a passing attack that's ranked 88th in the country and has thrown for over 2,000 yards. He has a completion rate of around 68% with 20 touchdowns and four interceptions. Mason's top receivers are Chris Conley with (577 yards, 7 TDs), Michael Bennett (381 yards, 4 TDs) and Jeb Blazevich (256 yards, 2 TDs). While three others combined for around 700 yards.
But as I mentioned above on the ground is where this Bulldogs team made their mark this season with a true freshman Nick Chubb leading the way. He had 1,281 yards and 12 touchdowns most of that coming in just the seven games star Todd Gurley missed. This kid is a freshman phenom. He will be backed up by change of pace backs Sony Michel (377 yards, 4 TDs), and Brendan Douglas (225 yards, 2 TD's).
If the Cardinals hope to win their 3rd straight bowl game they will have to slow down that rushing attack by Georgia. And there's not a better group of guys to do it than this Louisville defense. They have been the heart and soul of this team all season and have stepped up in crucial situations in every game. Led by guys like Lorenzo Mauldin, Gerod Holliman, Charles Gaines, James Sample, and Sheldon Rankins this Louisville defense gave up only 294 yards on average and less than 21 points a game. They only gave up 95 yards on the ground per game on average. They rank #5 in the nation in total defense, and #2 in the nation in rushing defense. Grantham knows this Georgia offense and will know what's coming and that along with a fully rested group of guys spells trouble for the Bulldogs. I think they can hold the run down and will force Georgia to go to the air attack often. And with the blitz attack that won't work to well either. I have total confidence in our defense and think they will be the key. They got us here.
Coach Grantham's replacement at Georgia defensive coordinator Jeremy Pruitt has a pretty solid unit also. He has a group of talented and speedy defenders that are ranked 17th in total defense. Leading the way for the Bulldogs defense is their linebacker corps of Ramik Wilson, Jordan Jenkins, and Leonard Floyd. Wilson had 102 tackles on the season including 19 against Georgia Tech in their final game of the regular season. Jenkins had 65 tackles while Floyd had 55 tackles. They also have a great cornerback in Damian Swann who is fourth on the team with 62 tackles along with two interceptions on the year. Don't think these guys on the Georgia defense aren't looking forward to the opportunity to stick it to their old coach. They'll have all the motivation they need to play an inspired game.
The Cardinals offense wasn't as explosive this season as we had all anticipated with the return of Bobby Petrino. But it was efficient averaging around 396 yards a game. The Cardinals passing attack ranks #51 nationally averaging 246 yards a game and the Louisville rushing attack ranks 84th nationally averaging 149 yards a game. Coach Petrino has said that both Reggie Bonnafan (850 yards, 5 TDs) and Kyle Bolin (416 yards, 3 TDs) will play in the game on Tuesday night. I think it will be great to play both guys to try to keep the Georgia defense on their toes but ultimately I think it will be Reggie who could give them the most problems. Georgia's defense ranks 76th against the run and they've had trouble with mobile quarterbacks all season. They gave up 400 yards on the ground at around 6 yards a carry vs Georgia Tech in their last game of the season. Brandon Radcliff (648 yards, 11 TDs) has been the backbone on the Louisville rushing attack and that won't change in this game. He should have a good night. Dom Brown (378 yards, 4 TDs), and L.J. Scott (199 yards, 2 TD's) will also see expanded roles in the absence of Dyer.
The receiving game with DeVante Parker (735 yards, 5 TD's), James Quick (509 yards, 3 TD's), Eli Rogers (444 yards, 3 TDs), Gerald Christian (359 yards, 4 TD's), and Kai De La Cruz (294 yards, 2 TD's) has been a very important part of the Louisville offense this season and will also play a big role in this game. This will really be the case if the running game is effective early on. DeVante will want to make his last game as a Cardinal matter. And I don't think there will be a man on the other side who can stop him.
When breaking down this game I really think that the Cardinals have the best chance at coming out victorious. Emotions are going to be running high on both sidelines but it is the Cardinals who have the positive momentum on their side. We have a remarkable group of seniors who have turned this Louisville football program into a winner. Their legacy and what they've done will never be forgotten. They haven't come this far to lose in their final bowl game as college players. It's just not in their DNA. They may get a great challenge from the guys in the Georgia uniforms but I just can't see them losing this fight.
It's been a great season and I have enjoyed this one about as much as any I've covered. These are great young men who will be representing our Cardinal Pride in the Belk Bowl on Tuesday night. I will be in Charlotte cheering my heart out and hope you will be doing the same. Enjoy this game… Go Cards!
The Beak Prediction:
Louisville 34 Georgia 27