Another AAU Nationals event is in the books. Over 450 teams made their way to the basketball capital of the world for the five day event. The fairgrounds is a perfect setting for this event and I'd love to see more grassroots events held in the city of Louisville. The event featured 26 basketball courts and on each court there were kids from all over the country chasing their dreams. I enjoyed this event and below is my top 26 moments from the 2015 AAU Nationals.

#26 My 26th favorite moment at AAU Nationals was just getting the chance to watch some basketball: This July has been a hot one in Kentucky. And for avid sports fans it is a hot and dry time for action involving sporting events. However, for the last two years the AAU Nationals in Louisville has provided a thirst quenching event for my sports craving.

#25 My 25th favorite moment at AAU Nationals was seeing all of the different Uniform Combinations the good and bad: I can tell you that Nike had some of the best this past week and they provide some great uniforms for their teams. I can tell you that a team from Canada had the worst of the week. They ironed on the numbers the night before and they were falling off of the players during a game. Come on Canada…

#24 My 24th favorite moment at AAU Nationals was eating at the Pork Producers booth: The opening day of AAU Nationals was on July 22nd. This was my late father's birthday. My father and I always went to the Farm Machinery shows every year and we would always eat one of those great pork chop sandwiches. On Wednesday I had the chance to eat a pork chop sandwich at the AAU event and thought about my dad the whole time. Thanks Pork Producers of Kentucky!

#23 My 23rd favorite moment at AAU Nationals was being able to drive to the event in less than an hour. It's great to be able to get to one of the biggest grassroots events of the summer without having to drive so far especially with the summer time gas prices. Please AAU come back next year!

#22 My 22nd favorite moment at AAU Nationals was all of those basketball courts in one building: There's just something great about going into a gym and hearing those sneakers squeaking on the court. But hearing all of those sneakers on all of those courts is really awesome. Music to my ears…

#21 My 21st favorite moment at AAU Nationals is seeing all the different coaches and scouts: I watch all those college teams on TV all season and read and follow all of the news from all of the scouting services all season. Getting to meet and see some of these folks in person at a grassroots event is pretty neat. There is always knowledge to be gained by talking with some of the best in the business.

#20 My 20th favorite moment at AAU Nationals is people watching: This event brings in folks from all over the country and all walks of life. It's always great to meet and greet different people. This event offers that and more.

#19 My 19th favorite moment at AAU Nationals is the Merch: I always love the chance to add to the T-shirt collection and this week I got to buy a cool AAU shirt and a pair of shorts. I also have a great new pair of sunglasses thanks to Eastbay…

#18 My 18th favorite moment at AAU Nationals was the dunks: I got to see dunks off of the alleyoop, the give and go, and the pick and roll. A rim shaking, boom shaka laka spectacle. Kids nowadays have a lot of ups. Just go to MyVert.com and see some results from their booth this week. Unreal!

#17 My 17th favorite moment at AAU Nationals was seeing all the Beats and Sneak combinations: I'm a sucker for swag. It seems like every kid at a grassroots event has on a pair of Beats headphones and they also bust out some pretty sweet sneakers. I got to see a lot of cool combinations this week.

#16 My 16th favorite moment at AAU Nationals was getting the chance to share a day with my son: He's only 3 years old but he already loves the game of basketball. I look forward to the day when I can start him in a grassroots organization.

#15 My 15th favorite moment at AAU Nationals was the chance to feed off the positive energy: There's just something very reviving and refreshing to see young people having a great time. Having over 3000 basketball players inside one building you could cut the energy with a knife.

#14 My 14th favorite moment was seeing some great shooters: Some folks in the industry think that the jump shot is a lost art. After watching hours and hours of grassroots basketball this past week I can tell you it isn't. I had the chance to see some very fundamentally sound shooters.

#13 My 13th favorite moment at AAU Nationals was watching ball in The Hall: I love the KFC Yum Center but there's nothing like going back to that hallowed ground known as Freedom Hall. I cut my teeth on Louisville Basketball in that building and it was great getting a chance to see some basketball there again this past week. Freedom Hall always had that distinct smell about it also. Nothing like that aroma…

#12 My 12th favorite moment at AAU Nationals was watching the coaches interact with their players: There are many different coaching styles and at this grassroots event they were all on display. Watching the pride and love some of the coaches this past week showed to their teams was inspirational. Grassroots coaches sometimes get a bad rap, but there are guys who do genuinely care for those kids. I watched the Travelers coaches cry on Sunday as they told a group of their player's good-bye. Good stuff!

#11 My 11th favorite moment at AAU Nationals finding that diamond in the ruff: Attending one of these events can be overwhelming. There are so many teams and so many players. It's great when you pick a random court, sit down and see some unknown player lighting it up. That happened a few times this past week.

#10 My 10th favorite moment at AAU Nationals was getting to see some of our Louisville Basketball Players: It's great seeing our Cardinals hanging out together and watching events in Louisville. And to respect where you are you have to respect where you've been. Several guys were at AAU National supporting the same teams they played for at the grassroots level.

#9 My 9th favorite moment at AAU Nationals was seeing and saying hi to a legendary coach: Coach Denny Crum made his way out to the AAU events this past week. It's always great to see the Hall of Fame coach out and about. I guess he couldn't pass up the chance to see a game of basketball on the old court either. Coach still looks good and I think he has a few games left in him.

#8 My 8th favorite moment at AAU Nationals was another year of experience covering grassroots basketball: I have had two occasions this summer to cover AAU basketball in person. I don't think I'll ever be an expert like Dave Telep or Evan Daniels but every year these events are close enough to make the trip the more I learn. Knowledge is power…

#7 My 7th favorite moment at AAU Nationals was seeing teams playing we basketball instead of me basketball: Sure AAU Basketball is filled with a lot of razzle dazzle and helter skelter type basketball and I enjoy seeing some of that great one-on-one action. But I really enjoyed seeing a few teams who focused on good shot selection and team defense. Passing, screening and cutting are not completely missing from grassroots basketball and I witnessed that with my own eyes this past week.

#6 My 6th favorite moment at AAU Nationals was getting to use my camera: I have no trouble taking great photos when I cover football games but basketball poses more of a challenge. This week I got to practice that skill. There is still room for a lot of improvement.

#5 My 5th favorite moment at AAU Nationals was getting the chance to watch a 2017 Louisville target: There was only one guy at AAU Nationals with a UofL offer and that was 2017 David Sloan. He could potentially be the best player in the state of Kentucky in his class. I only got to catch him in action briefly with his Louisville Magic squad but he seems like a very poised and confident player. It made me think in comparison to Quentin Snider.

#4 My 4th favorite moment at AAU Nationals was getting to see my favorite 2016 recruit finish his grassroots career in Freedom Hall: In my short time of covering high school recruiting I've had the pleasure to follow Carson Williams a guy who plays for my hometown Alma Mater. This is a young man who is a perfect example of why AAU works. It's unfortunate but often times you got to play on the right team, play on the right court, and play in the right organization. Exposure is the key and for a young man like Carson who plays high school ball in a rural area the exposure he's gained through AAU basketball has been critical. In this past week alone he got to play in front of several big names in college basketball. I have really enjoyed following the last two years of his grassroots career and am glad the AAU Nationals returned to Louisville so I could watch him finish it.

#3 My 3rd favorite moment at AAU Nationals was getting the chance to see some of my favorite Cardinals from the past: There were several former Louisville players participating in or walking around watching the action this past week. I got to say hi and shake hands with a few of these guys I grew up watching. That's always cool…

#2 My 2nd favorite moment at AAU Nationals was getting credentials to cover the event: I'm not a professional member of the media and have been running my own website now for about three years. I put a lot of effort and hard work into this and it always makes me feel rewarded when I'm acknowledged for that. I'm very appreciative when I can get credentialed to cover an event. Thank you AAU for a great week…

#1 My top moment at AAU Nationals was getting to watch thousands of kids chase their dreams and play a sport that they love for five days: There are always mixed opinions when it comes to grassroots basketball and it like everything else in life has its good and bad aspects. I can tell you that I got to see nothing but good this past week at AAU Nationals. Watching all these young men gaining life experience and learning lessons that only playing team sports can provide I found myself thinking about what all of them would be doing if not playing in this event. Getting some of these kids off the streets and involved in a positive environment is huge. And the opportunity for all of these young men to get college scholarships is immeasurable. AAU basketball is important and there are still coaches, parents and folks involved in the organization who have nothing but great intentions. There is nothing more important than having a meaningful impact on a young person's life. Many lives were impacted over the last five days. Kudos AAU… Kudos!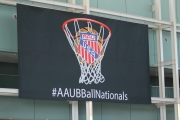 AAU Nationals Photo Album