– Cards win a football game on a giant slip&slide

(AP Photo/Rogelio V. Solis)
It was raining cats and dogs tonight in Hattiesburg, but it was Cardinals and Golden Eagles splashing around on what looked more like a giant slip&slide than it did a football field. I think the Southern Miss folks wanted it that way but I will keep my conspiracy theories to myself. It was a gutsy effort for our young Cards to overcome such harsh conditions to get the win 21-17 as they move to 5-0 on the season giving them their best start since 2006. Southern Miss goes to 0-4 giving them their worst start since 1976.
Coach Strong: "For us to come in and survive the conditions we played under tonight just speaks volumes about our team."- UofL Sports.com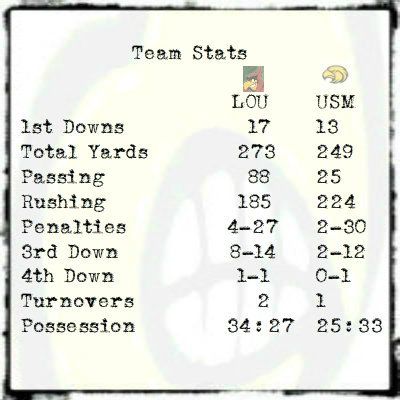 The Cards struck first in the Marco Polo version of football when Teddy QB connected with DeVante Parker on a 29-yard Pass for a touchdown. Then Southern Miss would score on a 23-yard Interception by Reggie Hunt. They would add two more scores with a 21-yard field goal by Corey Acosta and a 1-yard run from Jalen Richardson to take the lead late in the second quarter 17-6. The Cards would strike again right before the break on a Senorise Perry run but The Golden Eagles would take the lead into the locker rooms 17-12.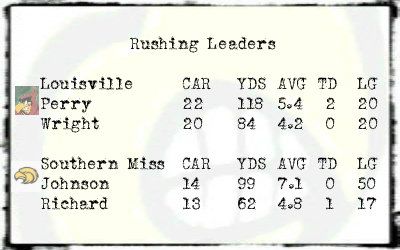 Southern Miss would not score again in the 3rd and 4th quarter as the Cardinals defense really stepped up big in the second half. They would hold the Golden Eagles to just 249 total yards on the night.
The Cards scored two more times in the second half on a 38-yard field goal from John Wallace and a 14-yard run by Senorise Perry. Perry was the player of the game as he came up big with some determined runs. He would finish the night with 118 yards rushing. Teddy QB had a resourceful but quite night with 88 yards, one TD, and an interception.
It was not pretty but the Cardinals got the job done. They move to 5-0 on the season and are undefeated through 5 games for only the 7th time in school history. Now they will head into a bye week where they will get rested up and ready for their Big East foes.