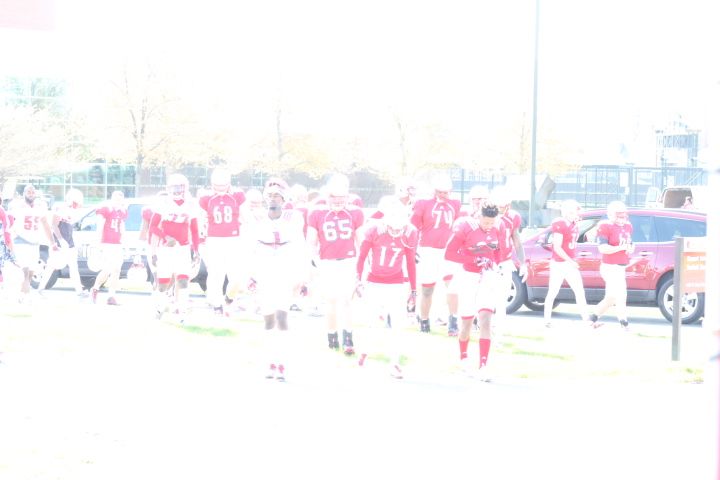 I had the chance to get out and enjoy a beautiful spring afternoon with the Louisville Football team today. We still have six months before another year of Cardinal Football but there is a lot of excitement already building for the season ahead. There was a lot of buzz around the practice field today with a great crowd and a lot of high school prospects taking in the action while on spring break. There were also several members of the Louisville media out covering the action.
Heading into year number three of his Louisville sequel with 17 wins and two Bowl games under his belt Bobby Petrino has the Louisville program rolling right along. You could tell by the atmosphere of this practice that the team and assistant coaches know exactly what is expected of them by the head man. The practice today was run at a frantic pace and guys were in a dead sprint as they switched from one drill to the next. Things seemed to be running like a well-oiled machine. They say you play like you practice and if that's true you can expect this Louisville football team to come out and perform at a professional and high level next season.

There were a lot of great athletes spread all around the practice fields today. The Cardinals have a lot of talent on both sides of the ball heading into the 2016 season, but one guy in particular will be poised to take the college football world by storm. I call him "Hurricane" Jackson but you can also call him Lamar. I was really excited to see this guy go through his drills today and he did not disappoint. I didn't think it would be possible for him to look any faster but he did today. After a full year playing at the college level he has learned to be more efficient on his cut and runs. He appears to be stronger and looked very good running an offense that appears to be more built around him and his abilities this season. He made some very good throws today and it appears that he has taken this part of his game to the next level as well. If he stays healthy and continues on this upward trend he will be a show stopper.
Over the last couple of years there has been a lot of inconsistency along the offensive line. As I watched this group today the one thing that stood out to me was how much bigger and athletic this year's group is. They really look impressive and Coach Klenakis deserves a lot of credit for the work he has done with them. They sure do look the part this spring and if they can carry some of that positive momentum they had when the season ended at the Music City Bowl then Cardinal fans will be very pleased. Some guys that stood out to me today were Chandler Jones (6-4, 300lbs), Geron Christian (6-6, 314lbs), Lukayus McNeil (6-6, 313lbs) and Toriano Roundtree (6-7, 305). These are some big, tough guys. And keep an eye out on the Roundtree kid he is going to be a beast.
I'm also excited about the group of wide receivers we have returning this season. These guys looked really good going through their reps today. This is going to be a special year for Jamari Staples and he stood out to me the most. His length, speed and athleticism are on a different level. You can also expect a big year out of now senior James Quick. He made some nice catches today. Traveon Samuel may not stand out as much because he is surrounded by all of these tall guys but I really like him. I think he will have a solid season and will do well in the Petrino offensive scheme. I was also really impressed with Cole Hikutini and he was making impressive grab after impressive grab during this practice. He is going to see his number called a lot this year.
The Cardinals also have a pretty good stable of running backs returning for this season. I expect another solid year out of Brandon Radcliff and really think we will see Jeremy Smith come into his own. I really like what I seen out of him today. L.J. Scott will also see his fair share of reps. All of these guys are capable of gaining big yards.

I've heard a lot about how hard Reggie Bonnafon has worked during the off season and there isn't a guy on this football team who loves it more than he does. Along with his physical gifts he has a heart the size of a football field. I really wanted to watch this guy go through his reps today and it took some effort following him around the practice field. He did work with the running backs, and wide receivers. He has gotten a lot bigger physically and seems to have added some foot speed. This guys is one of the best football players on this team and the Cardinals need him on the field anyway they can make that happen. I've never been surprised by what I see out of this young man and he didn't let me down watching him today. Reggie will have a great year.
The Louisville football program has probably lost more on the defensive side of the ball over the past two years than anywhere else. And we are talking about guys who are now playing on Sundays. But don't think for a second that the Cardinals won't be just as good on this side of the ball as they have been. We still have a lot of talent on the defensive side of the ball. Guys that stood out to me today were DeAngelo Brown, Josh Harvey and Shaq Wiggins. DeAngelo Brown is a big, tough guy and he has really worked on himself. He will be a beast along the defensive front. Josh Harvey had some times last year where it appeared he took plays off. This will be an important year as it relates to his future and he was very focused today in practice. Last season Shaq did a lot of talking but has vowed to let his game do the talking this year. He was also very focused today. This will again be one of the best defensive units in the ACC.
I had a really good time being back around the football team today and it really has me looking forward to that spring game here in a few weeks. Year number three of the Bobby Petrino sequel just might be one of his best yet.
Louisville Spring Football 2016