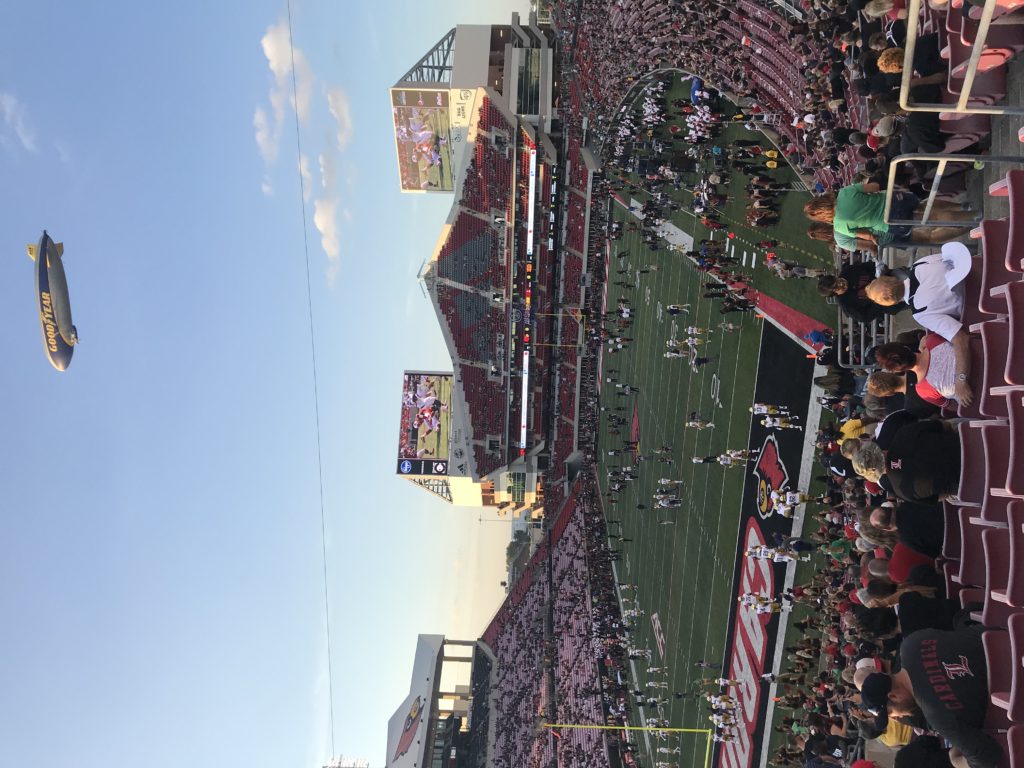 This season has been a roller coaster ride for Louisville Football fans. Seems like forever ago that my son and I were in Mercedes Benz Stadium watching this team run onto the field for the first time. They haven't quite lived up to my expectations but I can respect the fact that they are still playing hard. Just not playing smart at times and don't think we are deep enough yet.
9… 9 penalties on this Louisville football team last weekend. Couple that with only 17 first downs and a 21 point fourth quarter by the Wolf Pack and it ruined trick or treat for the Cardinals. And it negated another great effort from Malik Cunningham. He had 219 yards and a touchdown in the losing effort. I loved the connection between him and Jordan Watkins last week. Watkins caught two balls for 83 yards and a score to lead the receivers.
The Cardinals are going to need this connection tonight along with a much more solid performance overall if they want to beat Clemson. And for the first time since that Saturday night in 2016, I think we have a chance to beat Clemson.
Still gonna be a tall task as this Clemson team put together a 13 point fourth quarter last week to beat Florida State. Tigers QB DJ Uiagalelei and RB Will Shipley led what looked to be an improving Clemson offense to a solid 377 yards in that matchup. Shipley is just finding his legs and could be a problem.
They are improving and still have tons of talent but are far from the well-oiled machine they usually are. Especially on offense. They went just 4-of-14 on third-down tries, coughed up three turnovers, and committed six penalties in their game against the Noles.
Regardless of their shortcomings on the offensive side of the ball this Clemson team still has a very solid defense especially their front four. Dabo hadn't been happy with this group and called them out recently. They responded with a season-high five sacks last week. They were initially credited with a sixth sack, but the NCAA removed a sack from Xavier Thomas' who forced a fumble behind the line of scrimmage.
I think this game will be a tale of the two defensive units involved. Louisville ranks 25th nationally with an average of 5.1 yards per carrying. Can Malik and company keep their defensive unit on the run today while sustaining drives and letting our defense rest?
This is where the Cardinal's depth issue comes into play. Our defensive guys are worn out in the 4 quarter and haven't been able to make enough plays to finish games. But they have been making plays. New guys stepping up each week. LB Dorian Jones in his first career start had nine stops and 1.5 tackles for loss last week.
This Louisville defense surpassed their 2020 total for sacks by picking up their 22nd of the season last week. Louisville has recorded a sack in all eight games in 2021. These guys are trying and are getting better. And help is on the way. Four-star DL Selah Brown committed yesterday. Shame he can't suit up tonight.
I do believe this team puts it all together tonight. What they can put together. At this point, it's about supporting them and accepting their shortcomings. There are going to be some. Let's beat Clemson for the first time tonight and get closer to Bowl eligibility. That is the bar for this group. Go Cards!

GOCARDS GAMEDAY BREAKDOWN