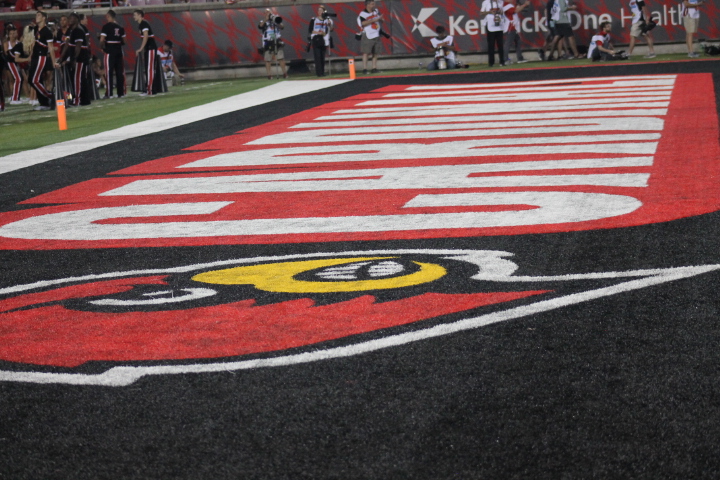 In 1985 Coach Schnellenberger returned home to Louisville after taking the Miami football program to the top of the mountain. He is also credited with laying the foundation for the Louisville program's subsequent rise to prominence. Guess we should have known that it was in the stars that these programs would forever be linked thru his lore.
Our Cardinals will meet the Hurricanes for the 15th time on Saturday night. Not a really long history in this rivalry and the Hurricanes own a commanding lead in the series 10-3-1… But there must have been some magic in that old black pipe because Miami has been a mile marker over the years on that "collision course" and the Cardinals have won three of the last four encounters.
That very first win over Miami in 2006. Our program gaining that signature win it had been searching for under coach Bobby Petrino. The 2013 "Teddy" game. Teddy Bridgewater would further etch his name in Cardinal lore tying the school record with his 27th victory as Louisville's starter. He was 35 for 45 for career-high 447 yards and Louisville won its second straight bowl game for its second 12-win season. And then Louisville Football's first-ever ACC contest and win against Miami in 2014.
Now the stage has been set again with ESPN's College Gameday returning to Louisville on Saturday to showcase yet another game between these rivals. Linked by a coaching legend and a string of pivotal games this could be one of the best yet in the series. The Cardinals are looking to revenge the 52-27 beat down at the hands of the Hurricanes last season. And the program is again looking for a signature win in year two of a new coach.
Like we have so many times over the years we are going to find out in this most recent battle with Miami where this program and this team is in year two of another program revival. At his opening press conference Coach, Schnellenberger stunned reporters and fans by proclaiming the program "is on a collision course with the national championship" The only variable is time." Coach Satterfield proclaimed at his very first press conference that he was going to put Louisville Football back on that road.
Coach Satterfield has breathed life back into the football program. Getting us back to a Bowl game and winning it in his first season was huge but that first big signature win is still out there. On Saturday night he could check that off his list and put his Louisville football team back in the discussion.
Our Cardinals will look to build on their season-opening win over WKU. Louisville's three-headed monster was feeding last weekend. Micale Cunningham threw for 343 yards, 3 touchdowns, and also rushed for a 24-yard touchdown. Javian Hawkins had 71 rushing yards and a touchdown and Tutu Atwell had a team-high 7 catches for 78 yards. Also a good productive outing from Hassan Hall, Dez Fitzpatrick, and Braden Smith. Ean Pfeifer and Marshon ford each had a receiving TD as well in the victory. Defensively, Dorian Etheridge led the way with 8 total tackles, including 5 solo tackles and a team-high 3.5 tackles for a loss. Monty Montgomery had a pair of sacks while Isaiah Hayes had 5 solo tackles and Russ Yeast had a pair of fumble recoveries.
This Louisville team did a good job of maximizing their yardage on each play last season averaging 6.7 yards a play. They finished ranked 12th in that category. That offensive explosion continued in the first game of this season. After their first week of play, Louisville is tied for first nationally with one play of over 60 yards and another of 70 plus yards. With Miami announcing a few days ago that they are going to be short-handed in the secondary with only 3 corners on the roster I look for this to be exploited all night in this game.
We know this Louisville team can score and I think the three-headed monster will again be eating this week. The question remains can the defense get the stops needed to win a big game like this. Western Kentucky hung 21 on the Cards. Miami has a talented and loaded roster led by QB D'Eriq King who had 227 total yards and two touchdowns last week. RB Cam'Ron Harris with 134 and 2 TDs last week. He is a beast. Jaylan Knighton and Donald ChBrevin Jordan are some talented receivers in their own right.
Trying to stop Louisville's three-headed monster for Miami will be Bradley Jennings Jr. who had a team-high 6 total tackles with two tackles for a loss last week and Amari Carter who had a team-high 4 solo tackles and Quincy Roche who had Miami's lone sack in their victory last week. Louisville's offensive line held their own in week one but will face their first big test of the year in this game.
Here we are again… Another game against Miami on a national stage. And again the Louisville program is facing its first true test to determine just where it is in season two of its rebirth. Losing this game wouldn't be the end of the world but it sure would take the wind out of the sails. Coach Satterfield has us believing again in the product. Saturday night is a chance to show us and a national audience that Louisville Football isn't on its way back but ready to take the next step.
It is a big challenge ahead. But as we've seen Louisville do over the years in these games against Miami one I think they can meet again. Enjoy it Cardinal fans. Go Cards!