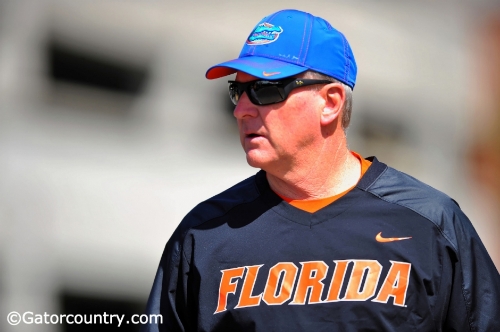 With the way, the Louisville football team ended their season it left more questions than answers for Cardinal fans. Well maybe Coach Petrino is starting to answer some of those tough questions. We learned this past week that Todd Grantham had been replaced as defensive coordinator. That coaching shake-up was a little unexpected as most thought if anything it would be the offensive line coach Chris Klenakis that would be replaced. Today during the Duke game, we have now learned that will indeed happen. Florida offensive line coach Mike Summers will be the new head man for the guys in the trenches.
The Cardinals finished the season ranked 124th allowing 3.62 sacks a game and 95th in Tackles for loss allowed. When you have a guy as fast as Lamar Jackson being tackled so much in the back field you know that the O-line must be doing something wrong. After years of inconsistent play out of the O-Line position something had to be done to try and correct things. College football games are won and lost by what happens in the trenches. All of Louisville's losses over the last three seasons can be attributed to the poor play up front. It was time to shake things up.
Enter Mike Summers who will try to get this unit better. Summers is no stranger to Louisville fans as he coached the offensive line here during Coach Petrino's first time around. The Cardinals rushed for 2,974 yards in 03, 3,005 yards in 04, 2,278 yards in 05, and 2.411 in 06. In 2003, the Cards set a then-school rushing record while ranking fifth nationally in total offense (488.9) and 10th in rushing offense (228.2). Two offensive linemen, Jason Spitz and Travis Leffew, were All-Conference USA first-team in 2004 and All-Big East first team in 2005. During his tenure, Louisville won the 2004 Conference USA Championship and 2006 Big East title, and played in the 2007 Orange Bowl, 2006 Gator Bowl, 2004 Liberty Bowl and 2003 GMAC Bowl. The 2004 and 2006 Cardinal teams both finished ranked No. 6 by AP.
In 2006, his Louisville offensive line paved the way for the Cardinals offense, ranking second nationally (475.3), seventh in passing (290.0) and 12th in rushing (185.3). Three of his linemen (Renardo Foster, Kurt Quarterman and George Bussey) were All-Big East first-team picks. The 2004 line helped the Louisville offense set school records with 6,468 total yards, 3,005 rushing yards, 597 points and 47 rushing TDs. The Cardinals led the nation in both total offense (539.0) and scoring offense (49.8).
Coach Klenakis is a great guy and a great recruiter and will remain on the staff as the tight end coach. I'm glad that he is staying with the team but there had to be a change made with how this season ended and I think that Mike Summers is a good hire. He already has chemistry with Coach Petrino and has a proven pedigree. Welcome back to the Card Nation Coach Summers…