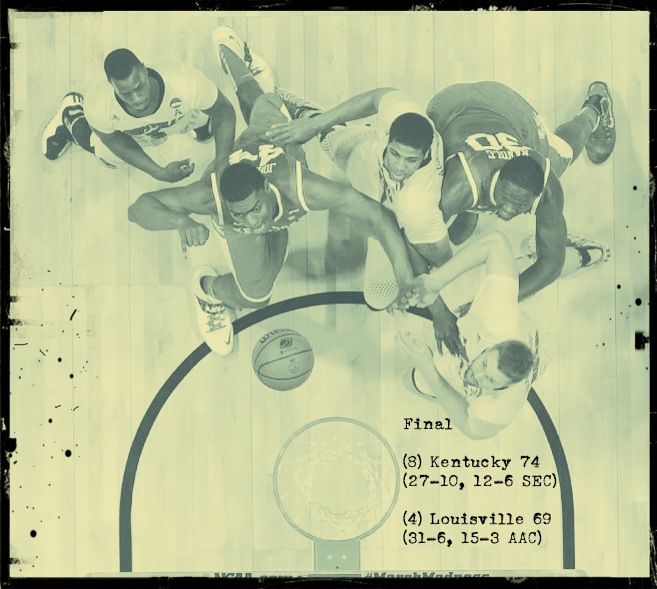 (AP Photo/David J. Phillip)
On Friday night in Indianapolis the 46th chapter of the Battle of the Bluegrass was written. For the 32nd time it was Kentucky who walked away with the victory 74-69. The Wildcats now lead the all-time series 32-15 (4-2 in NCAA). The Cardinals are 1-6 against their rivals since John Calipari was hired as their coach. With the win the Wildcats advance to the Elite 8, and the Cards season will come to a close after a great run of basketball that has included 2 Big East Titles, AAC Title, 2 Final Fours, and a National Championship. "We celebrated an awful lot the last three years," Pitino said. "We're going to be very gracious in this defeat because we've had a lot of celebrations, and it's the end of an era for us, for a lot of us. So it's something that we're certainly going to miss."
The stage was set for what was billed as one of the biggest games in this series as it featured both the 2012 and 2013 College Basketball National Champions competing against each other in the Sweet 16. Our Cardinals led most of the way, but It was a pretty competitive game throughout. I think the script went a different way than what most of us expected. Kentucky was supposed to be the young team that lost focus down the stretch especially with one of their best defenders in the locker room. But that's not what happen. It was our veteran Cardinals that started taking bad shots, making bad decisions, and struggled to put the ball in the basket in the final minutes of the game.
In the final eight minutes of the game, Louisville scored two points in the paint on 1-of-5 shooting and scored just three points in the final three minutes. The Cardinals missed 10 of their 23 free throws while Kentucky was 22 of 27 at the line, and made five of its last six. Our Cards also got beat up on the boards 37-29 and that led to 8 second chance points. These stats are what sealed the victory for the Wildcats.
Luke with 19 points, Russ with 23 points, Montrezl with 15 points, 8 rebounds Stephan with his hustle/effort and Chris with 6 points all went down swinging. These starters and especially our seniors left their hearts on the floor Friday night and gave it all they had like they've done so many times in the past.
I was also very impressed with Mango who had 4 rebounds, 3 points, and 2 blocked shots. I am extremely optimistic about this kids future. His play has been trending upward all season and I'm looking forward to seeing what's in store next season.
Wayne's struggles continue and my comments about him are starting to be like a broken record. He played 17 minutes and had 1 rebound, 3 points, 1 assist and 1 steal. He started his Cardinal career as one of the most anticipated players ever and will now head into his senior season with very minimal expectations. Great kid but don't know if he'll ever get it figured out again.
The battle was lost on Friday night and I know every Cardinal fan feels the same way I have all day. While frustrated about being 1-6 to our rivals just remember Cardinal fans that we are headed into the exciting new challenge of the ACC, have the #4 ranked recruiting class and still have an excellent program. The battle has been lost for now, but the Cardinal fight lives on. I'm looking forward to another great group of young men coming into the program and hopefully we can send them away in four years like we did with the seniors this year "Champions". L1C4
Louisville's Russ Smith after a loss to UK in NCAA tourney:

Luke Hancock after Louisville's loss to Kentucky in the NCAAs:

Stephan Van Treese on U of L's loss to Kentucky:

Montrezl Harrell on his season and his future: