Our Cards put a bow on a tough OOC schedule with a win Saturday over Kentucky. Now it's time for the Big East grind. And it starts Wednesday when the Providence Friars come to town. The Cards and Cardinal Nation will have revenge on the mind as it was around this time last year when the Friars put a whooping on us at their place 90-59 in one of the worst losses of the Pitino era.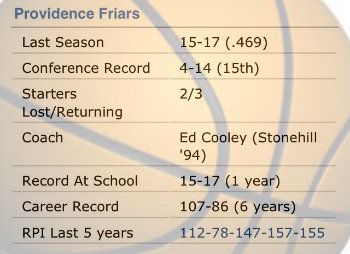 Providence head coach Ed Cooley is still in the process if rebuilding this Friar program. And they are a basketball program in transition. As a sign of the transition in his program, Cooley presided over an offseason filled with comings and goings. Some players transferred, others were helped to different schools. Some recruits battled eligibility woes right up to the start of school, others reported to campus in the fall with injuries. After all the comings and goings, Cooley does have a core of talented players heading into his second year on the job. There just aren't enough of them. They lost Ricky Ledo to an NCAA ruling at the beginning of the season. Kris Dunn and Vincent Council just recently got into the rotation after working through injury. They're still 8-4, despite those road blocks and Cooley has this team headed in the right direction. They are coming into this game with a bad loss to Brown 69-68 last Friday. They are ranked nationally 148th in points per game at 69.3, 71st in rebounds per game at 38.5, 89th in assist per game at 14.4 and 173rd in field goal percentage per game at .434. Kenpom has their Adj. efficiency on offense at 102.8 ranked 107th and defense at 92.3 ranked 54th. He has them ranked 69th overall.
In-conference offense: 1.04 points per possession (6th)
In-conference defense: 1.12 points allowed per possession (16th)
The Friar Players:
Vincent Council SR (4.0 ppg, 1.0 rpg) 6-2 G just had his first game back last Friday. A year ago Council led the Big East in assists and was fourth in the country. His decision making is among the elite in college basketball but is an average shooter making 41 percent on his twos, 32 percent on threes last season. He is an impact player and now that he is back in the line-up will really help this team. He scored 8 points and had 10 assist on his first game back and played 43 minutes.
Kadeem Batts JR (16.1 ppg, 7.5 rpg) 6-10 F is the big man with the most experience on this team. He is very good at knocking down the 15 footers. He does have problems with foul trouble. If he can stay in the game he is a solid contributor. He has scored 193 points this season and grabbed 90 rebounds with 23 assist in 368 minutes of play.
Bryce Cotton JR (22.0 ppg, 3.4 rpg) 6-1 G is a tireless worker who can catch fire as quickly as any shooter in the Big East. And Cards fans should remember him well as he went 5-5 from 3-point land and had 27 points in the drubbing last year of Louisville. He shoots and makes a lot of 3's. He cranked up 203 3s and made 77 last year. He's an excellent free-throw shooter and takes very good care of the ball. He has scored 220 points this season and grabbed 34 rebounds with 40 assist in 362 minutes of play.
Lee Goldsbrough JR (2.0 ppg, 3.9 rpg) 6-9 F is the other eligible big man for this Friars team. He is another big body for them on the boards. He has scored 24 points this season and grabbed 46 rebounds in 207 minutes of play.
Ted Bancroft JR (1.1 ppg, 2.4 rpg) 6-5 G Has played sparingly and has scored 13 points this season and grabbed 29 rebounds in 173 minutes of play.
Sidiki Johnson SOPH (2.3 ppg. 6.0 rpg) 6-10 F just became eligible on December 18th. He is a strong rebounder and very good runner for his size but is still getting into game shape. The Louisville is just his 4th game back. He has scored 7 points this season and grabbed 18 rebounds in 41 minutes of play.
Brice Kofane SOPH (1.8 ppg, 4.3 rpg) 6-8 F is the front court player to keep an eye on. He can rebound and block shots at a high level. He is an excellent pressing big man who Cooley uses in creative ways. He has scored 21 points this season and grabbed 52 rebounds while having 15 blocked shots in 229 minutes of play.
LaDontae Henton SOPH (17.3 ppg, 7.9 rpg) 6-6 F had as good of a freshman season as any player in the country. He is a very good 3-point shooter, rebounds better than expected and handles the ball well. He has scored 207 points this season and grabbed 95 rebounds with 19 assist in 451 minutes of play.
Kris Dunn FR (6.3 ppg, 6.3 rpg) 6-3 G underwent surgery in July for a torn labrum in his right (shooting) shoulder. He is another Friar player that just returned to the line-up from his injury. ESPN rated him the No. 2 point in the class of 2012 but he is really an elite, athletic combo guard who is dangerous with the ball in his hands. He attacks the rim with abandon, and while not a knock down 3-point shooter just yet, he certainly knows how to score. He has only played in the last 3 games. He has scored 19 points this season and grabbed 19 rebounds with 21 assist in 91 minutes of play.
Josh Fortune FR (9.9 ppg, 3.5 rpg) 6-5 G is another very good shooter on a team full of them. He has scored 119 points this season and grabbed 42 rebounds with 37 assist in 460 minutes of play.
I know that this Friars team is picked by most to finish last in the Big East and also that they are coming off one of their worst losses of the season. But I'm not going to put this game in the easy win column. Our Cards are coming off a very emotional game themselves. And I've seen it many times over the years and think that Wednesday could be a big let down game. It is possible.
With that being said I don't think this group of Cards will let that happen. It was a very business like attitude in the locker room after the win over Kentucky. This team is focused on achieving much bigger accomplishments than winning a rival game. With Gorgui back in the line-up and with Chane getting better every game I think the difference in this one will be the match-ups in the front court and the Friars won't have an answer. The Cards must do a better job at guarding the 3 point shot Wednesday because this team has the shooters to hurt them from long range. And can keep it close if allowed to shoot them wide open.
I really do think this team has their eyes on the big prize and the toughest part of their journey starts on Wednesday night. I think our Cards are ready and will start the Big East 1-0.
The Beak Prediction:
Louisville 87 Providence 78