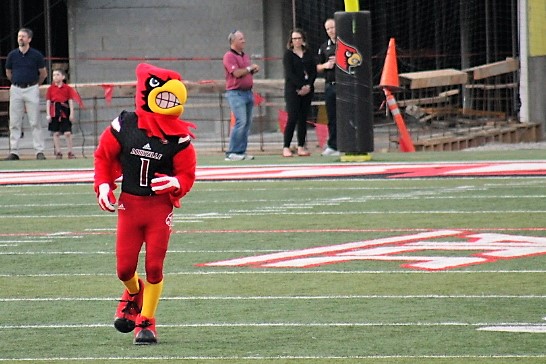 Media Day is a signal that our sports dry spell is almost over Cardinal Fans. Another exciting Louisville Football season is now only weeks away. It's always great to hear from Coach Petrino, his staff, and the players during this time of the year. Especially since the end of last season left most of us with more questions than answers. Talking with these guys on Saturday morning I felt the anticipation and excitement from them to get to Orlando and open up the season. Everyone seems very optimistic but did not undersell the hard work they still had ahead of them to get ready.

Raise your hand if you thought that the Cardinal's offense became too one-dimensional at the end of last season. I loved Lamar Jackson just as much as the next guy. And when he tucked and ran for an 80-yard score I was in awe of the talent and speed. But I feel like the offense as a whole kinda revolved around that. I wouldn't ever say that the offense will be better without Lamar. That's crazy talk. You don't lose a weapon like that and get better. I do think the offense this season will be more dynamic. Meaning I think that the process of getting that production from the team as a whole will pay off. This team is full of new energy and positive attitudes. Guys are just waiting for their shot.

Coach Galloway's track record of recruiting and producing NFL talent at the wide receiver position is well-known. He is still working with enough speed and talent this year that the Cardinals could quickly develop into one of the nation's most versatile offenses. He talked very confidently on Saturday morning about his guys moving forward.


With the help of Coach Mike Summers, the 2006 Cardinals were ranked 2nd in the nation in total offense. Coach Summers has a great football mind and knows that it all starts with fundamentals. In listening to him yesterday It seems that he will use that philosophy to bring even more improvement to his group this season. I think he will have those guys ready to be more physical and playing harder. He enters this season with one of the best groups Louisville has had up front. With guys like Becton, McNeil, Bentley, Thomas, and Foy there should be some big holes to run thru. Coach Summers talked on Saturday morning about how he liked the progression his guys were making. Even with all of the exciting players on the depth chart, I'm most excited about the O Line. Games are won and lost in the trenches.

The Louisville Defense also has a lot of speed and talent. A lot of that talent is young and unproven and some guys in this unit will be working with their 3rd coach in four years. I talked with Coach VanGorder on Saturday morning about his transition into the locker room. He seems like a very old school no-nonsense kind of guy. He seems confident that the turnover at his spot can be negated by sticking to his and the teams' core principles and if you ask some of his guys they seem to be buying in. As hopeful and optimistic as I am about the defense this remains the biggest question mark of the season for sure.

I expect that we will see Goldwire, Peterson, Robinson, and Boykin along the Defensive line this season but I'm most excited about Jon Greenard. He is a big-time pass rusher who has 9.5 career sacks and was one of the top pass rushers in the nation in 2017. With added bulk to allow him to play with his hand in the ground, I expect him to be more dangerous and versatile this season.

Another guy I'm excited to see at the linebacker spot is Dorian Etheridge. One of the top defensive players in West Virginia coming out of high school he said he was impressed with Louisville's "Light Up the Ville Camp". With this guy holding down that LB spot I hope he can help this young Louisville D stop opposing offenses from "Lighting up the Ville".

The Louisville Wide Receiver corps will be one of the best units in college football this season. Guys like Jaylen Smith, Dez Fitzpatrick, and Seth Dawkins are expected to lead the way. These are some very talented guys and they are also a very confident group. I don't think you'll see them be intimidated when the Cardinals play Bama in a few weeks. In fact, I think they are all looking forward to the challenge. I really like our wide receivers.

As far as the Louisville running game is concerned I think it has been pretty much by committee during off-season work-outs but the guy who is standing out is Trey Smith. Smith is a hungry kid who has waited for his time to shine. I think he's got 2018 in mind for that to happen.

I'm tired of talking about football and I'm ready to start watching some. Only two more Saturdays without football Cardinal fans…