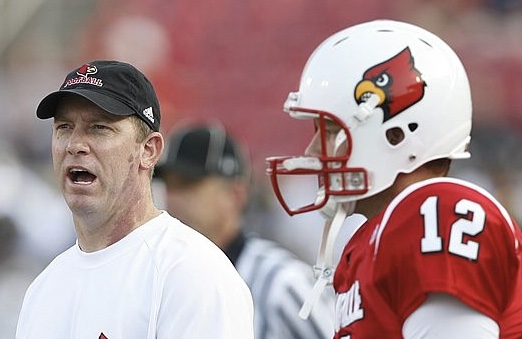 It was another rough ending to the season for Cardinal Football fans. It was much of the same old same as Louisville football dropped its 4th straight in the Governor's Cup. My son and I taking the walk of shame out of the stadium for a fourth straight season.
It was hard for me to find any optimism left after another letdown by Coach Satterfield and his staff in this game. You have to beat the in-state rival. But Satterfield always seemed apathetic about this game. The same type of apathy that was here with a guy named Kragthorpe. The type of apathy that took years to get out. I never thought it would go this way for Coach Satterfield. He had a good reputation and background from App State. We were on board.
This coaching experiment by former AD Vince Tyra didn't work. But thanks to our friends to the north it's no harm no foul. We are good. Now let's go get a football coach who understands Louisville Football understands the tradition, and knows that it's not ok to lose to Kentucky in anything.
Now picture if you will a family born and raised just miles from Cardinal Stadium with Louisville Football flowing thru their veins. A family legacy like no other in college sports. A story that has College Gameday written all over it.
If your last name is Brohm you are born a football fan. They are arguably the first family of football in this hoops-crazy state of Kentucky and in the city of Louisville they are football royalty. The Brohm family, including mother, Donna, and sister, Kim, were recently inducted into the Louisville Catholic Sports Hall of Fame for their contributions to the game.
It all started with the patriarch of the Brohm family Oscar. Oscar Brohm was a Football standout at Flaget High School in Louisville during the 1962-65 seasons. An all-state performer he led Flaget to a 10-1 record and the Louisville City Championship in 1965 setting a Louisville city school record with 23 touchdowns. He was a passing QB when passing wasn't cool. Oscar played QB for the Cardinals during the 1968 and 69 seasons.
He would pass his offensive prowess down to his sons and they all helped create a football dynasty at Trinity High School in Louisville and for the hometown Cardinals. Four Brohm family members are letter winners at the University of Louisville, Oscar (quarterback 1966-69), Jeff (quarterback 1989-93), and brothers, Greg (wide receiver 1989-92) and Brian (quarterback 2004-07).
Purdue head coach Jeff Brohm had an outstanding career at Louisville from 1989 to 1993. He ranks among the Cardinals' career leaders in touchdown passes. Jeff Brohm also served as an assistant coach at Louisville (quarterbacks coach in 2003-06, assistant head coach/passing game in 2007, and assistant head coach/offensive coordinator in 2008).
Greg Brohm is the executive director of administration and operations at Purdue. He was the starting wide receiver during the Cardinals' 1991 appearance in the Fiesta Bowl, catching passes from his brother, Jeff. Greg served as the director of football operations at Louisville from 2004 to 2008. He also worked in local media and served as an analyst for the Louisville Cardinals' radio broadcasts.
Brian Brohm is the Co-Offensive Coordinator/Quarterbacks coach for Purdue… Before there was a Teddy and Lamar it was Brian who led the 2006-7 Cardinals to a 12-1 record, an Orange Bowl championship, and a #5 final ranking in the Associated Press poll. His 30 touchdown passes that season is tied for second in school history with 2016 Heisman Trophy winner Lamar Jackson, and one behind Minnesota Vikings' 2014 first-round draft pick Teddy Bridgewater. Brian is the only Louisville QB to be so close to a National Championship. In my humble opinion, that team was a field goal away from playing for the Title. What could have been that season still haunts me.
During their three seasons together Jeff, Greg, and Brian helped lead the Louisville program to 32 wins, a Liberty Bowl win, Orange Bowl Championship, Conference USA, and Big East championship, and twice finished in the Associated Press top 10. And by popular opinion were a field goal away from a possible National Championship. There isn't anyone who has had a bigger impact on the rise of the Louisville football program than the Brohms.
This family making their way back to the Louisville Football program would not only be the answer it would be the biggest sports story in 2022. I can hear Michael Rapaport narrating the story on College Gameday. If this blog post finds the right audience I hope they understand how big this could be.
The decision that Josh Heird and the administration make regarding the current state of Louisville Football could offer up two very different extremes. I know what extreme I choose.
Go try to convince the first family of Louisville Football to come back home. Have Cardinal Stadium busting at the seams and the College Football World is ready to watch how this great story plays out.
I read an article lately talking about how it's not so much where Louisville Football is now but where it's heading if things don't change. It's time to breathe new life into Louisville Football. The same new life that the athletic department and Basketball program got this past year. New energy is good especially if there is a great legacy behind it. Our new AD Josh Heird is a perfect example of that. I hope he can relate to what a Brohm hire could mean around here.
Of course, all of this is under the assumption that Jeff Brohm and his family would consider coming back to Louisville. I don't know why they wouldn't. I know that their hearts are still here. And they do have some unfinished business. If this program wins a National Title someday it would be much better to do it with family.
I'm ready for a change. A few years ago Cardinal Stadium came full circle. Now it's time for the Brohm family legacy to come full circle.
This is my plea…
Go Cards!