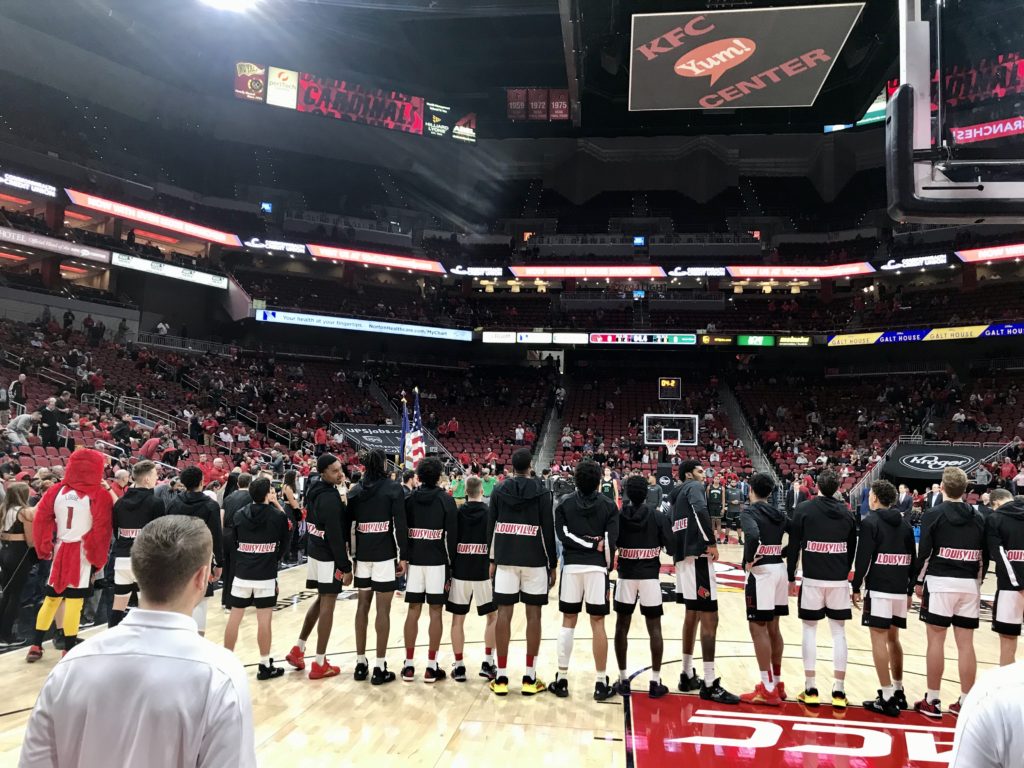 I saw a conversation on social media this week talking about the offensive prowess of this current UofL Basketball team. We haven't had too many teams in the last ten years that could score as these guys do.
The 2008-9 group wasn't too shabby…
That team who was led by Terrence Williams, Earl Clark and Samardo Samuels shot 46% from the field and 37% from the three-point line. They averaged 8.2 threes a game that season. This current team came into this week averaging 8.8 threes a game.
Much like the current group of Cardinals they came into that 2008 season with a lot of juice. They were ranked #3 in the country. And after blowing through their first few opponents that season they headed into Nashville on November 30th Thanksgiving weekend to face WKU.
That day was the last time we lost to a Western Kentucky team. The Hilltoppers won the game 68-54. The Cardinals couldn't throw it in the ocean. Got outrebounded 48-36, outscored 24-18 in the paint in the loss. It was just an odd day.
Talking about odd… It doesn't get much odder than having a College Basketball game broadcast on Facebook at 5:00 pm on Black Friday.
Louisville has a 40-39 edge in this series which dates back to 1926, winning the last seven matchups. If they can win this one today they will be the #1 ranked team in the country.
The game against WKU today is the toughest that our Cardinals have played all season. They will be challenged at every level with a team that has sneaky talent like 2016 Kentucky Mr. Basketball Carson Williams. He is the real-life "Jimmy Chitwood" of my hometown. He had a big game against Kentucky in the NCAA Tourney a few years ago when he played for NKU and is more than capable of helping ruin the Cardinals day in Nashville.
Charles Bassey is the highest-rated recruit to ever sign with WKU. Last season's Conference USA Freshman of the Year and Defensive Player of the Year will be the toughest challenge for the Louisville post players yet. We got Malik Williams back just in time. Gonna need him in this one today. Enoch will also have his mettle tested.
Coach Rick Stansbury is the kind of coach that can draw something up on ya. And it doesn't hurt when his team is hitting 41% from the three and 52.8% from the field ranking 5th in the country.
The Cardinals entered the week ranked 2nd in the country shooting 53% from the field. Jordan Nwora has been the most consistent offensive player averaging 21.3 points per game. I think the best player in the country will be the key today.
This one has me really nervous folks. I'd love to see my dude Carson Williams score 30 points and my Cardinals win by 10. I've said all week that we will find out a lot about our guys today. They will be tested in every way.
Hopefully, by days end our Cardinals will be headed for the #1 ranking and WKU isn't celebrating their biggest win in school history. Their current biggest win is against the #3 Cardinals in 2008. Let's hope history doesn't repeat it's self. Don't need any déjà WKU today.
Go Cards!