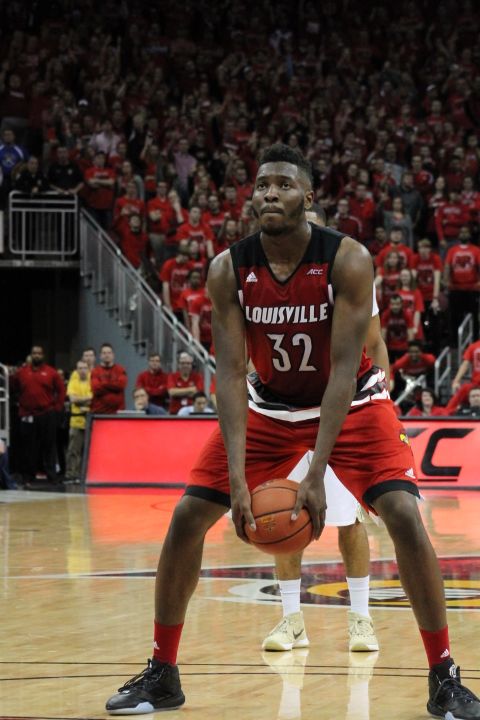 To say that Cardinal Basketball fans have been held captive would be an understatement. We've waited anxiously for the last 2 months to hear news from the NCAA about a scandal we've waded through for the last 6 months. Today Louisville fans waited for another decision, and had plenty of company. Most College Basketball fans where stuck to their social media accounts waiting to hear who would stay and who would go. As most of us where just trying to get through our "Hump Day" it was also filled with many "Humpy" moments as college athletes held our nerves. As college sports fans it's hard not to get caught up in the drama of young athletes making one of the biggest decisions of their lives. We invest a lot of time and emotion on these guys and don't want to see them go. And we know that our team is better with them.
Chinanu Onuaku by my account is a very humble young man, and out of all of the Louisville players in that locker room he seemed to dislike the media attention the most. Many times the sounds of a post-game locker room drowned out his soft tone during interviews. I'm not going to blame him for having his moment, but these decision day platforms are frustrating. The NBA needs to find a better way to recruit their talent and aren't doing these young men any favor. The other professional sports have it figured out give them a call.
After all of the ups and downs and plot twist of a daytime soap opera Chinanu did make it official Wednesday evening on his Instagram account:
"After talking to my family and going through the NBA process, me and my family have decided that it would be best for me to keep my name in the draft," Onuaku wrote on his Instagram post. "I will take the Terry Rozier route and work my way into the first round. I have talked to Coach Pitino and he is behind me 100 percent."
I wish him all of the best this world has to offer and hope he can grab a hold of success at the next level. He was a great Cardinal and helped win a lot of basketball games.
There was also another young athlete who made a big decision today. Tadarrius Patterson, a three-star outside linebacker from Birmingham (AL), committed to Louisville Wednesday afternoon. Perhaps not grabbing the attention it deserved this was big news. We pulled this kid straight from the jaws of the mighty SEC. This kid held offers from Auburn, Mississippi State, Tennessee, and Kentucky. He also held the attention of Alabama and other SEC schools.
Size-Strength-Range
Adequate height with good length and range. Runs well and covers ground quickly. Lacks strength and power at the point of attack at this stage.
Instincts/Take On Skills
Above average recognition skills finding the ball, plays fast and reads on fly. Will occasionally over run the ball or take and inside angle and lose contain. Feels routes develop well in coverage. Lacks an strong anchor versus the run and can continue to develop strength and improve power-base. More effective slipping blocks then then taking on and shedding.
Tackling
Reach and grab tackler, not a wrap and drive through type. Would benefit from coming in lower as he tends to grab high for drag downs.
3rd Down Capabilities
Shows raw ability as a pass rusher, quick with hands and has the athleticism to make an inside move or redirect to beat blockers. Flashes of effective speed-to-power. Shows good savvy and range dropping and closing in zone coverages.
Bottom Line
Patterson is an active defender with good range and athleticism. Big upside given his frame and lack of great run support strength at this stage. Has the tools to develop into a three-down linebacker in time.
We lost a great basketball player today but gained a great football player. I couldn't be happier about the progression of our football program. Coach Petrino and his staff are at the top of their game, and this thing is on a collision course.
As humpy as this day was for many Cardinal fans it still turned out pretty good. We got a verbal commit from a great football player and the Cardinal 9 keeps rolling on. GO CARDS!