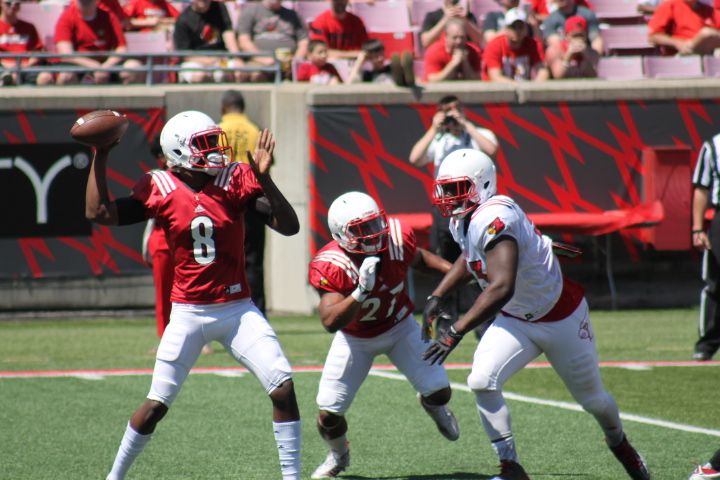 It was a beautiful day for some Louisville football. Over 16,000 fans came out to cheer the Cardinals on as they wrapped up the spring session with a very competitive scrimmage. The first team offense dazzled scoring 73 points while the first team defense locked down the white team holding them to just 7 points. Cardinal fans got everything they expected and more from this year's team.
I expected a lot from Lamar Jackson today and he did not disappoint. Shining just as bright as the sun over Papa John's Cardinal Stadium he lit up the football field throwing for 519 yards and 8 touchdowns. As impressive as he turned out last year with just a limited time to adjust to the program the writing was on the wall as to just how good he would be after a full season. While now also getting to spend the entire off season in the strength, skills and conditioning program. The improvement is noticeable with better accuracy, arm strength and field command. I can't wait until September to see him take the College Football world by storm.
As far as the other skill players are concerned it was a big day for the receiving corps. James Quick led this group with 150 yards and a touchdown. His highlight moment was when he and Lamar Jackson hooked up on an 85 yard bomb.

I was looking forward to seeing Jamari Staples today as he finished last season on such a high note and he also looked very good out there. His highlight moment was when he and Jackson hooked up for a 54 yard score.

Another guy you're going to want to keep an eye on this season is Cole Hikutini. He will be a very important part of the Cardinals passing game. Today he hooked up with Jackson for two scores finishing with 75 yards. He has great hands and really gets himself in good position coming out of his routes. I think he could end up being one of the best tight ends in the ACC.
The Cardinals are once again going to have a stable of very good running backs. Brandon Radcliff has an extra gear when he hits that sideline, and with his work ethic and drive he's in for a big year. Jeremy Smith and Malin Jones are also very capable backs. Jones had a very impressive 65 yard trot for a score in the scrimmage.

On the defensive side of the ball it was some of the usual suspects on the field flying around making tackles. I was most impressed with Stacy Thomas, Chucky Williams, Alphonso Carter, and Zykeisis Cannon. These guys combined for 30 tackles. Josh Harvey was a guy I was watching closely and he had 2 tackles. I look for him to step it up this season as he really wants to play at the next level.

These Spring scrimmages aren't a be all end all predictor of how the upcoming season will look, but it is a great opportunity to see how certain players have improved their games and gives you an idea of just what the offense will look like come September. Today in the post-game pressor Coach Petrino said that he welcomes high expectations and said to "bring them on". He surely will get his wish as I know mine are thru the roof and if you were at the spring game today I'm sure yours are as well.
See you in September Cardinal fans…!
[gallery_bank type="images" format="filmstrip" title="true" desc="false" img_in_row="3″ display="all" sort_by="random" animation_effect="bounce" image_width="600″ album_title="true" album_id="15″]