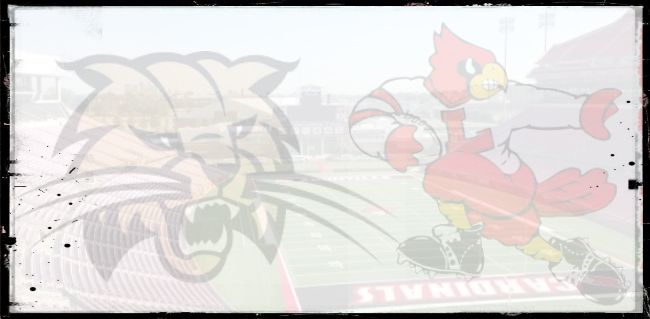 On Sunday all of the speculation will stop and the rubber will meet the road as a new football season begins. It will be the most anticipated start to a season in recent history as the Ohio University Bobcats come to town. The Cardinals don't have much history with this team and the two have only met four times on the gridiron. The record in this series that ran from 1956-1959 is tied at 2-2 with Ohio winning the last game in that series 22 to 15. Here we are 54 years later and the Cards and Bobcats will face each other for the 5th time in their history and the game will be one of just two Sunday games of opening weekend, as kickoff is scheduled for 3:30pm Eastern time, on ESPN.
Coach Strong: "So it's not so much that we have to worry about the opponent, but let's worry about ourselves and let's take it game by game, which we will, but let's make sure that as a player, that we're getting better and we're giving every effort and everything we have to give to make this program a good program."
The Bobcats have become a popular pick to upset our Cards on opening weekend but usually by folks who are casual in their sports knowledge. Don't get me wrong, I think that they have a very good program. They will come to Louisville believing they can win. Ohio coach Frank Solich is very good and in his eight seasons has raised the level of play in Athens. They started out 7-0 last year and went to Penn State and got a big win to start their season. They will also be riding the high of winning the Independence Bowl. They return their three main threats on offense in big play Quarterback Tyler Tettleton who had over 3000 yards last season, running back Beau Blankenship who carried the ball 312 times for over 1600 yards, and wide receiver Donte Foster who had 59 receptions for over 650 yards. These guys helped their team average 32 points a game last season. The offense is solid but they will have some issues up front on their offensive line where they lost three starters. This will be a good opening test for the Louisville defense but the athleticism of our guys will take over here and rule the day. The speed of our safety's will lock down their receivers and our defensive line will get to Tettleton all day against their newly formed offensive line. They will run the ball a lot and our linebackers will be up to the challenge.
The biggest problem for the Bobcats on Sunday will be keeping our high powered offense out of the end zone. They allowed 390 yards and 25 points a game last year and lost six starters off of that defense including their entire defensive line. They have no real experience returning up front. They will basically be counting on two guys to lead their new make shift defense. Line backer Keith Moore who had 98 tackles last season and safety Josh Kristoff who had 60 tackles last season will have their hands full. My guess here is that Teddy QB, Devante Parker, Damian Copeland and company will play toss and catch all day on the Bobcats secondary while our five headed monster running back group lead by Senorise Perry will pour it on that newly formed defensive front.

I guess its fun for some folks to think that a team like Ohio could come in and knock off the #9 team in the country. But it's just not a realistic conclusion to the Cardinals opening contest. There are many challenges that face our guys on the football slate this year, but this is just not one of them. These guys aren't in the same league. They just aren't… Louisville opens up as 20.5 point favorites but I think it will be much worse than that for the Bobcats.
The Beak Prediction:
Louisville 51 Ohio 13