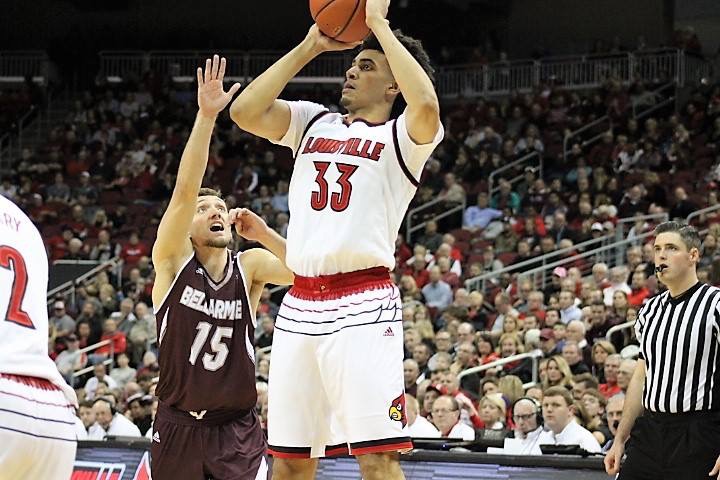 It is the eve of one of the best rivalries in college sports… If you grew up in the state of Kentucky, then you chose your side very early in your life. I was singing the Louisville fight song to my son on the night he was born. And at age 6 he already loves his Cardinals. I picked a side 30 years ago and have never regretted my decision. I love my Cardinals and I love this rivalry. Rivalries are what define sports and every competition needs a great one. We have one of the best and it deserves the credit.
This is one of those games that you could analyze to death and a player comes out of nowhere and scores 20 points to turn things upside down. I just hope that player is a Louisville Cardinal this year. You keep hearing a lot about Ray Spalding and Ryan McMahon being guys that could have a big impact in this game. Ray will have to play an important role and I think Ryan will hit some big shots.
The guy not getting much attention this week is Jordan Nwora. He is only averaging 5.5 points a game so far, this season but I do think he could be the guy that comes out of nowhere. Nwora looked great in the season opener hitting 3 Big 3-point shots in that one. I can see him have that kind of game tomorrow. He has the size and the athleticism to give the UK defense trouble on the wings.
We are one of the few teams in the nation that can match their size all over the court. According to Ken Pomeroy's advanced analytics Louisville is ranked 7th in average height and UK is ranked 4th. In effective height the Cardinals are ranked 13th while the Cayuts are ranked 23rd.
Anytime the Cardinals get a win in Rupp Arena they win the rebound battle and hit their free-throws. This Louisville team has struggled at times on the boards. They can't afford to do that tomorrow. This is one of the best free-throw shooting teams we've had.
This will be one of the biggest tests of the year for both teams. Each must play to their strengths and attack the others weakness, but as I mentioned above with the player always coming out of nowhere there will be a scenario play out that nobody expected. These rivalry games are packed with emotion and that along with the home crowd will also factor in. I'm looking forward to a great game and an opportunity to knock off this Kentucky group. Should be another great one in the series…
Go Cards!