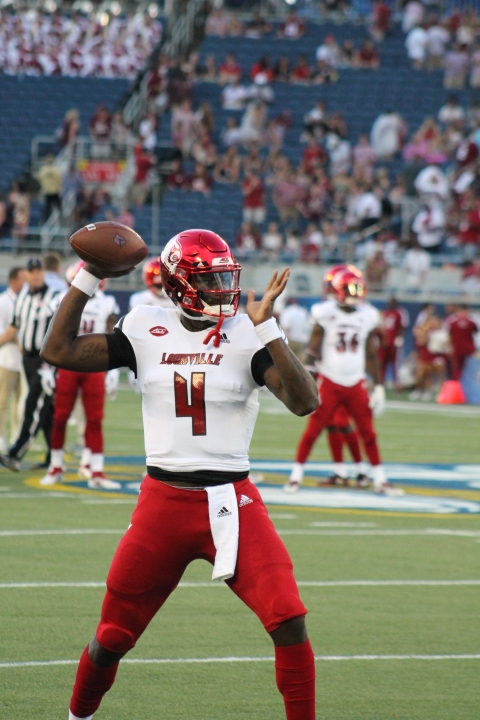 Things can change quickly in Fall camp but according to the current depth chart, it looks like Jawon Pass will get the first snap when the Cardinals take the field against the Irish on September 2nd. It won't be the first time Pass has took the first snap of the season in a big game for the Cardinals. After waiting out a red-shirt year in 2016 and only playing sparingly in 2017 Pass got his first chance to shine during the 2018 season taking the first snap against Alabama.
Pass completed 20-of-39 passes for 252 yards and two touchdowns against the Crimson Tide and while that night wasn't one to remember it looked like the Cardinals passing game was going to be on track as in previous seasons and folks still seemed optimistic about Pass. We all know now how that turned out. The season was abysmal and Pass who took the first snap wouldn't even see the field against Kentucky in the final game of 2018.
This isn't the way the legend of the Puma was supposed to end. And yes Jawon Pass had created quite a legend for himself as a High School athlete. With an impressive mix of height (6-4), size (209 pounds) and speed (4.50 40-yard dash time), Pass was rated the No. 5 dual-threat quarterback, No. 19 Georgia product and the 228th recruit overall in the 2016 ESPN 300. As a 4-star dual-threat quarterback, Pass had a number of potential suitors. That included all of the Big Boys. Alabama, Clemson, Auburn, Florida, LSU, Mississippi State, Missouri, Ole Miss and Texas A&M all recruited him along with others.
Pass committed to Louisville on July 16, 2015, but he kept his options open right until National Signing Day and entertained flipping to Alabama or Auburn as the the cycle came to an end. It was said that Nick Saban wanted Pass badly at Alabama and he even took a last minute trip to Bama before making a decision. By this time Louisville fans were in a frenzy about what could be. So much so that hundreds of the Cardinals faithful made their way over to Creekside High School in Atlanta the night before the Auburn game in 2015 to watch Pass's Carver High School team play. I made that trip with my family to show our love for the young Puma.
Highly regarded and one of the most anticipated recruits to make their way to Louisville the legend of Puma has to have a better ending than that debacle last year. I seen a scouting report on Pass that read like this:
"Pass is like a ball of clay that needs to be molded. There is a lot to work with here talent-wise, but also a lot of technical work to be done. Must continue to develop knowledge of the game so that he can become a passer who is also an athlete as opposed to an athlete playing quarterback. Coaches will like his upside and rightly so. Is a good player that has a very high ceiling for development."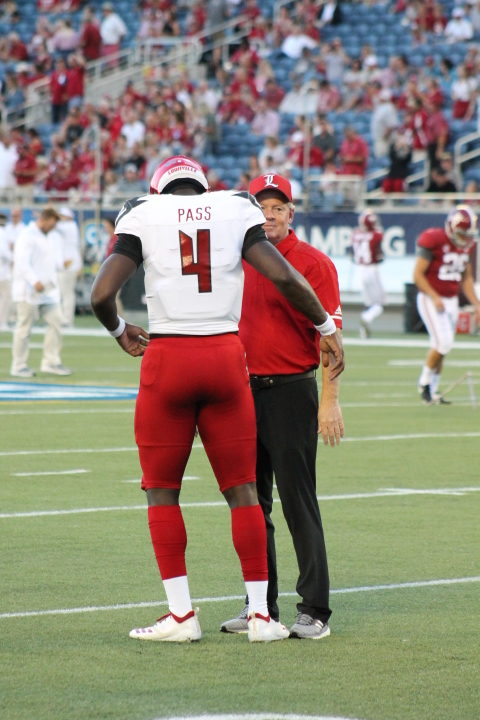 Bobby Petrino took that ball of clay and instead of turning it into a work of art left it looking like the ash trey I made in my home economics class my senior year in high school. As a Fourth-year performer Jawon has passed for 2,198 yards and 10 touchdowns in 16 career games completing only 55.5 percent of his throws with 12 interceptions.
I don't know about molding clay but the skinny on Coach Satterfield is that he knows how to mold a college QB and he knows how to develop a football players talents. There's been and will continue to be plenty of chatter about a potential turnaround for Pass, but ultimately I think it will be up to Pass to realize his potential and make himself relevant again.
There couldn't be a bigger support system for Jawon Pass and the legend of the Puma than the Cardinal Nation. A lot of us were on board from the beginning and want to see this thing have a happy ending. I will continue to be a strong supporter in Pass and still believe he can be what everyone thought he could be back in 2016. Now he just has to believe in himself again. I sure hope the legend of the Puma will come to Pass.
L's Up!