The 2013-14 basketball season is unofficially under way and tonight the defending National Champion Louisville Cardinals took the floor of the KFC Yum Center for the first time against another opponent. They put on an offensive show beating Kentucky Wesleyan 115 to 67 in what will be the first of two exhibitions to start this early season. Coach Happy Osborne said after the game "The good news is we get to cash the check." But the news for the Cards was much better than that. The players were wearing the Adidas "Rise and Repeat" warm-up shirts tonight and the way things looked that may be an omen.
One thing is for sure about this group of Cardinals and that's their ability to shoot the basketball. This may turn out to be one of the better offensive groups that Coach Pitino has had. And the two players that stood out tonight were Russ and Montrezl. These guys alone make the Cards a top 10 team. They combined tonight for 37 points. Russ has always been able to cause problems for opposing defenses with his ability to get into the lane and create offense for himself. This year they get to deal with Russ 2.0. He now looks to create scoring opportunities for his team-mates and looks to be playing much more under control. Montrezl Harrell is just a monster in the lane. If he is near the rim you can bet he's going to try and rip it off. He had 8 dunks tonight and had it been a regular game it would have beaten the old record of 7 set by Pervis Ellison in 1988. I don't think its a stretch to say that record will go down before the season is over. I was also impressed with the new guys. Each of them came into the game at some point and made some really confident plays. I didn't see any wide eyes and it looks like these guys are learning quick. Jones, Rozier and Gill stood out among the new faces and combined for 47 points and 18 rebounds. Our back-court is going to be one of the best in the country if these guys have as much upside as they appear to have. Mango and Agau did some good things tonight as well and each of them grabbed 8 boards. We are going to need one or both of these guys to emerge for us down low. I was a little disappointed in Blackshear and Van Treese. I would have liked to see them stand out and have more of a presence in the game. The time is now for both of them. We need them to step up. They combined tonight for 6 points and 5 rebounds.
Other than the new foul rule causing a free-throw fest and prolonging the game an extra 40 minutes there wasn't much to complain about in this first exhibition. These guys stay healthy, continue their progression and gel as a team there's no reason I shouldn't be taking an April vacation to Arlington Texas at the end of the season.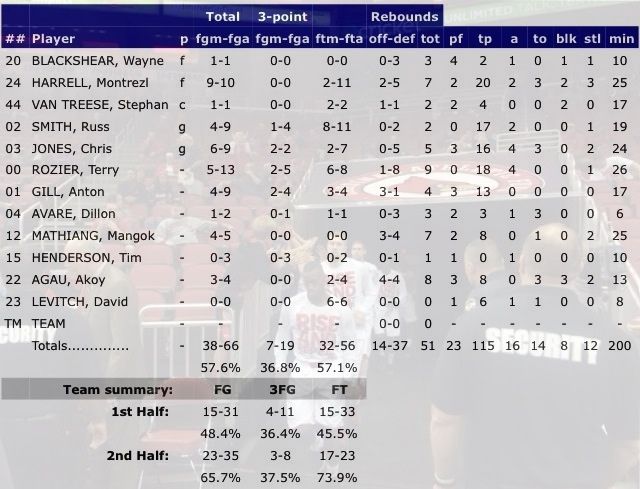 Rick Pitino post game:

(Video courtesy TheCrunchZone.com)