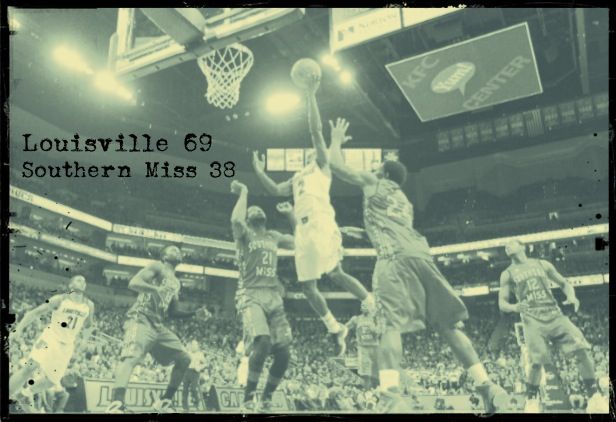 (Photo by Andy Lyons/Getty Images)
Not much of a challenge in this one tonight and the Cards took care of business beating Southern Miss 69-38. The Cards add to their series lead over the Golden Eagles 31 to 11. The Cards who ended a 21 game winning streak last weekend now start a new one. Louisville #9 in the country is now 6-1 and has never lost back to back games in November under Pitino.
In true Pitino fashion the Cards starting line-up for this game had a few changes. Terry Rozier got the nod over Chris Jones and Mangok Mathiang got the starting nod at the center position. Both players took advantage of their starting roles early as Rozier hit a pair of three pointers and Magok hit a shot to help the Cards take a 13-0 advantage in the first five minutes. These guys would finish off their nights just as impressively as Rozier would end up with 9 points while Mango had 7 rebounds and three blocked shots. I hope this duo continues to trend upward. Would be huge for this team.
Louisville's offense looked sharp tonight and ten players made it into the scoring column shooting 23 of 55 for 42% and matched a season high with 12 3-pointers. And while he didn't get the start Chris Jones made the best out of coming off the bench and was a very big part of this offensive production. He lead the team with 18 points making 4 of 7 from three and 5 of 10 overall.
Russ was quiet in the first half but got things going in the second half and ended up stuffing the stat sheet with 11 points, 1 rebound, 4 steals and led the team with 6 assist.
Montrezl also had a good night scoring 11 points with 9 rebounds. I love seeing this guy try to rip the rim off but seeing him have a big rebounding night is just as fun. His rebounding is needed more than his offense in my opinion.
Kudos to Wayne Blackshear for showing up tonight. He had 9 points, 5 rebounds, 2 steals and 2 assist. Now let's see if he can keep it going. Consistency is the key with Wayne.
The Cardinals' defense was the thing that everyone was watching tonight after the dismal showing in the loss last weekend. Tonight they were back on track forcing 22 turnovers and snuffed out the Golden Eagles at the start of both halves, holding them scoreless for nearly 12 combined minutes in the game.
Rebounding was also better tonight and the Cards grabbed 38 to their 33.
Free throw shooting took a step backwards again tonight and they were 11-22 for 50%.
The guys returned to the court tonight with a look of purpose. You could tell that they had been in the practice gym for a week. I think Rozier and Mangok will benefit from getting this start and it will help their confidence. Coach Pitino knows what he is doing with these two and knows that their development is critical for the teams success. It was a good night and good return to the court for the guys tonight. The December grind starts next week. Time to continue to improve and keep building on the successes. Lots of good things to build off of from this one tonight. Go Cards!
Wayne Blackshear after the game:

Terry Rozier after the game:

Luke Hancock after the game:

Mangok Mathiang after the game:

Montrezl Harrell after the game: