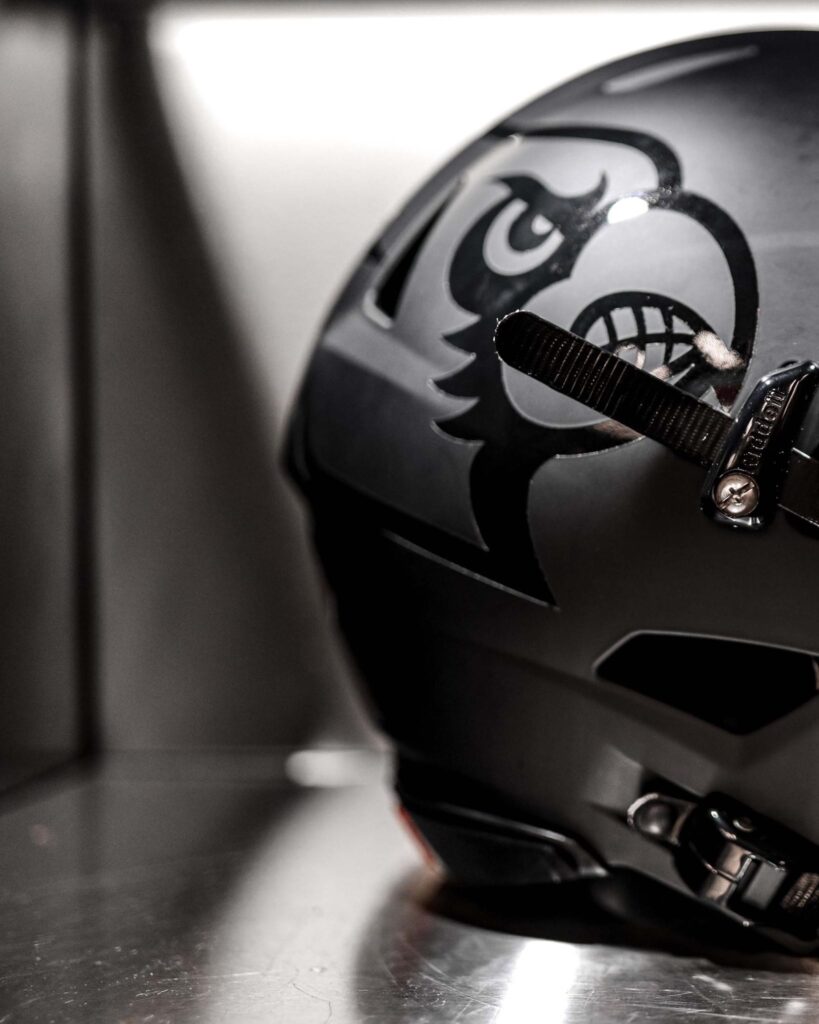 When my son was born in 2011 I couldn't wait to take him to a Louisville Football game. We had made it thru the Kragthorpe debacle and Charlie Strong was in his second year.
That season you could tell that things were going to be better. A share of the Big East Title and after four long years of losing to them finally a win over the arch-rival Cayuts in Lexington.
That 2011 victory sparked the most dominant streak in this series with Louisville Football winning the next 5 straight and winning the next six out of seven against Kentucky.
For the first few years of my son's life, the Louisville Football team was rolling. 10 win seasons, Conference Titles, Bowl wins, Sugar Bowl win and never lost to Kentucky. I took him to games and he was with me at open practices. But being so young I don't think he remembers all the success and great times.
I'm afraid around the time his memory kicked in Louisville Football started getting its teeth kicked in. Literally and figuratively… Since the end of Bobby 2.0's run, it's been nothing but bad. A run that includes three embarrassing losses to Kentucky.
Coach Satterfield and his "Satturdays" started with a sputter but with a renewed spirit from him and his staff, the program has started to take some shape. After a few years of moving in no direction, last season at least had a direction.
A promising 2021 campaign ended with a 6-7 record, which included a 4-4 mark in ACC play before falling to Air Force in the First Responder Bowl. It was an appropriate Bowl game for a bruised and battered Louisville Football team. Health was that team's biggest obstacle.
The clouds have parted over my old Kentucky home and Louisville will open its 2022 season with a lot of optimism and more promise than I've felt in a while. Maybe… just maybe this will be the year Brody gets to meet "Louisville Football".
This team has the pieces to be competitive and fun again. It starts on offense with the epitome of a dual-threat quarterback, Malik Cunningham 3,000 passing yards and 19 TDs with just 6 INTs while also rushing for over 1,000 yards and 20 TDs. He is a human highlight reel.
No coach in the country improved their team more thru the transfer portal than Coach Satterfield did. On offense, Tiyon Evans (525 yards, 6 TD in '21) will start at RB. Averaging 6.5 yds a carry in the SEC last season. He was a big get for the Cards. While Dee Wiggins (6.3 yards per catch in '21) comes in from Miami and Tyler Hudson (1,229 yards, 8 TD's with 19.8 yards per catch) transfers in from Central Arkansas to make up a receiving corps with a ton of potential.
On defense, Jermayne Lole (17 tackles, 1.5 sacks in '20) transfers in from Arizona State, and Momo Sanogo (12 tackles 1, 5 sacks in '21) enters from Ole Miss to help the cause. The Cardinals hit the transfer portal especially hard in the secondary, bringing in Jarvis Brownlee (30 tackles, 2 INTs, 3 passes defended in '21) from Florida State, MJ Griffin (47 tackles, 4 passes defended in '21) from Temple and Quincy Riley (24 tackles, 5 INT's, 9 passes defended in '21) from Middle Tennessee.
Adding players who can have an immediate impact with the returning guys on offense and defense is a winning strategy.
The offense returns guys like RB Jalen Mitchell (722 rushing yards, 5 TDs in '21) and talented WR Braden Smith who returns after an injury-plagued 2021 season.
On the defensive side of the ball a front seven that has some solid pieces returning like Yassir Abdullah (43 tackles, 10 sacks in '21) at linebacker and Ashton Gillette (19 tackles, 4 sacks in '21) as a solid pass-rushing defensive end. Kei'Trel Clark (30 tackles, 3 INTs, 9 passes defended in '21) is back in the Louisville secondary after an injury-shortened season. DB Kenderick Duncan (53 tackles, 1 INT, 4 passes defended in '21) is also back. DB Chandler Jones (27 tackles, 7 passes defended in '21) is a solid veteran cover corner.
There is a reason why guys like Phil Steele and other reputable folks have predicted an upswing season for this Louisville Football program. This coaching staff went to work solidifying the current roster and it is loaded with potential.
The Cardinals have more continuity throughout the lineup than they've had in a long time. I think we have just as much big-play ability as anyone in the country. That is going to be the difference in the first game against Syracuse and several games this season.
My son turns 11 in November. I got that same feeling as the year he was born. Louisville Football is finally back in a good spot. I feel like the program is moving forward and have told Brody to prepare for lots of winning. And for things to be different this year in the Governor's Cup. This is the year "Louisville Football" makes its return.
Hey son meet Louisville Football… Go Cards!