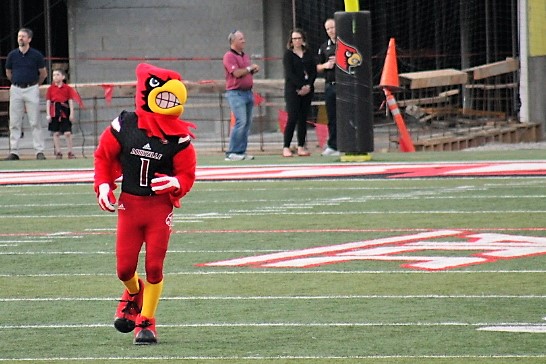 Going into this season I think we all knew this Louisville team was going to score and score a lot. And they have… posting 24 or more points in every game and 30 or more in each of their last five.
Louisville has moved into the top 25 nationally in total offense, averaging 452.0 yards per game. The Cards have totaled more than 500 yards of offense in three of the last four contests. If the story stopped here you'd think this team was rolling and fans were going into today's game pretty confident about the outcome. But it doesn't…
The troubLsss… has been on the other side of the ball. Louisville has given up 34 or more points in three of their last four, and the result is the Cardinals going 2-2 in that stretch. In the last quarter of football, this Louisville defense played they gave up 21 points.
Today is where the rubber meets the road for this Louisville Football team and the defense. Defensive coordinator Bryan Brown promised a much tougher brand of defense. At times you can see the light come on for his group. They have made some big plays.
Through the first six games of the season, the cardinals have surpassed their 2020 total of interceptions. The defense picked off two passes versus Virginia to give them seven interceptions on the season. And the big pick to beat UCF.
There is talent on the Louisville defense with young guys stepping up each week. I don't think players are the issue. I think it's about Coach Brown getting all of these guys in the right situation to win and finish ballgames. Maybe the 3 man rush, prevent defense should take a back seat.
Linebacker C.J. Avery is attempting to become the fifth player to lead the team in tackles, Linebacker Yasir Abdullah ranks 18th in the country and third in the ACC with 0.8 sacks per game, breakout freshman Ashton Gillotte is second with 3.0 sacks, Kei'Trel Clark leads the team in interceptions with three, and Jack Fagot leads the team in tackles with 42 after recording nine in the loss to Virginia.
Playmakers… Playmakers… Playmakers… too many for the Louisville Defense to be giving away games and that's what they did two weeks ago. The defensive unit and staff will have all eyes on them today.
They've had an extra week to get ready for a Boston College team that hasn't been an offensive juggernaut this season. They couldn't do anything after halftime against NC State in their last time out. The Eagles ultimately collected just 291 total yards with 4.2 yards per play and 17 first downs.
No excuses for this Louisville Football team today. None! They must move forward, the defense must move forward and that starts with a win. I think they will. Go Cards!