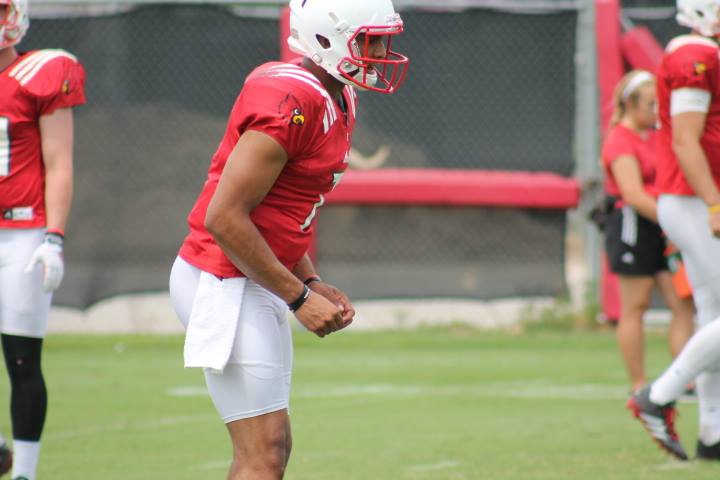 It took some time to process the Louisville football team's loss to LSU and the awful way they ended the 2016 football season. The Cardinals would start the 2016 season with a lot of optimism and promise. But it wouldn't end that way. There is an old cliché that says the third time is a charm… And although Coach Petrino finished the season with 9 wins and a 7th straight trip to a bowl game I don't think his third season back as the head football coach at Louisville would be considered a charm. He finished last season with a lot more questions than answers about his football team. What had been a return full of praise and perceived success now mired by some failure and skepticism. The honeymoon is over.
But Spring is a time of renewal, and new growth and the signs of change are all around us. The same could be said for the Louisville football program. New coaches, new players stepping into key roles and an overall change in attitude seems to be the theme of the Cardinals Spring Football workouts. I got a real positive vibe being out on the practice fields on Friday afternoon for Louisville's first open practice. There seems to be a renewed spirit along with more intensity overall and a greater attention to detail. And it's not just the coaches who are leading the way. I noticed that the players were encouraging each other and holding each other accountable as well. That shows me that this coaching staff already has these guys buying in.
Here are a few other things that stood out to me:
The Louisville defensive unit had a lot of hop in their step on Friday afternoon. They weren't just going through their reps and seemed like they were having some fun. I think new Defensive Coordinator Peter Sirmon has simplified things trying to make the defense more active instead of reactive. He and his assistants were really paying attention to detail but doing it in a way that their players better understood it. Or at least it seemed that way to me. Coach Sirmon has said that his players will set the depth chart. Just by being around this unit for a couple of hours it appeared that the message has been heard loud and clear. There are a few players who stood out. SR Safety Chucky Williams was active along with SR Linebacker Stacey Thomas, Junior Corner Jaire Alexander and Sophomore Corner Cornelius Sturghill. Some younger guys stepping up on Friday were Redshirt Freshman PJ Blue and Sophomore Linebacker Amonte Caban. There are a lot of studs on this side of the ball for the Cardinals. I really like this unit.
The Louisville Offensive line was horrible last season. There is not a nicer way to put it. They just completely stopped trying to block anyone in the Bowl game. There is footage of them literally side stepping a defensive lineman. If Louisville is ever to take the next step up Program wise, then this is an area that must be fixed and fixed fast. Enter new offensive line coach Mike Summers. Coach Summers hasn't changed much since his last run in Louisville maybe a little greyer around the edges but the intensity is still the same. Watching this group on Friday I really like our size. Players like 6-7 315-pound SR Toriano Roundtree, 6-6 324-pound JR Lukayus McNeil, and 6-6 318-pound JR Geron Christian look the part. If they can learn some of that intensity and take on the identity of their new coach, we should see a big step up from last season.
Watching the offensive unit on Friday I can tell you that this team has a lot of talent at the skill positions and some size too. I could watch Lamar Jackson launch bombs to 6-6 JR Wide receiver Devante Peete all day. These guys tried that connection several times on Friday afternoon. Coach Petrino has several dimensions to his offense and again has the players to get it done at every level. I was most impressed with Redshirt Freshman Running Back Dae Williams. This kid doesn't get rush yards he gets rumble yards. He and SR Running Back Jeremy Smith would be a great 1-2 punch. The play of the day was made by Sophomore Tight End Jordan Davis who had an impressive one handed grab for the completion. Wide Receivers coach Lonnie Galloway and Running Backs coach Kolby Smith are "Players Coaches". They were right on the heels of their guys Friday. Smith was running through the gap with his guys making sure they ran every single play out. I think this will pay off this season. The Cardinal offense will be legit.
There was a lot of blame to go around last season but very little if any should land on the shoulders of QB Lamar Jackson. He had one of the most impressive individual performances in a season that won't be duplicated for many generations. The only bad thing about that is that his team didn't leave him with much choice. I think being surrounded by a solid team could really make his stock go up even more. There seems to be a big emphasis on using some of the other talent on this team and coach Petrino really spread the ball out on Friday afternoon. He had Lamar using his legs and his arm. Just watching and observing one practice I think we will see a more complete player this season out of our Heisman Trophy winner. I love seeing him hurdle players but it's also fun to watch him throw those bombs.
It's hard to really take in all that you want during just one of these practices but I did try to make my way around observing the things that I felt important to follow up on from last season. You'd have to search far to find someone who was more disappointed at how the 2016 season ended. But the program responded to that disappointment and positive change filled the spring air on Friday. I really like what I see and my optimism is thru the roof. I plan on heading back out to the practice fields on Tuesday the 28th for the second Open day. I would encourage you folks to do the same. Go Cards