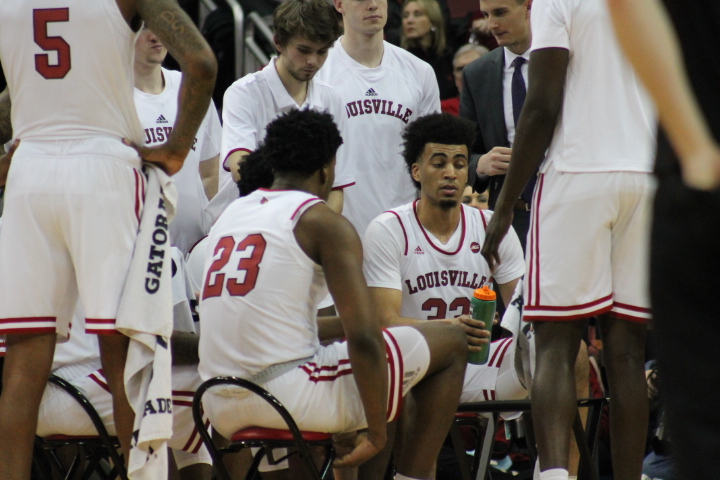 It's been over 1400 days since Louisville has beaten Virginia in basketball. You have to go all the way back to March of 2015 to see the Cardinals in the win column in the series led by Virginia 13-4..

I knew the Cards were gonna hit the game-winner that day. That's why I started taking this video. That was one of those days in the Yum Center I'll never forget. I just knew they'd win but was just as surprised as everyone when an unlikely hero emerged.
Mangok Mathiang is a Louisville basketball player that had his ups and downs on the court. In the game, before he hit this big shot he had played just 4 minutes fouling out. He was a player that took a lot of grief from the fans so it was good seeing him have his moment. The players were enjoying it too.
Reminds me of another guy who has been struggling…
As Coach Mack was pouring over old game footage preparing for this game he had to notice how VJ stood out against the Virginia pack line D. I think that he could really impact this game and hope he gets some clock.
VJ King has had a tough season and has had a career of ups and downs. But Virginia hasn't been able to stop him. VJ is averaging 11.8 points and 2.8 rebounds against the Cavaliers in his career. He scored a career-high 24 points against Virginia during his freshman season.
Virginia is one of the best teams in the country but they have shown a chink in the armor over the last few weeks. Including a clunker that almost cost them a home loss to Notre Dame. Our Cardinals have struggled on offense as of late, however, they are still a solid club and can be especially tough at home on the defensive end. Louisville is an impressive 13-3 at home this season.
I think an unlikely hero will emerge on Saturday. I think this Louisville team needs an unexpected outing from someone. Not only for this one but to make any kind of serious run down the stretch. There have been a lot of "the game VJ King shows up" predictions and this is mine.
Go Cards!