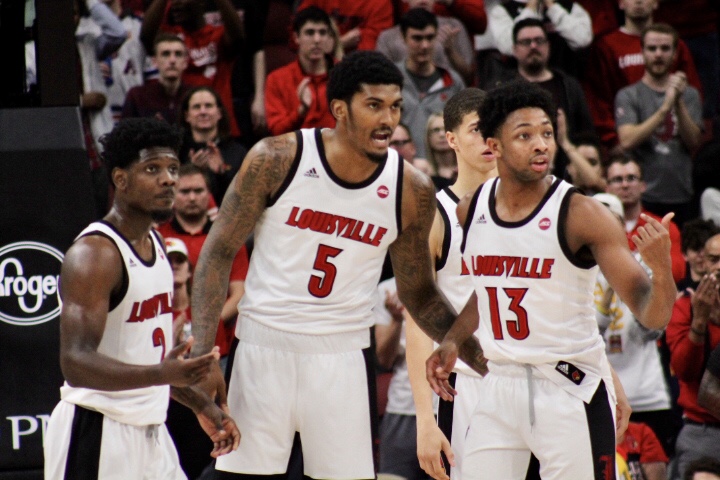 The Pack Line defense has a few simple principles that differentiate it from the traditional man-to-man defense. The priority of the defense is to stop all dribble penetration. And in modern basketball, stopping drives is a formula for success.
The player guarding the ball applies immense ball pressure knowing full well he has four teammates crowded within the "Pack Line" ready to help. This frustrates teams who will usually just pass the ball around on the perimeter and chuck up a contested jump shot.
I'm pretty familiar with this defense now. But before Coach Mack came to town I thought defense was gambling for steals, creating controlled chaos, 2-3 matchup zones, and fullcourt presses.
Chris Mack likes to send his guys to the offensive glass more but his defense is very much like the one we feared for years at Virginia.
This Louisville team is no longer afraid of the Pack Line. They play against it every day now. They have been drilled in its principals over and over again. They hung 80 points on that Virginia defense already this season.
That doesn't happen to them very often especially at home where the Cavaliers are allowing just 49.6 points this season. I think they'll make this Louisville team uncomfortable but if the jumpers are falling it will be a shooting contest.
I used to dread these games with Virginia. That anxiety and disgust have been replaced with Florida State. I think Leonard Hamilton might be Louisville's new Tony Bennett. I now enjoy the battle of the Pack Line defense and watching how these teams attack each other. It takes good shooters. This Louisville team has those.
It's been a good regular season. A win today and Louisville will share a regular-season conference title. Not too shabby in the middle of a program rebuild. I hope our guys get it done today. I would like to keep the great vibe from last weekend rolling into the postseason. Go Cards!

GOCARDS.COM GAMEDAY BREAKDOWN