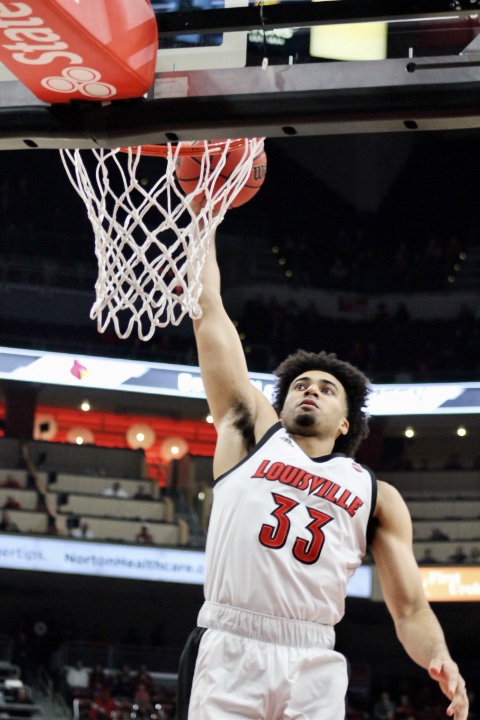 I know I really took it hard when Louisville took that L to Texas Tech in New York this week. After a few days, I was able to just chalk it up to one of those fluke games. I want to believe in this team so much.
I don't really think it was a fluke and know that this team needs to get better and improve their guard play. It's hard to tell much about teams in the fluff games like Saturday against EKU but Coach Mack said that he felt like his team moved forward and certainly didn't take any steps backward.

I'm really optimistic about our guard play, especially after Saturday. David Johnson is impressive with his ability to see the floor the way he does. You can't teach his court awareness and you can't teach some of those dimes he was dropping in the Yum Center. The big fella finished with only 2 assists but the offense looked more lively with him involved.


I didn't ask Jordan Nwora a question in the post-game presser but would have liked to tell him he's still our dude. Keep ya head up. You are the best player in the country. I have believed in this dude since day one. Nothing gonna change after one clunker. He had a solid game Saturday.
Like I said not much to judge or write about this one. But there were a lot of good vibes in the Yum Center on Saturday afternoon. I drove to the game after my son's first Reconciliation that morning. My heart was full and it was just one of those days trying to luv up somebody. I did my best.



They announced the Football Coaching staff during one of the intermissions and during the half time I was able to show some luv to Coach Dwayne Ledford (gave him a Bear Hug) and Coach Satterfield. I appreciate those guys… Awesome to be able to express that to them.
They didn't bring EKU Coach AW Hamilton in the big press room after the game. I wanted to ask about his trip around Ky with his team. We are the 6th instate school they've played and wanted to ask him about his Coach Mack story (Basically sent him down his path). The last time I was in the same gym as AW he was winning a state title as player with Scott County. He's got my alma mater playing hard. AW is a solid young coach.
Want to throw a bone to the Junkyard Dawg Dwayne Sutton. This dude became a 1000 point scorer on Saturday. Repping his hometown. He is one of the most selfless players I've covered. Just a hard-nosed player and a good young man.



It was also good to see the Super 5 out on the floor at the end of the game Saturday. We were watching the future of the program. I'm not convinced a few of them won't be developed into solid minutes this season.
The Cards will get one more tune-up with Miami University (OH) on Wednesday night. Then it's the biggest game of the nonconference with Kentucky. I watched David Johnson win a State Championship in Rupp back in March. I would love to see him have a big day on the 28th. Big-time players rise in big moments. We got some big time.
Today got me over the hump…
I'm over the loss in MSG. The good vibes are back. Go Cards!