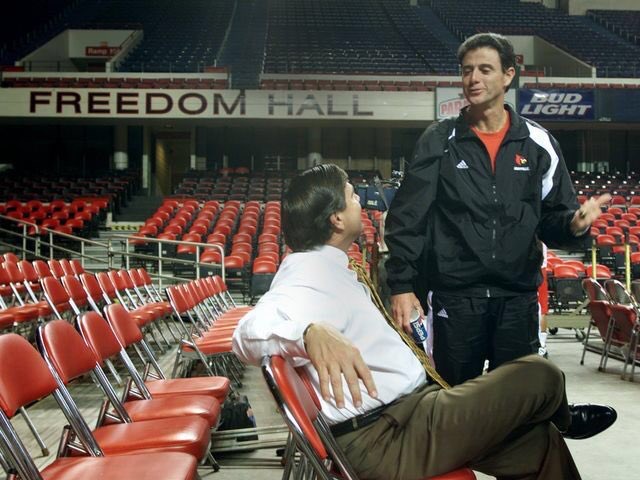 (Photo Credit Keeb White @keebwhite)

When the sun comes up over the Twin Spires and shines through the trees on the UofL campus in the morning and for the first time in 16 years Tom Jurich and Rick Pitino will not be pulling the strings. Pitino officially fired and Jurich on administrative leave and has essentially been replaced for now.
Two men for their time both innovative, creative and in some cases revolutionary in their career fields. A flashy sports businessman from California and a brass basketball coach from New York City Tom Jurich and Rick Pitino changed the face of Louisville sports and helped to change the sports world in general. They brought the Cardinals into the 21st century and gave the University the platform to compete on the national stage.
They were also the two men of my time… We only have a certain amount of it and with each passing day it gets shorter. The time we spend on this earth is filled with memories of the things we love, the people we love and the times we share together. Sports is one of the things that I love and I've spent a lot of time sharing the experiences surrounding that with the people I love.
Rick Pitino would enter my sports world in 1989 when he took the University of Kentucky job. I was a freshman in high school and was probably too young to really appreciate it then but Coach Pitino was revolutionizing the game of college basketball. Coaches at all levels were trying to model their strategies around his run and gun, three-point shooting style of play and blitzing defense. Being a short un-athletic player myself I now had an opportunity to contribute to my high school team by learning how to shoot the ball from deep. I've never been a University of Kentucky fan but I enjoyed watching some of those Pitino led teams.
It wasn't until he had beaten my beloved Cardinals for a fourth straight time that my love for Pitino's style of play turned into disgust for who was reaping the benefit. I couldn't stomach another National Championship or Final Four run from that program in Lexington and couldn't wait until Rick took an NBA job. It finally happened and I couldn't have been happier.
Ever have a rival guy date an amazing girl and out of jealousy you have nothing nice to say to her or about her? Then your rival and that same girl split and she starts to have eyes for you. Suddenly it is you with the prettiest girl at the prom. That's the way I felt back in 2001 when Rick Pitino was named the head coach of my beloved Cardinals. I couldn't wait to get that air brushed T-Shirt with our names on it to show my rival that she was my girl now. And when Rick Pitino became my coach I couldn't wait to wear that "Got Rick" T-Shirt to show college basketball fans that he was our coach.
Just as he had done in Lexington Pitino didn't waste any time changing the climate and the culture of the Louisville basketball program. Things started to look different and things started to feel different. His name alone gets you on the front page and Louisville who was coming off a bad 10 yr. run was a household name again. In just 4 years the Cardinals would return to the Final Four. With success on the court going as planned Coach Pitino wasn't having as much of it in his personal life. Admitting to an affair in 2009 things became cloudy but the program continued to move forward. It didn't hurt that a new arena was in the works. Coach Pitino wasn't going to play second fiddle to horse shows and truck pulls and would start immediately to petition for that new arena. He and Tom Jurich would get their wish. Some coined it the Pitino Palace when the Yum Center opened in 2010.
With a new arena and a new brand Louisville Basketball was back in the spotlight. They say pride comes before the fall. I don't think you could have had more pride than what I felt in my heart walking out of the Georgia Dome that night in Atlanta when my Cardinals had just won their third National Title. I didn't think I'd ever live to see it. And that entire year was special to me. That joy would soon turn back into heartache and in 2015 those clouds rolled back in. The stripper scandal unlike the Sypher scandal was not going away. And while the program still waits on the final word from the NCAA on that now here we are amid yet another scandal. I don't think this is a sign that he's done anything wrong but just might be a sign that it's Ricks time to move on. College basketball might not have a grand exit planned for one of its most influential figures but all those coaches and players he's mentored along the way and who are now coming out in support of him is a pretty good one in my opinion.
The hiring of Rick Pitino was the cornerstone of Tom Jurich's career at Louisville and perhaps is the reason he feels so much loyalty. So much that he is willing to jump on the sword with his friend. The Pitino hire gave Jurich the juice he needed to start making ground breaking moves in the athletic department. Tom Jurich celebrated his 20th anniversary as the Cardinals athletic director this year. The impact he's had on the Louisville athletic programs are nothing short of amazing. He turned an athletic program once mocked as Silo University into a major brand. The Silos are gone and now only serve as a shadow of another stadium expansion. I think one of his bigger achievements is pushing the Louisville football brand on Thursday night football. He was willing to take that leap with ESPN when it wasn't a popular thing and has been credited by them for the success of that platform. And that platform helped put a budding program on the map. After years of hopping around from conference to conference that visibility helped Louisville Football and the Louisville athletic program find a permanent home in college sports. And without Tom Jurich there would be no ACC affiliation. Period!
I got to drink a beer one time with Tom Jurich at a Louisville event. I say drink a beer because that's the story I tell. It was actually a couple drinks of beer while I told him how things had changed with UofL Sports in my lifetime and thanked him for his contribution. The picture from that day hangs in my man cave. He always greeted me with a smile and a handshake after that. There is more to Tom than just all his accomplishments. He is a nice guy who I believe genuinely cares about the University of Louisville, Louisville fans and the student athletes on campus. They might not ever build a statue of this man on campus but all the new buildings, and personal achievements of those student athletes he helped along the way will serve as monuments to his great legacy.
They came in as Batman and Robin saving the Louisville athletic program when it needed a new direction and now might go out like Thelma and Louise holding hands as their careers at Louisville go over the cliff. During the prime of my life these guys have indirectly had a substantial impact on my life. If it is the end of the Jurich and Pitino era then I want to thank them both for the good they have done along the way. I don't know what my last 16 years of being a Louisville fan would have looked like had they not been a part of it but I don't think it would have been as fun as it was. We all fall short of perfection and the only thing you can do is appreciate that good someone does.
I'm really hurt by all this stuff but probably not as much as I would've been 10 years ago. Growing older I've gained some new perspective. My Louisville Cardinals are still an important part of my life but it's not life and death. I will survive this and the University of Louisville will survive this. There are going to be some dark times it appears but I can't think of anyone I'd rather go thru it with than the Cardinal Nation. We have one of the best fan-bases in all of college sports and that is ultimately the reason for all the success to begin with.
Over the next couple of weeks let's keep things in perspective. Now is not the time to run and hide. Wear your Cardinal gear with pride and continue to support the student athletes. They deserve our best especially those guys on the basketball team who while just starting their journey in life have had to deal with so much.
Go Cards!