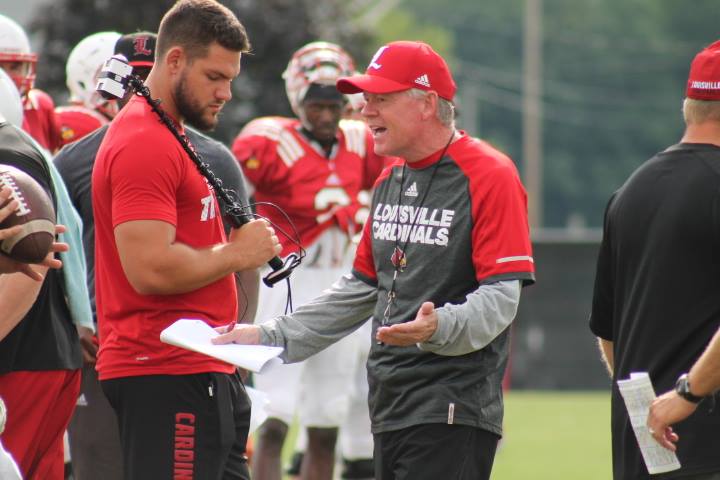 The Louisville Football team carried a lot of momentum from the end of the 2015 season into 2016… The excitement of spring ball and summer practice was a catalyst to a 4-0 start to the regular season. We watched as our Cardinals made it to that 5th spot in the College Football Playoff Poll. The Cardinals started the regular season being compared to a red hot-rod going up and down the field in those chrome helmets but somewhere along the way the tires went flat.
Beating Florida State with the ESPN College Gameday crew on site was the zenith of the season and losing at home to arch rival Kentucky to end the regular season was the nadir. This team was making some of the same mistakes throughout but the effort in those early games masked some of those issues that cost this team in the end.
-The Cardinals offensive line gave up 3.25 sacks a game this season ranked 121 out of 128 NCAA FBS schools.
-The Cardinals averaged 7.75 penalties a game this season ranked 118 out of 128 NCAA FBS schools.
-The Cardinals had 21 fumbles this season ranked 128 out of 128 NCAA FBS schools.
-The Cardinals had 31 turnovers this season ranked 124 out of 128 NCAA FBS schools.
When this team got complacent they stopped getting better. This Louisville team never got better than they were during that 4-0 start to the season. In the final two games of the season the effort we had seen early on was nonexistent. These guys appeared to have lost all that great momentum they had in September and October… and will now have to dig deep to get it back.
The game on Saturday is important to the legacy of a great senior class, it is important for the guys who came to Louisville for their last chance, it is important to Cardinal fans who deserve to see their team end the season with a win and the game on Saturday is important to regain some positive momentum headed into next season. The attitudes in the weight room and on that practice field next spring and summer will be a lot different coming off a Bowl win as opposed to three straight losses. There is a lot of discussion around this time of year about how much these Bowl games really matter… for the Cardinals and their fans it's the only thing that matters now.
Louisville will be making its 21st bowl appearance when they face LSU in the Buffalo Wild Wings Citrus Bowl and looking for its sixth bowl win in the last eight Bowl games. The Cardinals offense enters the Bowl game averaging 45.3 points per game with 256.8 rushing yards and 302 passing yards per game. Having won 14 of his last 18 starts our Heisman winner Lamar Jackson is completing 57.6% of his passes for 3390 yards, 30 touchdowns, and 9 interceptions. Jackson has rushed for 1538 yards and 21 touchdowns. Brandon Radcliff has added 877 rushing yards and 6 touchdowns for the Cardinals. James Quick has caught 42 passes for 688 yards and 6 touchdowns, while Cole Hikutini has caught 49 passes for 656 yards and 8 scores. This Louisville offense will be facing a very good defense on Saturday. The biggest key will be the offensive line. Lamar can't win this side of the ball alone. It's going to take a balanced attack. That means time for plays to develop and open running lanes. Coach Klenakis's guys were able to rise to the occasion last year in the Music City Bowl. Can they do it again?
The Louisville defense is giving up 23.3 points per game with 110 rushing yards and 206.3 passing yards per game. Leading this unit is Keith Kelsey with 81 tackles, 4.5 tackles for loss, and 1 sack, Stacy Thomas with 74 tackles, 6 tackles for loss, and 1 sack and Chucky Williams with 45 tackles, 2 tackles for loss, and 3 interceptions. Josh Harvey-Clemons and Zykiesis both have 61 tackles on the season. The Cardinals defense will be without sack leader James Hearns but still have Devonte Fields coming off the edge. This unit will be playing with a lot of emotion. They will be playing without one of their defensive leaders in Hearns and it will be the last time a lot of these guys will be wearing a Cardinal uniform. I think Coach Grantham will have them ready.
LSU lost 2 of their last 4 games and finished tied for 2nd in the SEC West. The LSU offense is averaging 28.3 points per game with 238.1 rushing yards and 187.6 passing yards per game. QB Danny Etling isn't anywhere near as good as the guy he will be facing but gets the job done completing 60% of his passes for 1906 yards, 9 touchdowns, and 4 interceptions. The Tigers leading rusher is big powerful running back Derrius Guice. He has rushed for 1249 yards and 14 touchdowns. Their speed back Leonard Fournette will not play. Their leading receivers are Malachi Dupre who has caught 34 passes for 454 yards and 3 touchdowns, and Travin Dural who has 28 catches for 280 yards and 1 score. Who knows what to expect from this LSU offense. What will it do to this unit's chemistry with Fournette not playing? Or will affect them at all?
This LSU team can put points on the board but it is their top ranked defense they rely on. The LSU defense is giving up 16.4 points per game with 121.8 rushing yards and 201.2 passing yards per game. The leaders of this unit are Linebacker Kendell Beckwith with 91 tackles, 6 tackles for loss, and 1 sack, Linebacker Duke Riley with 85 tackles, 9 tackles for loss, 1.5 sacks, and 1 interception. Safety Jamal Adams has 70 tackles, and defensive tackle Davon Godchaux has 58 tackles. Defensive end Arden Key leads this unit with 10 sacks. I think we will get this units best shot on Saturday. A good defense takes pride in being able to stop great players. They have their chance to shut down a pretty good one Saturday.
This game comes down to very good offense vs a very good defense. There will be a lot of speed and athleticism on both sides of the field but it will all come down to emotion. There will be a team that wants it more. LSU can lose this game and rely on the benefit of that SEC bias to be right back in playoff conversations again next season. If Louisville loses this game they will start next year with a very different narrative. The Cardinals need this game more and if they play like they need it more they should be able to secure the victory. If they come out uninspired like they did in the two games to end the regular season it will be a long off season.
It's gut check time for the Louisville football program. They have faced a lot of adversity on and off the field over the last couple of months. Sure, individual awards are great and it was special for the program and the fans getting to celebrate a Heisman Trophy. But in the end football is a team sport and this team needs a win. Let's hope the Citrus Bowl gets the bad taste out of our mouths and we can head into next season on a high note. GO CARDS!