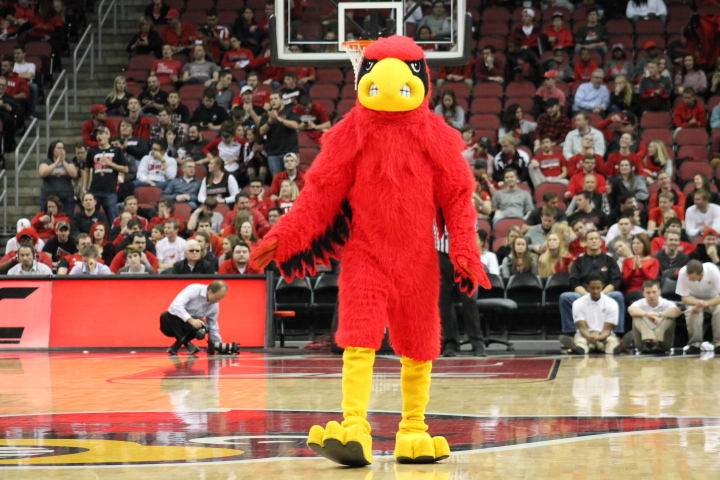 Back in October of 2015 the Louisville Basketball program fell under a dark shadow of scandal that has been ongoing for close to two years. The program faces allegations from the NCAA that include four level 1 violations by the basketball program and criticism of Coach Pitino for failing to monitor a former Cardinals basketball staffer… That dark shadow has now become the big red elephant in the room and hopefully in about 6 or 8 weeks we can move past this crap forever.
6 to 8 weeks is what Tom Jurich said in downtown Cincinnati Thursday after meeting with the NCAA's Committee on Infractions, a group of lawyers and college and conference administrators. This is a hearing that plays out like a trial in court, with lawyers representing both parties. Louisville's final chance to state their case. The University feels like they did enough by self-imposing a post season ban and taking away two scholarships. I agree. And think it's time for the NCAA to let our program move on from this.
Here's Tom Jurich's full statement from Thursday:




As far as Coach Pitino's part in this… when you put your trust and confidence into someone you in some way bear a certain level responsibility for their actions as well as your own. We all have an alter ego… Unfortunately for Coach Pitino his director of basketball operations alter ego was Ronnie Mund of the Howard Stern show. And instead of showing recruits around campus Andre McGee was running thru the halls of Minardi Hall screaming "let's fuck some whores". A guy like Coach Pitino runs in close circles think of it as a "circle of trust" and he had someone he trusted let him down. I do think Coach Pitino will be held responsible for trusting Andre McGee and agree he should. That's just the way it goes.
I've seen and heard folks talk about the NCAA possibly stripping Louisville of the 2013 National Title. That has never been done and wouldn't make any sense if it happened this time. If it did happen it would be more about bad politics within the NCAA than a player getting a lap dance. Having strip shows in the dorm didn't have anything to do with the out-come of the 2013 season. It didn't make those players collapse in tears on the court in Lucas Oil stadium when their brother Kevin Ware was injured and it didn't help those players rally together and win that game. It didn't help a walk-on Tim Henderson bury two three point shots in the National semi-finals and it didn't help Luke Hancock go 5-5 from the 3-point line and score 22 points in the Title game. Those guys weren't even mentioned in all of this. There is nothing that happened with those strippers in that dorm that did anything to help the 2013 Louisville basketball team win a National championship.
Why should those players have that special season taken away from them because the guy watching over them acted like he was in an episode of Blue Mointain State. The 2015-16 Louisville basketball team has already paid the price for Mcgee's stupidity. And what about the fans. I waited 25 years to be in Atlanta that night for that moment. We all did. I followed that team at every stop along the NCAA path that season. Cardinal fans paid the price during the 2015-16 season and I think we paid again this past season. That post-season ban set this program back. The price has been paid.
Whatever comes our way here in a few weeks I will just be happy to get this over with. I'm ready to kick that big red elephant out of the room for good. We have all suffered enough.