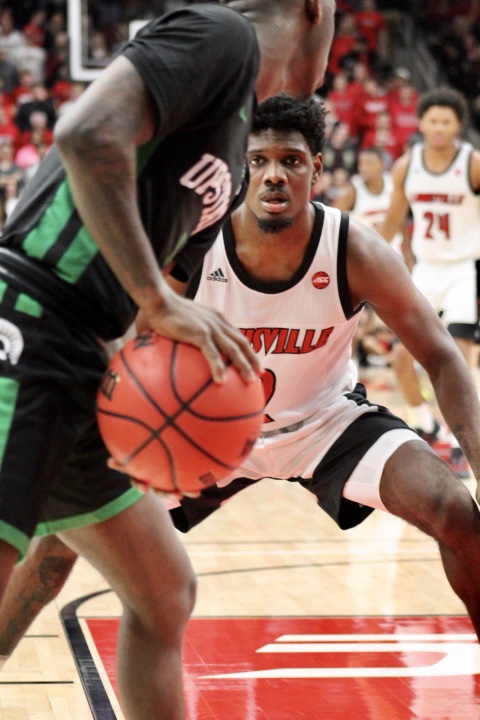 Coach Mack talked about his team yesterday with Louisville media. During that conversation, he said that his team was only as strong as their weakest link and that if one of five doesn't carry their weight it falls apart, but says he's been seeing five guys all doing their jobs on the floor together during the recent six-game winning streak.
Over these last couple of weeks, I have been writing about these players finding their roles on this team and it sounds like Coach Mack is starting to see that develop. But also knows that if just one decides not to show up it could mean trouble for his group.
Now that they are settling into those roles and coming together as the team we knew they could be the final stretch of conference play is going to test that. Sometimes over the next few weeks, that's going to mean playing better than other teams who are also starting to find it and in the case with games like tonight not playing down to teams who haven't.
Ryan Mack also talked with the media yesterday. He talked about the February trip to Boston College last season. That game was also a 9:00 pm start on a Wednesday night. A game where a more talented Louisville squad came out and played down to their opponent.
Boston College's gym also doubles as a hockey rink. Ryan talked about it being cold and how there was no energy in the building that night. He talked about how they let that dictate their gameplay that evening and how that resulted in a loss.
I think games like tonight at BC will test this team's mettle. Will they let some of those bad habits from earlier this season and last season slip back in or will they come out and continue to build upon the successes they have had recently and can they keep building on that until Tourney time.
Our Cardinals will have the upper hand in this match-up. They have the 33rd ranked scoring defense in the country allowing on average just 62 points a game. The Eagles don't have a potent offense and are averaging less than 65 points a game ranked 321st in scoring offense.
Another big advantage for this Louisville team tonight will be on the boards. They dominated Clemson on the boards over the weekend, outrebounding them 41 to 29. The Cardinals rank 37th in the country in offensive rebounding while BC ranks 316th in defensive rebounding. There should be plenty of second-chance opportunities for our guys tonight.
The Cardinals have won 6 straight, while the Eagles have won 4 of their last 5 games. Louisville has won those games by coming out and playing up to their abilities while this BC team has relied upon teams to play down to those abilities in order to grab one. There is so much disparity between these teams that it really shouldn't be that close.
If this Louisville team is starting to reach their potential then it will really show in games like this one. Have they moved past the clunkers? We'll find that out starting tonight.