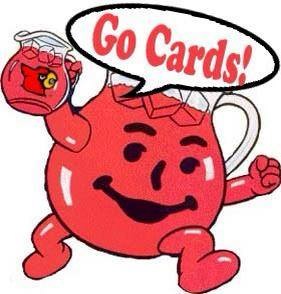 After a tumultuous season of ups and downs, a heartbreaking loss on Senior Day and missing the Tournament on selection Sunday Louisville basketball had hit its lowest point. Then something happened in that first game of the NIT.
Fans showed these players that their love for the Louisville program means more than an NCAA bid. They showed that the passion for Louisville basketball extends well beyond wins and losses. Somewhere in the second half of that first NIT game, the current team got that message and responded.
Over the past week, the players were reminded that sometimes it's not about wins or losses but how you play the game. And somewhere in all of this, the players started to have fun again. They're enjoying playing the game that they love with their teammates.
When you've hit rock bottom there's only one way to go. And the Louisville Basketball program has shown the college basketball world that we aren't going away. The NCAA gave us lemons and we packed the Yum Center with thousands of screaming fans for the NIT. Our team has turned them lemons into a big old glass of Red lemonade and are a few games from winning the whole damn thing.
There is still meat on the bone and the Cardinals will face a Mississippi State team that is drinking some of their own lemonade. They took out the top seed Baylor on Sunday and will come into the Yum Center riding a lot of momentum.
The Cardinals are outscoring teams by 12 points and allowing just 40.2 percent shooting at home this season. Mississippi State is being outscored by nearly six points and scoring under 70 points on the road this season. They are a very efficient offensive team but if the Cardinals play defense like they have been it will be another great evening for the home team.
We have a chance at a redo. It's going to be the last time we see all of this current team together playing on the Yum Center court. Hopefully, this final farewell will have a better ending. One game away from NYC.
#WinTheWholeDamnThing
official Stats and UofL Gameday Breakdown:
Go Cards!