CARDS ROMP RAMS IN A RED RUPP ARENA
This is the time of year when the name on the jersey doesn't mean anything when the ball is tipped at center court. This is the time of year when you gotta bring your game and not just your name if you want to survive and advance to the next round. Today the fans turned out in force to represent the Louisville name and the team brought their game as they overwhelmed a scrappy Colorado St team beating them 82-56 in Rupp Arena to advance to the Sweet 16. The Cardinals have now won twelve straight games and this will be the 25th time that they have advanced to the Sweet 16. Coach Pitino is unbeaten in 10 Sweet 16 appearances, his average winning margin is 19.8 points. At Louisville that average margin has been 21.3.
Coach Rick Pitino: "We can play much better,""This is the best we have played so far at both ends of the floor. But we can definitely get better and improve."
This group of Cardinals have made their name on defense this season. It has been the foundation from which this team thrives. They have been considered the best defensive team in the country all season including having the lowest adj efficiency in the history of Kenpom's system. To think this defensive could get any better is crazy but it has. If fact every game they play the defense just keeps getting better. This Louisville team has now recorded more steals than their opponent for 15 consecutive games and have 31 steals so far in the the NCAA tournament. Today they had 11 steals with 5 players that had 2 each. The Cardinals defense also forced the Rams into 19 turnovers. They have forced 32 turnovers in the last two games. In a game where they faced the number one rebounding team in the country the Cards also won that battle 25 to 22 and rebounded 9 of their 24 missed shots for 37.5%. It was a great team effort on the boards as seven players would get three or more. I knew that our front-court would be hard for the Rams to handle due to the Cardinals physical style of play and they completely dominated them in the paint 42 to 14. With the defense being so great it is easy to overlook a offense that also keeps getting better and better. The Cards have become much more efficient on the offensive end of the floor and have been been taking better shots. They shot and impressive 56.4% from the floor tonight and 55.6% from the three. And this team has been clutch from the charity stripe. Tonight they shot 83.3%
Colorado State coach Larry Eustachy: "I don't want to put the pressure on Rick and his guys, but they're special,""They need a little luck like everybody does to win it all, but that's as impressive team as I've been against, certainly."
Russ Smith has had a great start to the NCAA tournament. He has performed so well in Rupp Arena over the past couple of day that Louisville fans renamed the place Russ Arena. He had a awesome stat line tonight with 27 points, 3 rebounds, 2 assist and 2 steals. Rick Pitino was talking about Russ after the game and said that he has really grown up over the season. He said that the old Russ would have tried to get 50 tonight. He really has come a long way since November. Not only is he the best player on this Louisville team but he has become one of the best players in the country. And is one of the most effective players left in the NCAA tournament. Russ had 50 points, 5 assist and 10 steals in the first two games of the NCAA tourney.
Our fearless leader of this team Peyton Siva had another very effective game. He did a great job at driving into the lane to score and finding the open man. He had one highlight reel play with a give and go alley oop play with Montrezl Harrell. You can see that in the pictures below. He had 10 points, 5 assist and 2 steals tonight and did a very good job at controlling the pace of the game for the Cards. He had 13 assist and 6 steals in the first two games of the NCAA tourney.
Gorgui, Wayne and Chane had very solid nights for the Cards. Their athleticism, size and agility was really a lot for the Colorado State front-court to to handle and when they are playing well will be a lot for any team to handle. Between these three guys they accounted for 10 rebounds and 23 points. These guys are going to be very important as we move further down the line. An it appears that they are up for the challenge.
Another great night for the Louisville bench as they outscore the Rams bench 22 to 16. Montrezl lead the way in bench scoring with 11 points and 4 rebounds. This kid has become a very good source of energy for this team. When he gets into the game it seems like the level of intensity goes through the roof. He is one of those players that just has the type of motor that never stops. We also got very good minutes from Stephan, Luke and Kevin. These guys accounted for 11 points, 5 steals and 5 rebounds. This bench is a big reason for the current twelve game winning streak and will a big reason I think we cut down the nets here in a few weeks.
There were 20,600 folks in Rupp Arena tonight and probably 19,000 of them were Louisville fans. Earlier in the week I called on the Cardinal Nation to turn Rupp red and you answered that call. It was a really great environment and was awesome to see the building that is usually blue be red. This team now moves to the next round in Indianapolis at Lucas Oil Stadium to face the Pac 12 Oregon Ducks in the Sweet 16. 2 games down and 4 more to go Cardinal fans. Lets continue to get out there and support these guys all the way. Go Cards!

Bittersweet Elite 8 Victory For Cards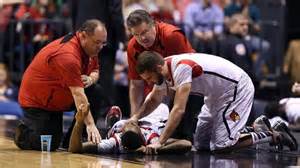 Tonight was one of the most emotionally charged games that I have ever attended in my life. This game had the feel of something special from the opening tip. Two great teams trading blow for blow in an epic clash of basketball titans. Then in a heartbeat the moment got very surreal and for a stadium filled with over 34,000 people things got very real. As we were all a part of probably the worst injury in the history of a college basketball game. As Kevin Ware laid there and the Louisville players were falling to their knees on the court no one was worried about basketball and most of us would have probably just been fine with them postponing the regional final to another night. Kevin Ware then laying there helpless on the floor with this gruesome injury called his team over and told them to play this game and win it. And win it they did. They had one of the most dominate second half performances that you will ever see in a game scoring 50 points on 59.3 percent shooting to beat the Blue Devils 85-62 to advance to the Final Four in back-to-back years for the first time since 1982-83. This Louisville team has now won 14 straight games. This Final Four will be the 10th in school history.
"Basically, the bone popped out of the skin. It broke in two spots," Pitino said. "Remember the bone is six inches out of his leg, and all he's yelling is 'Win the game, win the game.' I've never seen anything like that."
In this inspired performance the Cardinal defense was once again a big reason for this victory as they would hold Duke to 36.5% from the field and just 25% from the three point line. This was the Blue Devils lowest shooting percentages of the tournament. This team is no longer one dimensional. During the current 14 game win streak the offense has caught up with the defense and that has made a very good Cardinal team great. Now instead of having to force turnovers to get points they are creating offense in the half court. Ten players got into the scoring column tonight with four players scoring double digits. And they were able to find good looks at the basket to shoot a high percentage. Something they have done for the entire tourney, so much that they have moved to #5 in Kenpom's ADJ Efficiency on offense at 117.5. These guys are hitting the boards hard to. They have had to play 4 great rebounding teams and have done a great job battling them all. Tonight they out rebounded the Blue Devils 35 to 26.
The most valuable player of this game was the most valuable person. Kevin Ware has been a big reason for this amazing 14 game stretch for the Cards. I had mentioned in my post game story after the last game how he had become such an important part of this team. Tonight he took that to the next level with his selfless act of rallying his team-mates around him and pulling them together during his tragic moment. It was one of the most courageous things you will ever see and I don't know if the Cards win this game without it. This kid not only inspired the Louisville Cardinals tonight he inspired the college basketball world.
If anybody had any doubts about Gorgui going to the NBA that should have been erased tonight. In my opinion he is one of the most underrated players in college basketball. Tonight he was hitting that 15 footer and making unreal moves to the basket for his size. He was phenomenal on the defensive end of the floor as well. He has such great timing on his blocked shots and his rebounding. Tonight he has a double-double 14 points and 11 boards with 4 blocked shots.
Our backcourt super heroes Russ and Peyton just took over this game and never looked back. And if they continue to play at this level for the rest of the way they better be making room in that trophy case. They scored 39 of the Cards 85 points and were very disruptive to the Duke offense snagging 3 steals. Keep in mind that this Duke team is one of the best in the country at taking care of the ball.
I also want to give mention to a performance that perhaps got overlooked in this emotional night. Tim Henderson came in and gave this team some valuable defensive minutes. I was really impressed with Tim while watching him play during the Red&White games earlier this season. I wrote this after the 3 scrimmages: "I must also give an honorable mention to Tim Henderson. I know that realistically he won't get that much time this season especially with a team as loaded as the Cards are, but this young man works really hard while he is on the court. He had 13 points yesterday and drained some great looking 3 point shots. The guy defines the word "Hustle". If my son had been old enough to attend the games with me over the past 3 weeks, I would have pointed to Tim as an example of what overachieving looks like. I'm glad this guy is a part of the Louisville basketball program and he will be a great asset in preparing this team each week."
Driving home tonight I listed to a sports wrap up show on Sirius radio, and several callers from Louisville expressed their concerns over a replacement for Kevin in the rotation. Tim is not going to give you the athleticism of a Kevin Ware but he will hustle and give the Cards a solid defender when he is in the game. I've got full confidence in the young man and think he will give this team valuable minutes in the final four.
Our bench did a great job tonight and they out-scored the Duke bench 20 to 12 behind the solid performance of Luke Hancock who had 10 points. And he went 5-5 from the free-throw line.
The late Jim Valvano said in his famous ESPY speech that If you laugh, you think, and you cry, that's a heck of a day. Today was a heck of a day for Cardinal fans. I'm spent! Louisville, the tournament's No. 1 overall seed, will next take on surprising Wichita State in Atlanta in Saturday's National Semifinal at 6:09pm. Then they will await the winner of Michigan and Syracuse. Two more to go folks. No sleep till Atlanta.

HAN-SHOCKED!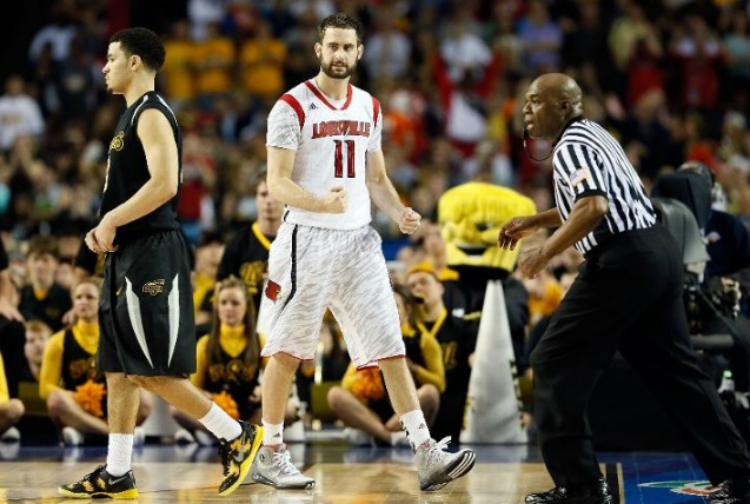 Winning the College Basketball National Title is the hardest trophy to win in all of sports. Tonight just further proved that point as the 9th seeded Wichita State Shockers took our #1 overall seed Louisville Cardinals to the very end before the Cards finally prevailed 72-68. The Cards have now won 15 straight games and will finally get a chance to play for a national championship for the first time in 27 years. I'm 40 years old and the last time I seen a Louisville team in the title game I was laying in my parents living room floor watching that 86 group on an old Zenith console. Remember those? This time I'll see it live in Atlanta and I can't wait.
Up until tonight Louisville had navigated its rocky road with ease, first handling North Carolina A & T, then destroying Colorado State, followed by a comfortable eight-point win over Oregon and, lastly, a punishing second-half spurt to pull away from Duke in an Elite Eight clash. Aside from Duke hanging tough through the first 20 minutes our Cards hadn't had much of a challenge. But tonight they got all they wanted from the Shockers and with 13 minutes left were down by 12 points. But just like they had done through this entire tourney and season they turned up the defense and were able to pull it out. Through this tourney the Cardinals had forced turnovers on 27.5 percent of opponents' possessions. Tonight the Shockers took very good care of the ball up until about 13 minutes left in the game. That's when Louisville erased a 12-point deficit and outscored Wichita State by 16 points. The Cardinals were able to speed up Wichita State during this stretch forcing them into seven turnovers in the final seven minutes after they'd gone more than 26 minutes without one. The Cards had 26 deflections Saturday, its fewest in the 2013 Men's Basketball Championship. The Cardinals entered the Final Four averaging 45.0 deflections per game in the tournament. Louisville had 17 of its 26 deflections in the second half.
The MVP of the night was the bearded wonder Luke Hancock. If you have been reading my stuff all season then you know that I had pegged Hancock as one of my x-factors for a national title run. Tonight Luke stepped up his game and truly was the x-factor coming off the bench scoring 20 points including 14 in the second half, to help the Cards rally from a dozen-point deficit. He also had 4 rebounds, 2 assist and 2 steals in his standout performance. He had averaged 6.8 points over his previous four NCAA tournament games. The Cardinals were more efficient tonight with Hancock on the court, averaging 1.34 points per possession in the 31 minutes he played. He has become a very important part of this Cardinal machine and we will need him to continue to play like this on Monday night.
It was great to see Chane have a good game tonight. He had really been in a slump during the NCAA tournament but tonight he broke out of that slup just in time and this team needed it in the worst way tonight. He was very close to a double-double with 10 points and 9 rebounds and was key in the Cardinals come back. I think he is the kind of guy that loves the big spotlight and this is the second time that he has stepped up in the tournament when the Cards chances were on the line. He came up big in that regional final game last year. Ware on Behanan: "Bout time he played." Behanan response: "He's probably right."
Tonight Russ, Peyton, Gorgui and Wayne had their worst games of the season. And yes Russ led the team in scoring with 21 points but he was 5 of 12 from the free throw line and that's unheard of from him. Gorgui and Wayne were scoreless tonight and Peyton had 7 points but was still very ineffective on the offensive end of the floor. It was the bench that came through tonight and the Cards would have been on a flight home right now if it had not been for those guys stepping up. The above mentioned Luke Hancock along with Montrezl, Stephan and Tim scored 34 of the Cardinals final 72 points and accounted for 13 of the teams 32 rebounds.
Got to give kudos to Tim Henderson for making me look like I know what I'm talking about. In my post game last week I mentioned how I had full confidence that this kid could step in and get the job done in Kevin's absence. Henderson said after the game: "When Kevin went down, he told me, 'I believe in you. You can step up. I've seen you in practice. I've seen you do this." Tonight he hit two monster 3 point shots that sparked the Louisville comeback. Up until those two shots he had 16 points this season. I was really impressed watching Tim play against the starting unit in the Red & White games back in November. You could tell that he was a hard working kid and that he is the type of guy that doesn't back down from a challenge. And just like Rick Pitino mentioned tonight in his press conference: "Tim goes against Russ everyday in practice." I'm glad this kid got his chance to step up on this the biggest stage in college sports. Guys like Tim work their butts off all year just like the rest of these guys do and they very often get a chance to play let alone in a huge game like tonight. I'm sure he will be telling his grand kids about those 2 big three point shots some day.
Coach Pitino: "The players said they weren't surprised about him making those back to back threes. They're being very kind. I was shocked."
Well Cardinal fans we have reached the final stop on this final four journey. Without a doubt our Cardinals are the best team in the country and they must go out on Monday night and prove it one last time. I think tonight was just the kind of game they needed and in my opinion teams need games like this in tournament if they are going to become National Champions. It's these survive and advance moments that define a title run. The Michigan Wolverines are the only thing standing in the way of one of the greatest moments in Louisville's basketball history. NO SLEEP TIL ATLANTA BABY!

-A CHAMPIONSHIP IN PHOTOS

Last night was the greatest sports moment of my life and I know I share that sentiment with the Card Nation. That was one of the best national title games of its 75 year history. It had everything the pageantry, the stars, two great teams, two incredible fan bases and one shining moment. And our Louisville Cardinals seized the day as they beat the Michigan Wolverines 82-76 in an instant classic. The win gave our Cardinals their 3rd National Title and puts them in an elite group with only 8 other programs reaching that mark. They closed out this magical season on a 16 game win streak.
This season has been like a fairy tale in many ways and one that could be a future 30 for 30 feature on ESPN. In a college basketball culture with kids coming to school for one year to boost their NBA draft stock Louisville has established a team first approach. Coach Pitino and his staff have done a great job of recruiting the guys that fit into this team first system. Louisville really has become the model program for doing it the right way and in a more traditional way.
The emotional journey to this championship story started with that 5 overtime loss to Notre Dame. After that loss Coach Pitino challenged this team to bond together and to win the rest of the way. And they answered his challenge by winning out the regular season and winning the final Big East tournament championship. That alone will be something that will never be forgotten but this team wasn't done yet. They would parlay the great season into the number one overall seed in the NCAA tournament. They had a great team run through the first round in Lexington and then in Indy Cardinal Nation and the rest of the world would understand what it means to be bonded together as a team. That's when we really started to understand how special this group really was.
The Cards rode that wave of emotion of losing one of their brothers into the Final Four. Here they would run into two great teams who also seemed to be playing for something greater than themselves. And this is where this fairy tale story had its greatest moments. A walk on who had only played sparingly and had scored 16 points on the season comes into the national semi-finals and hits two of the biggest three point shots you'll ever see to give the Cards a spark to overcome a 12 point deficit. Then in the national title game a guy that had been averaging around 6 points a game becomes the first player to come off the bench to win the tourney's most outstanding player. In the end of this fairy tale season the Cards turned out to be the most dominate team in the country.
The Cardinals were locked-in on defense, momentously hot on offense and too emotionally charged to let this one get away from them. They had the experience of last season, a Hall of Fame head coach, the emotional leader Ware and the individual playmakers Peyton, Russ, Gorgui, Wayne, Chane, Hancock, Montrezl, Stephan and Tim. This was a great season and a great story and these Cardinals seized the day.
I know I will never forget this group and the experiences they have awarded me from being a Cardinal fan. I have written so much about these guys that I feel like I know each of them personally. And I'm very grateful to be somewhat connected to them through those words. I'm going to seize this moment and this day for the rest of my life. My Louisville Cardinals are National Champions. Oh and I'm glad I can finally sleep and shave.
One Shining Moment
Your annual NCAA Tournament visual recap: