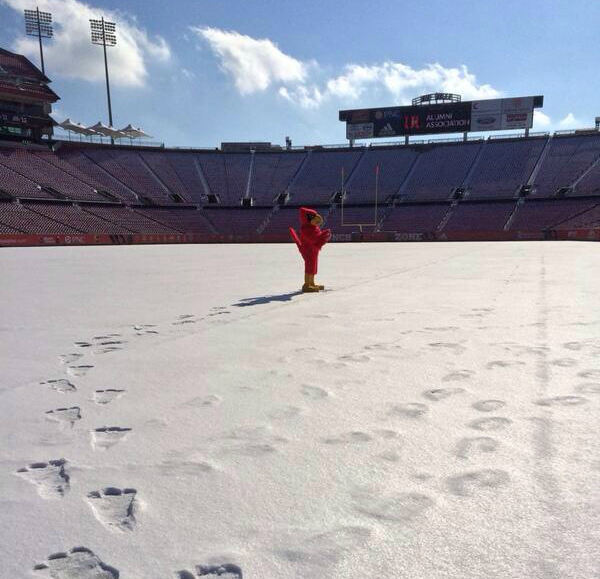 -Bird Prints In the Snow

Last night I had a dream that I was walking on a snow covered field at Papa John's Cardinal Stadium. But when I looked down there were Bird prints in the snow.
Many memories of this past Cardinal football season flashed before the sky and at the end of each memory I'd look down and there were Bird prints in the snow.
Towards the end of the dream I seen Louie standing at the end of those Bird prints in the stadium all alone.
He looked back at me and said coaches and players come and go, but the Cardinal spirit will always be here and if there's ever any doubt just follow the Bird prints below.
I started to follow those Bird prints in the snow until I reached Louie in the middle of that field standing all alone. Then I knew it would be alright and yelled with Louie Go Cards, Fight, Fight…!

-11/24/14 A win and A Video That Will Live Forever
There are lot of moments that string together in a person's life that we will call on when we lie in silent reflection during our final days. Great Memories of our childhood, times we've shared with great friends, when we met our soul mate, the time with our children and special time spent with family. Then there are some of us who are so passionate about our favorite team that they will also be blended in that final reflection. I love my team and my life is prioritized as such Faith, Family and the Louisville Cardinals… There are a few moments that I know I will think about when the time comes. Being there when my Cardinals won the National Championship in Basketball and being in Notre Dame Stadium when the football team beat the Irish.
To be in that moment on Saturday night was really surreal. And there were memories made that night that anyone there will never forget. It is a game and a win that will live forever. Now the guy who has mastered his craft and will also be known forever by the awesome videos he makes has done it yet again. My friend Mike @CrumsRevenge has made several videos over the years that I will show my son someday to help him prepare to be a great Cardinal fan and most of them are on this page. Tus Nua (A New Beginning) is his latest release and no one could have captured that moment at Notre Dame better. Nobody has chronicled some of the great Cardinal moments as well as Mike has over the years. His videos along with those moments will live forever.
It's no secret that I love these videos but this one today will always mean a little more. I am honored that Mike used a piece of my own footage and even my mug during the sideline celebration. That's right I made it into a @Crumsrevenge video. Really Awesome! I want to thank Mike for this along with the rest of the guys over at TheCrunchZone.com for always being open and polite to this newcomer. It is rare in the media related world. Those guys over there are some of the best. Thanks again guys and thanks for these videos Mike.

-11/20/14 Coach Pitino sits down with Seth Davis to talk about life, love and the pursuit of happiness
Coach Pitino sits down in this interview and opens up about everything the legendary coach has faced in his life and coaching career. He is just 3 games short of 700 wins in his career and has already taken his spot in the Hall of Fame. He has already cemented his legacy in college basketball and now is just enjoying the game and his life. He has meant a lot to both basketball crazy fan-bases in this state and has had a huge impact on both programs. It is good to see him in such a great place because after all he's done and been through he deserves it. This is a very good interview and well worth the watch.

-10/20/14 Ten things you may not know about Louisville basketball
Today was the annual tip-off luncheon, and placed on the tables was the above flyer and on it is the information printed below. I thought it was some very informative information generated by the University of Louisville and there were a few on it that I did not know.
1. Louisville's 96 victories over the last three years are the most wins in the nation in that stretch.
2. Louisville is the only school in the nation with three straight 30-win seasons, including a school-record 35 victories amassed by Louisville's 2012-13 NCAA Championship team (30 in 2011-12, 31 in 2013-14).
3. Last season, Louisville reached the NCAA Sweet 16 for the 20th time in school history, tied for the fourth-most in the nation. Louisville, Michigan State and Florida (last four) are the only schools that have reached each of the last three Sweet 16s.
4. Louisville coach Rick Pitino enters this season just five victories short of 700 collegiate coaching wins. He is one of five active collegiate coaches in the Basketball Hall of Fame, four of which are in the ACC.
5. The Cardinals' 2013-14 senior class was the winningest in U of L history, winning a combined 121 games over the last four years.
6. Louisville's defense has led to the Cards becoming the only team to rank among the top 10 in steals over the last three years. U of L led the nation in turnover margin (+6.7) and scoring margin (+19.9) last season.
7. Louisville is one of just eight schools which have won 20 or more games in each of the last 12 seasons. Three others are in the ACC (Duke, Syracuse, Pittsburgh). The Cardinals have won at least 20 games in 41 of the past 45 years.
8. While also winning on the court, Louisville has earned its last four consecutive conference top team academic excellence awards. The Cardinals have a perfect Academic Progress Rate score for the most recent four year period (2009-13). The team posted a record 3.40 grade-point average collectively for the 2013-14 academic year.
9. Louisville has won its last 10 straight conference tournament games, claiming its last three conference tournament championships. Six of the last 14 NCAA Championships have been won by ACC schools, including the Cardinals' 2013 title.
10. While a member of the Big East, Louisville won more league games than any other school (95-45 record). The Cardinals won more road games than any other school over its last seven years in the Big East, and was a league-best 8-1 in the American Athletic Conference last year. Overall, U of L is 52-29 on the road in the last eight years.

-6/30/14 The Transition Year, A Video To Remember The Journey In 2013-'14, out of the 23 UofL teams, 20 competed in the NCAA Postseason. They added 14 conference titles. In a transition year we all thought wouldn't be that much fun our Cardinals sure made the most of it. Summer vacation is a few weeks away for me and my family and I always get so excited about making it to the Ocean and putting my toes in that sand. But there's always that long drive/journey to get there. This past sports year has felt the same way for me as a fan. We knew the destination was the ACC, but it was going to be a year long journey to get there. Cardinal fans we can smell the salt water in the air. Our day has arrived….

-3/10/14 A Russdiculous Video Russ Smith says the best advice that he ever got as a player was "to work harder every day." Since making the decision to stay his freshman year nobody has worked harder than Russ to get where he is today. He went from not being on the radar as a high school recruit and playing sparingly as a freshman in college to being the face of the Cardinal basketball program. He is also one of the most popular athletes in college sports. In the world of instant gratification he gave up his chance to make a paycheck last year to come back and give us one more year of "Russdiculousness". I don't remember ever seeing a guy embrace the college life and the city of Louisville like he has. He is a Louisville Cardinal through and through. With two Big East titles, two Final Fours, and a National Title he is one of the most decorated seniors in college basketball. Russ still wants more and just in the last two weeks he's had two heroic performances to add to his great legacy. Russ, thanks for the courage and toughness of a young man twice your size. You have the heart of a lion. You have become one of the rocks of this team and have done it through nothing but hard work. Nobody better symbolizes the best of what this basketball program stands for than you.

2/21/14 There's A New Dr In Town, The Coronation Video Back in the summer during a basketball game that Harrell was playing in for the U-19 USA team (where he won gold) the announcer of the game used "Enthusiasm Personified" to describe Montrezl on a basketball court. Coming into his college career some thought he would be in position limbo, but with Pitino's style of play and his physical growth he has been a nightmare match-up for a small forward and a unique match-up for a bigger guy. He has shown in just the last couple of months that he is developing his game more in the post and also improving his ball skills. All the while taking advantage of the most high percentage shot in the game of basketball, "The Slam Dunk". This kid has all the raw materials and when he plays he goes hard, real hard "Enthusiasm Personified". With that Enthusiasm Montrezl has soared to the top of the dunk record books and now resides with the likes of "The Doctors of Dunk", "Dr. Dunkenstein" and many more who have rocked the rim during their time as Cardinals. He now holds the record for dunks in a single season with 63 and is 6th all-time in career dunks with 107.

-1/22/14 ACC Schedule Is Great, But 2 Games Stand Out Cardinal Nation is still a buzz over the ACC schedule being released today. Not long after the release the ACC network brought out their video talking about the "Can't Miss" games on the new schedule. The Cardinals make the list twice out of the five games chosen with their home match-ups against Miami and FSU. "As a head coach, this is the type of schedule you want to play each year," head coach Bobby Petrino said. "To open the season against a high-profile opponent like Miami on Labor Day is every exciting, as we officially begin play in the ACC. It's a very challenging schedule, but one that our fans and players can be really excited about." Is It Football Season Yet?

1/13/14 The Only Thing Left Was The Video Last week was a whirlwind and when folks found out that Bobby Petrino was going to return back to Louisville to be the Cardinals head coach there where a lot of mixed emotions. All of the Louisville websites and bloggers wrote great articles and all pretty much playing devil's advocate. I read a lot of valid arguments and some heart felt pleas to just give Bobby another chance. In my article about the hiring I focused on the redemption aspect and explained how I thought that even without forgiveness everyone is entitled at their chance to try and make things right. Regardless of what you read last week I think the general consensus from most fans and a media folk were that of second chances. Each article did its part to try mending this relationship and opening up those lines for acceptance. If Bobby wins at Louisville like he did when he was here during his last stint the questions into his past and personal life will dissipate quickly. And what better way to get the Louisville faithful fired up than to remind them of those Petrino glory days past. That's exactly what my favorite video producing extraordinaire @CrumsRevenge does in his latest video. His videos evoke emotions from all Cardinal fans, young and old. His latest masterpiece is just what the doctor ordered and really does put a bow on all of the positive vibe from the journalistic approach to the rehiring of Bobby Petrino. And after watching it there's not a doubt left in my mind that we are going to have some fun at Papa John's Cardinal Stadium. I can't wait for spring practice. Thanks for putting the finishing touch on our words Mike. Go Cards!

-1/5/14 IN JURICH WE TRUST It's kind of hard to get too worked up over a coach leaving one of our sports programs for another job when you have one of the best athletic directors in the country. Today Tom Jurich did what he has done since being the Louisville Athletic Director and took care of business. He met with members of the media and the team to reassure us all that everything would be OK. He really was like cool hand Luke dealing with this. I don't think we will lose a step especially since this is the first time Tom has gone fishing with this much tackle in his box. Stadium expansion, highest ticket sales and sell-out for all home games, national ranking, a lot of talent coming back, top 10 salary, and moving into the ACC. Rest easy Cardinal fans Tom has got this and you can bet he won't let you down. Below is the video of the Jurich press conference this morning.

12/20/13 Bridgewater wears most important uniform of his life: A Graduation Gown When Coach Charlie Strong was hired to be the coach at the University of Louisville he talked about winning games, changing the culture but most importantly he talked about changing the lives of the young men he coached. One of the things he emphasized in accomplishing that was to make sure his athletes got their college degrees . Since taking over at Louisville in December 2009 Strong has watched 93 of his 98 players walk across that stage. On Thursday night while most of us were glued to our TV sets watching the "Year of the Cardinal" 15 football players were receiving their degrees and walking at graduation ceremonies at the KFC Yum! Center. One of those was Teddy Bridgewater. A guy who played a important part in that great year. And a guy who has helped put the Louisville football program back on the map. He has many successes and accomplishments wearing that football uniform but on Thursday night he had the biggest accomplishment of his life wearing the Cap and Gown. Congrats to Teddy on his hard work in the classroom and for being the first in his family to earn that degree. Video of Teddy's big night:WDRB 41 Louisville News}

12/15/13 The Cardinals Spread Some Christmas Cheer Every year coach Pitino and his team do their part to make Christmas a little better for some of the less fortunate kids in the Louisville metro area. On Thursday night they continued this tradition as 25 kids got to meet up with some members of the basketball team and cheer squad at Meijer for a 500.00 shopping trip. This is a great thing that the team does for these kids and it is really good to see them have this opportunity to give back.WDRB 41 Louisville News

12/10/13 A Video To Celebrate Back To Back Keg of Nails Greatness
U of L and UC have a football rivalry that has stretched over the span of 4 conferences from the Missouri Valley Conference, to Conference USA, the Big East and now the American. It is believed to be the oldest rivalry for the Louisville football team and the second oldest for UC. The game Thursday was a fitting tribute to this great rivalry. There was a lot of memories left on that field in Nippert Stadium and if its the last time we face our old foes from the north I'm glad it's a win that I'll have to remember.
The super masculine emblem of greatness and the coolest trophy in all of college sports the Keg of Nails is back in the Louisville trophy case where it belongs. Essentially, the so-called keg of nails was a physical representation of the toughness embodied in the simile, "Our football team is as tough as nails." And that they are indeed.

-11/12/13 Cardinals Play For The Name On The Front
In today's world of instant gratification and a trending pattern of college basketball players only wanting to stay a year in college before going to the NBA Louisville has done a great job of weeding through these guys and finding those who want to play for more. Players are recruited to Louisville to play for more than an NBA contract. They are recruited to play for the City, University and the fans. I'm very glad to be a part of a program that still has student athletes and I love the Louisville First approach. Check out the videos below:

11/10/13 Kevin Ware Comeback Feature Stories On ESPN & ABC News
The moment when Kevin Ware stepped back on the court for the first time was a great moment for Kevin , his family, and his Cardinal family. We all have been behind Kevin all the way and many prayers and blessings have went up. The Nation has also followed this story very closely and Kevin has inspired many along his journey to recovery. He was featured on ESPN's "Sunday Conversation" this morning and was also featured on ABC News on Sunday night. It's great to see this comeback story reach so many people and great to see a Cardinal athlete featured for the good qualities like perseverance, dedication, and hard work…
Here are the videos from the features today:
ESPN Sunday Conversation:
ABC News:


-10/25/13 Coach Pitino Speaks At Kentucky Wesleyan College
By now I'm sure you have all heard the news that University of Louisville basketball coach Rick Pitino held a book signing on the campus of Kentucky Wesleyan College on Thursday night. He discusses his connections to Owensboro, friendship with KWC coach Happy Osborne and also says Chane Behanan's suspension could end sooner than originally thought. The Behanan news went national as soon as it was reported. Cardinals fans are enthused with the news and rival fans are wringing their hands. The Cards have a great basketball team returning this season and with Behanan in toe could very well repeat as national champions. Below is the video of Coach Pitino last night in Owensboro.

(Video courtesy Cole Claybourne)

-9/25/13 Louisville Commit LJ Scott Jumps Over Defender, Runs For 50-Yard Touchdown
2014 Louisville Football commit LJ Scott is a 5-foot-10, 224-pound three-star running back who had offers from Indiana, Kent State, Michigan State, Minnesota and Wisconsin. Described by scouts as a dominant inside power runner with carry-the-load physicality and toughness, who finishes strong over his pads demonstrating the lower body playing strength needed to run over defenders in traffic. He isn't easy to bring down with a low tackle showing very good pull through ability. Has a nose for the end zone.
He showed impressive athleticism this past spring on the Nike combine circuit registering an electronically timed 4.76 40-yard dash, 4.25 20-yard shuttle, 30.4-inch vertical, 42-foot power throw and 110.82 SPARQ.
Friday night he had the high school football play of the week when he jumped over a defender, and runs for a 50-Yard Touchdown. Cardinal fans have been sharing this video by the masses in hopes of getting it on ESPN SportsCenter. Below is the video:

-9/21/13 a BRIDGE over troubled WATER
After Teddy's stellar performance on the field today against FIU and the other 3 games his Heisman Watch numbers are 79-110 (72%), 1,214 yards, and 13 Touchdowns with 1 INT. But he refuses to acknowledge any of his achievements. For Teddy it's about being a good teammate and helping his team win. He is one of the most humble kids that we will ever see on this level especially one with this much national attention. Teddy Bridgewater is one special individual. Today before the college football games kicked off the guys of ESPN's College GameDay had a special segment on our special QB. If you haven't watched it you can check it out below. I'm going to enjoy every second of watching this kid during the season and will probably become a fan of whatever team he chooses at the next level. Teddy is the Man!..

-9/11/2013 ESPN Road Trip Comes To The Ville
When a college program is doing well it seems like everyone wants to be involved in some way or another. I recently wrote an article after the football game against Ohio and explained how it felt as if "Big Time" college football had come to Louisville. The last two home games have been great and Cardinal Nation has represented themselves very well. The atmosphere has had that "Big Time" feel. This past weekend ESPN's "Road Trip" show stopped in at Papa John's Cardinal Stadium to see what all the fuss was about and they seemed like they were very impressed as well. That program aired tonight on ESPNU and it was great seeing Louisville Football represented in this format. If you missed it don't worry I have it all for you in the videos below. Enjoy!
PART 1

PART 2


-9/5/2013 What does "The Ville" mean to you?
To me "The Ville" means the first sports program that I started to care about. And it all started in 1986 watching the NCAA Championship on my parents old Zenith console. To me "The Ville" means making the right choice. To me "The Ville" offers an escape from the daily hustle and bustle of life. What does "The Ville" mean to you?