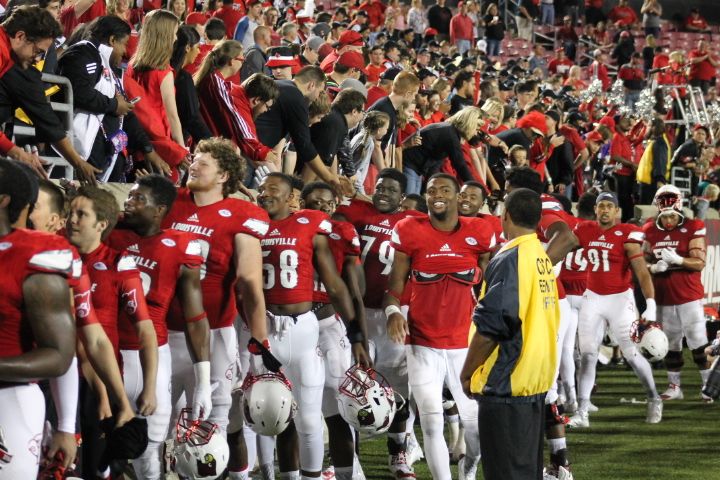 As I was leaving the press area I jumped on the elevator to head down to the press conferences with a few other folks the guy working had a big smile on his face and said "we are all happy tonight", "your happy, I'm happy, the team's happy". And that was the feeling in Papa John's Cardinal Stadium in the Cardinals 45-3 win over Samford.
It had been a long time since Cardinal fans or the football program had to endure such a winless streak. I know I didn't miss that feeling and it was starting to take its toll on the team especially the young guys. I was happy they got the win but hearing the triumphant roars inside that locker room last night was especially pleasing.
In this morale building win we also started to see an offensive identity being formed. Coach Petrino officially said that Lamar Jackson was the man going forward and also that we would start to see Reggie Bonnafon used in different aspects. Both of these guys are great athletes and both are even better young men. Lamar like always was very self-deprecating about his record 396 yards of total offense, and Reggie like always talked about just wanting to help his team get better and doing his part after his passing, rushing and receiving 88 yard night.
"We've got to keep the dice rolling"
-Lamar Jackson
"I'm a football player, It's what I love to do"
-Reggie Bonnafon
These are the young men that are going to lead our football team forward and I couldn't think of two better guys for the job. I have been documented many times during the pre-season saying this would happen. I'd hate to be a defensive coordinator task to stop these two.
I have to also mention that it was great seeing James Quick back out on the field. He really is an electrifying player. And he is also the kind of guy that the other players feed off of his energy. He's a great receiver and athlete but he brings a lot more to the table than that.
The Louisville defense came into the game against Samford allowing opposing offenses to convert on almost 50% of their third down attempts. On Saturday they got off the field on third downs only allowing the Bulldogs to covert on 3 of 11. Chucky Williams said in his post-game that they had been really working hard in practice on just running to the ball. I know this was an FCS opponent but yesterday the Cardinals defense played with ruthless pursuit. Guys were flying to the ball and making plays. They will be able to build off this game and I think we may have witnessed a new identity forming with this group as well.
Even special teams got in on this feel good win. Kicker Josh Appleby nailed a 52 yard field goal. And freshman Jaire Alexander showed his potential with some pretty impressive punt returns.
I'll leave you with this…
Those enjoying winning streaks thus win twofold. They win not only the game but also the right to greater self-determination. They become masters of their own fate. That feeling of efficacy, of being in charge of circumstances, is the essence of confidence. Winning once or twice is encouraging, but winning continuously is empowering.
-ROSABETH MOSS KANTER, Confidence
The Cardinal's Beak Louisville vs Samford Photo Album
Coach Petrino Post Game:

Trumaine Washington Post Game:

Chucky Williams Post Game:

Reggie Bonnafon Post Game:

Lamar Jackson Post Game:

Post Game Celebration Video: