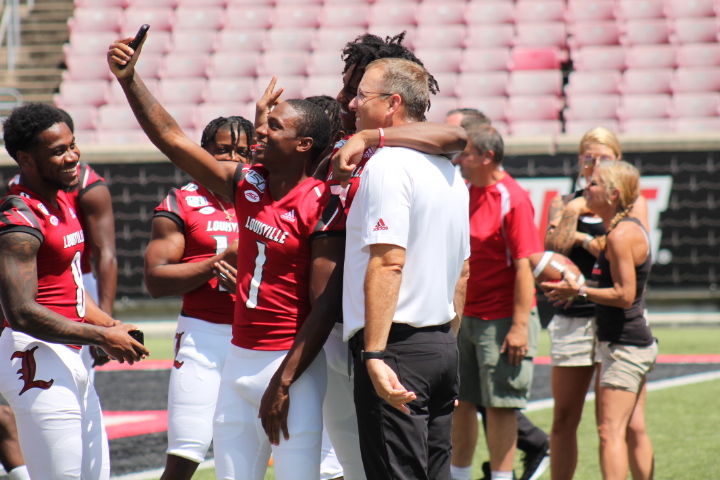 The college football season was a nightmare for the University of Louisville and its fans last season. Things look to be going back in the right direction and it was all smiles today at the 2019 Media Day events. The three words that I heard the most today talking with the coaches and players were family, fun, and football. In that order. This coaching staff wants this program to feel like a family and they want their players to have fun playing the game of football. It is a winning recipe that has worked before for Coach Satterfield and will likely work again if we give the cake long enough to bake.
Coach Satterfield shied away from any questions about records or a Bowl trip saying that he "was just focused on getting better each day". Getting better each day is what this program and these players have been doing since this staff walked thru the door. Better on and off the football field. Several players today mentioning their skill as football players getting better and becoming better people in the process.
The new coaching staff has appealed to these guys softer sides. They want their players to be warriors when they step on the chalk but also want them to be happy people. The guys seemed happy today. The mood was very light, and you can feel the culture change in the air.
Robert Hicks is a guy who barely got his feet wet last season. He finished with 24 tackles and 2 tackles for loss. This dude really stood out to me today. He is a beast physically. This guy will thrive under Coach Brown and I expect him to be one of leaders on this team in both tackles and tackles for loss this season.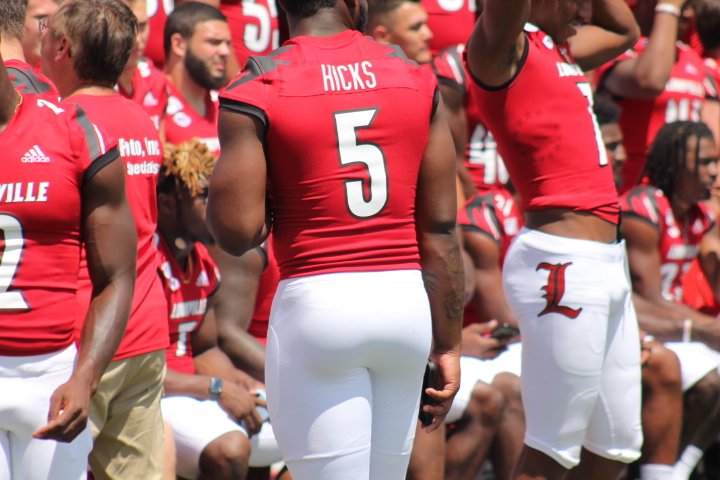 Glad I got a chance to talk with Puma Pass today. I really wanted to echo to him that the fan base never left his side. He is the only player whose last name isn't Brohm that I've ever seen the Louisville fan base be so excited to see in a High School game. Sure, it worked out that he was playing in Georgia the night before the Auburn game but still hundreds of folks showed up that night at Creekside High school. I am horrible at the interviewing stuff. I usually get all tangled up in my words, but I made an attempt to relay this to Puma. One of the TV folks looked at me like I was speaking a foreign language. Ugh! At least it came from the heart. I try my best.

I'm also glad I got a chance to mix some words with Dez Fitzpatrick. He is by far one of the most well-spoken and put together young men that I have ever interviewed. He had me walking out of Media Days last year thinking we were going to beat Alabama. I mentioned that to him today and he chuckled. I also talked to him about the relationship he has with his dad "Coach Fitz" and how much he leaned on him last year when things were tough. Dez is a smart kid and he gets it. I think we will see him return to form this season.

I have asked the last three offensive line coaches about their guys coming out and hitting the other team in the mouth and being violent… Coach Ledford gave the best answer of all three. This is a football guy.
Offensive Line Coach and Offensive Coordinator Dwayne Ledford at Louisville Media Day:

Here are some other interviews and photos from Media Day 2019… It was a good day overall and I'm more excited than I was for the new season to start. 22 Days folks! L's Up!
Defensive Coordinator Bryan Brown at Media Day:

Seth Dawkins Louisville Media Day 2019:

Former Trinity star Rodjay Burns at Media Day:

Coach Ledford raved about this guy… Tyler Haycraft Louisville Media Day 2019:

Devante Peete keeps it real at Media Day: