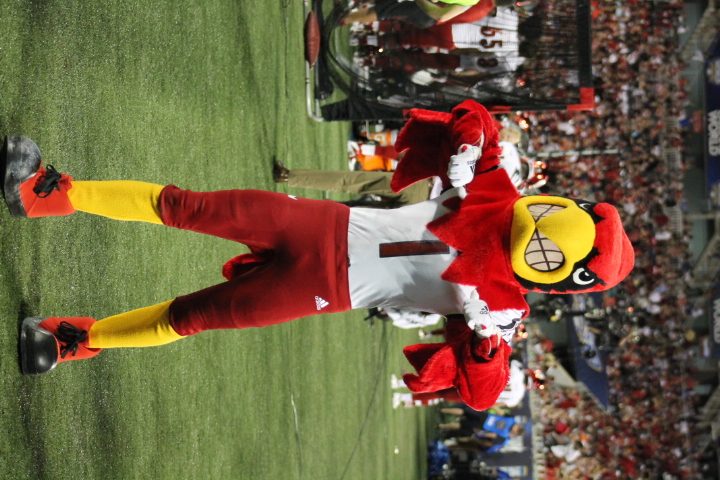 We have watched the Louisville football program grow up over the last 20 years. A big part of that growth can be directly linked to the willingness to be a part of ESPN's weekly college football games. Former Louisville AD Tom Jurich was quoted after he was hired saying "The thing we need to do right away is to get exposure and get this program branded." The Louisville football program has thrived under the lights of the ESPN weeknight game and that exposure has helped along the way. Tonight they are looking to this Friday night game to get them back on the winning track.
Our Cardinals have lost four of their last six road games. Tonight the Cardinals will be in Atlanta to face Georgia Tech looking for their first road win of the season to get back to a .500 record. They will also be looking for their first conference win of the young season. I started the season talking about Louisville's three-headed monster. Malik Cunningham is completing 59.3 percent of his passes for 757 yards, seven touchdowns, and has two or more touchdown passes in six of his last eight games. Tutu Atwell has racked up 230 yards and three touchdowns while Javian Hawkins leads the team on the ground with 313 yards and three touchdowns.
These guys have tried to live up to their end of the hype and the Louisville offense has scored points this season against some pretty good defensive units. Ranking 43rd nationally in scoring offense and 43rd nationally in total offense. The supporting cast has also done their part with Dez Fitzpatrick catching bombs for over 200 yards while Braden Smith has six receptions. All this behind an offensive line that is still figuring it out at this point in the season. That frontline has been this football program Achilles heel for several years now. It's also been a point of emphasis for this coaching staff so I know it will get better.
With all that being said the offensive unit needs to take better care of the football. Ranked 68th in turnovers lost and turnover margin Louisville has give it up 8 times in three games this season. While only forcing 3 turnovers of their own. They have been particularly bad coughing it up on the road. These guys have all the speed and talent in the world but that does them no good when they keep shooting themselves in the foot week after week. We'll see if they can hold on to the ball better tonight.
The Georgia Tech Yellow Jackets also need a victory here to get back to a .500 record. The Yellow Jackets have lost six of their last seven home games. The Yellow Jackets ground game is averaging 221 yards per contest, and their QB Jeff Sims leads the way with 187 yards and two touchdowns. He is a crafty QB and will have this Louisville defense on its toes all night.
An area of concern early on for Louisville is the defensive side of the ball. Defensively, Louisville is allowing 30.3 points and 369.7 yards per game. They are ranked 26th nationally (with teams not playing) giving up almost 6 yards a play this season and ten touchdowns. Some guys are flying around on the field for Coach Brown's unit. Dorian Etheridge leads the way with 22 tackles, Monty Montgomery has two sacks and C.J. Avery has one interception. There just aren't enough guys to have flying around. This is another area that this staff is focused on. I'm cautiously optimistic. Hope this side of the ball can gain some confidence tonight against a Georgia Tech team with their turnover struggles this season. Georgia Tech has turned the ball over 12 times in three games, which is the second-most in all of college football.
Our Cardinals held their own back-to-back weeks against ranked opponents and Louisville is the more talented team here. Georgia Tech has been a sloppy football team. It's Friday night lights on ESPN. We watched Louisville Football grow up on ESPN weekday games and tonight I hope we watch this current team do some growing. The stage is set for them to have a good night. I think we all need that.
Go Cards!