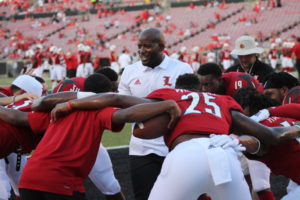 There are a lot of good vibes circulating thru the Cardinal faithful after an unbelievable night down at 4th Street Live. I would like to see some of that mojo passed along to the Louisville Football team on Saturday afternoon. It seems like it has rained for weeks but the skies have finally cleared. There is still a cloud of doubt looming over Cardinal Stadium.
Coach Petrino said in his weekly press conference: "we went back and watched the Alabama game and we played harder and faster versus Alabama than we did at Virginia."
I think they played harder and faster in that Alabama game than in any game they 've played this season. This Louisville Football team landed in Orlando world Beaters and I think it was too much too fast for the Psych of this young and rather inexperienced group.
I think this Coaching staff believed and I think this team believed in themselves. I'd never seen a more confident group in my six years doing Media Day. Taking the loss the way they did to Alabama not only derailed this team it also derailed this coaching staff. This is one of those times when playing a Goliath right out of the gate backfired.
This team would have benefited from opening up against an FCS program like Indiana State. This team needed to ease their way into the season but they were thrust head-on into a steamroller. I'm not making excuses for them. I really believe this. Bama broke us… The question now is what is the coaching staff going to do to fix us. Can they fix it?
The Cardinals have also had their fair share of bad luck with key guys going down with injuries on both sides of the ball. Three of the best defensive players have missed time. And the running backs have been banged up. Just when Dae Wiliams started to show glimpses of being that dominant player everyone was clamoring over at Spring practice a few years ago he suffered a deep thigh bruise. Another set back for a guy who has had a few of them.
There are reports of a coming to Jesus moment this week in preparation for Florida State. Coach Summers believes his O-Line has figured things out again, and there was word of a team meeting. I think it's important for this team to get their mind right but they'll also have to figure out how to score with just 17 points in the two losses. The Louisville defense hasn't been great but they haven't been horrible all things considered. If the offense could give them a little run support who knows.
Florida State's season has gone pretty much the same way. They have had key injuries on both sides of the ball. Their offensive line has really suffered. And it shows in the win/loss column. The Seminoles' two losses have come against good team defense in Syracuse and Virginia Tech, which might explain why they only put up 10 points between the pair of outings.
There are so many resources in Tallahassee and they have a young guy in Willie Taggart who is going to figure it out pretty quick. I just hope it's another few weeks before he does. I look for him to use those tight end sets and try to pound the ball against a banged up Louisville Defensive front. Cam Akers led the rush attack last week for them with 22 carries for 64 yards and a TD. We might get Robert Hicks and Dorian Ethridge back. But will they be 100%?
Who knows what the Louisville offense will look like on Saturday. The weather in Louisville has been more consistent than Coach Petrino's playbook. If things start to go south we could see all 3 Louisville QB's. I wouldn't mind seeing Jordan Travis get a shot if Puma doesn't find his groove. Who knows when we will ever see the Louisville receivers show up again. I think those Bama DB's pulled some mortal combat shit and stole their souls.
I'm ready to rally around the Louisville Football team. I've been ready to rally around them. They have to throw us a bone on Saturday. A fan base usually has a pretty weak Psyche as well. I don't know how much more Louisville Football fans can take. Lose this game and things could officially go off the rails. But come out and beat a quality program in FSU and it could be just what the Dr. Ordered to get this team back on track.