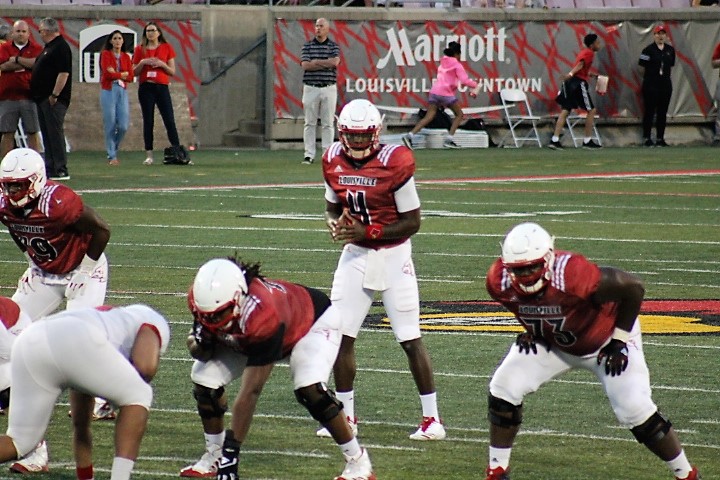 Pass' Pass
Pass played well overall. I feel currently he is our guy. He had some turnovers that bother me but are fixable. He struck me as his nerves had a little bit of him. Hopefully this will get worked out. With him being a non-contact target, we didn't get to see much oh him running minus a few scrambles to the Line of scrimmage. He is physically larger which makes me much more comfortable at the quarterback position, especially for a mobile QB. And I won't get tired of hearing Pass' pass no matter how annoying it is over and over ha-ha
Malik…. Malik Cunningham was the biggest surprise for me of the spring game. Malik played excellent. He ran the ball great and was almost dead on his passes. My eyes will be on him 10x more!
Dez Fitzpatrick – What else can you say but SPECTACULAR. He had some great catches, I wouldn't be surprised to see him become a #1 target for Pass.
Kemari Averett…. HUGE. He stood out to me. It may have been his 6'6″ 265lbs stature… or the 5 catches for 37 yards… that doesn't sound like much but after a season where a 6-yard pass seemed difficult at times this is huge for me.
I'm happy with defense. White team had a pick and a fumble recovery. Hopefully it carries over into takeaways into the season.
Was great to see so many former Cards players at the half time awards ceremony. Between Deion Branch signing his name and taking pictures along the sideline (took him 30 minutes to get 50 yards to leave) to Jaire Alexander coming into the stands forever to sign autographs and take pictures. A line formed in the stands on the home side and he happily seen all that he could…They showed the truth in #L1C4
And the new catch phrase….
PASS' PASS…
Maxwell Bird
#L1C4