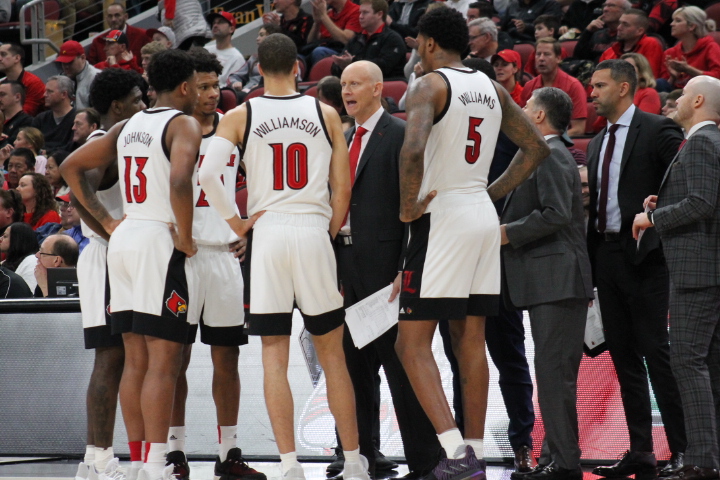 It's been a rough few weeks for Louisville Basketball. Another tough loss to arch-rival Kentucky put a stink over things like I hadn't seen in a while. Things had been pretty positive and the team as a whole appeared to be on an expected trajectory.
In that expected trajectory if you didn't expect some set back you were wrong. I think many of us myself included forget that the nucleus of this team is a group that has been through hell and back.
NCAA sanctions, FBI scandal, and multiple coaching changes have been the norm for our 5th year senior Ryan Mcmahon. And our junior class lost the guy that recruited them a few weeks before the start of their freshman seasons.
This is not taking into account what these guys have faced off the court with injury and personal battles. Sports folks like to talk about stats and the X and O's of it all but there is a human element.
I love this group of guys and will never forget their loyalty to our program during some pretty tough times. We'd been hurting if we had lost them all to transfer. They are and will remain the foundation of the rebuild.
We are just a year and a half through that rebuild folks. Still, a lot going on here and a lot of moving pieces. Coach Mack has this program heading in the right direction and doing it the right way. The last thing this program needed was some quick fix artist and the bullshit that follows that. Would have just meant more trouble.
This team has to hit the reset button but it's not a time for the panic button. I think they have a very fragile psyche. It's easy for this group to bottom out and they do lack a killer instinct at times. Don't know if they'll overcome that. Coach Mack said this week it was on them to decide not to fall back into some of those old patterns. I agree.
They've lost two tough ones in a row but this Louisville team is still doing some things right. Louisville is a top 50 field goal percentage team, top 30 in scoring defense, top 100 in scoring offense, top 40 defensive rebounding, top 100 offensive rebounding and regardless of that shit show at Rupp still around 120th in free throw shooting.
Good game tonight to get back on track. The Cardinals have won 7 of the last 9 matchups against the Hurricanes. The two teams faced off at the beginning of the season and Louisville took home the 13 point road win.
Miami was just routed by Duke and they got some areas that this Louisville team should expose. Miami ranks 273rd in scoring defense, ranks 299th in field goal defense and ranks 314th in defensive rebounding. The Cardinals should get good looks at the basket tonight and plenty of second-chance opportunities.
I have seen it on this page this week and Coach Mack even mentioned it in his pre-game press conference this week. Jordan and the rest of the team need to get synched back up. Think we see that tonight. Good games all around.
I'm ready to hit the reset button. Time to get back on the winning side of things.
Go Cards!

GOCARDS.COM GAMEDAY BREAKDOWN