Last night was the greatest and sports moment of my life and I know I share that sentiment with the Card Nation. That was one of the best national title games of its 75-year history. It had everything the pageantry, the stars, two great teams, two incredible fan bases, and one shining moment. And our Louisville Cardinals seized the day as they beat the Michigan Wolverines 82-76 in an instant classic. The win gave our Cardinals their 3rd National Title and puts them in an elite group with only 8 other programs reaching that mark. They closed out this magical season on a 16-game win streak.
This season has been like a fairy tale in many ways and one that could be a future 30 for 30 feature on ESPN. In a college basketball culture with kids coming to school for one year to boost their NBA draft stock Louisville has established a team-first approach. Coach Pitino and his staff have done a great job of recruiting the guys that fit into this team-first system. Louisville has become the model program for doing it the right way and in a more traditional way.
The emotional journey to this championship story started with that 5 overtime loss to Notre Dame. After that loss Coach Pitino challenged this team to bond together and to win the rest of the way. And they answered his challenge by winning the regular season and winning the final Big East tournament championship. That alone will be something that will never be forgotten but this team wasn't done yet. They would parlay the great season into the number one overall seed in the NCAA tournament. They had a great team run through the first round in Lexington and then in Indy Cardinal Nation and the rest of the world would understand what it means to be bonded together as a team. That's when we started to understand how special this group was.
The Cards rode that wave of emotion of losing one of their brothers into the Final Four. Here they would run into two great teams who also seemed to be playing for something greater than themselves. And this is where this fairy tale story had its greatest moments. A walk-on who had only played sparingly and had scored 16 points on the season comes into the national semi-finals and hits two of the biggest three-point shots you'll ever see to give the Cards a spark to overcome a 12-point deficit. Then in the national title game, a guy that had been averaging around 6 points a game becomes the first player to come off the bench to win the tourney's most outstanding player. At the end of this fairy tale season, the Cards turned out to be the most dominant team in the country.
The Cardinals were locked in on defense, momentously hot on offense, and too emotionally charged to let this one get away from them. They had the experience of last season, a Hall of Fame head coach, the emotional leader Ware, and the individual playmakers Peyton, Russ, Gorgui, Wayne, Chane, Hancock, Montrezl, Stephan, and Tim. This was a great season and a great story and these Cardinals seized the day.
I know I will never forget this group and the experiences they have awarded me from being a Cardinal fan. I have written so much about these guys that I feel like I know each of them personally. And I'm very grateful to be somewhat connected to them through those words. I'm going to seize this moment and this day for the rest of my life. My Louisville Cardinals are National Champions. Oh and I'm glad I can finally sleep and shave.
-A CHAMPIONSHIP IN PHOTOS

-A lot of Louisville Flavor in the 2018 NBA Playoffs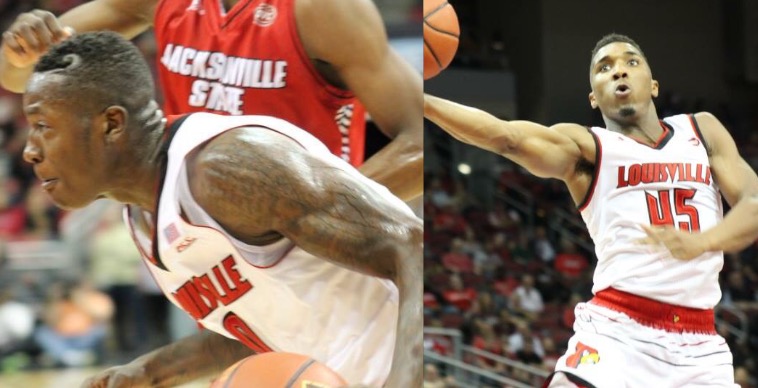 At this point can anyone deny the impact the Cardinals have had in this year's NBA playoff? As I'm writing this I am watching game 2 of the Celtics, 76'ers. And Rozier just dropped another dagger from way behind the line. He is 4-9 behind the arc with 20pts, 6 reb, and 8 ast and 4 for 4 at the line… He has taken Kyrie being out and has taken the time to step up, play as clutch as possible and keep the team dominant. And many of his points in this playoff run have come when they counted, in the 4th quarter. He has been downright amazing.
And then we have Donovan… What else can I say about the TRUE rookie? In game 2 of the Jazz, Rockets series he was dominant as he has been all season and especially during the playoffs. In game 2 he recorded 2 threes, 5 rebounds, 11 assists, with 17 points… And that was an off night for him. In game 6 against a great Thunder team, he had a monstrous 38 points, 5 for 8 behind the arc, 4 reb, and 2 ast… And people noticed as they have all year. Westbrook pulled him to the side after the game and whispered to him. Although we don't know all of what he said, Mitchell did tell the cameras that he told him not to stop, never stop. Keep going. And Anthony after the game stated, "You guys are watching something here that could be very special,". That is high praise from an NBA great and future Hall of Fame player.
The Cardinals are dominating and stepping up to advance their teams in the playoffs. And it is impossible to deny that the playoffs would be very different without them.
Maxwell Bird #L1C4


-There is a lot to be excited about after watching Louisville's 2017 Signees in the Derby Basketball Classic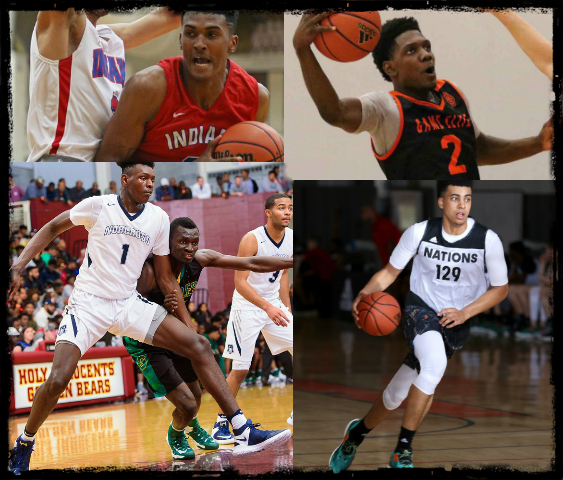 The Louisville signees didn't have the type of all-star performances that they had hoped for in their Louisville debut at the Derby Basketball Classic. But this is still a very impressive group. Darius Perry led the way Saturday night with 22 points, 1 assist, and 1 steal. Followed by Jordan Nwora (7 points and 7 rebounds), Lance Thomas (5 points, 5 rebounds & 1 blocked shot), and Malik Williams (3 points, 4 rebounds & 1 blocked shot).
The first thing I noticed about the 2017 recruiting class seeing them up close is how big they are. They have size and it is athletic size. Jordan Nwora the sharp shooting wing is the biggest of the group. Once he gets into Coach Pitino shape along with his versatility there won't be many weapons better in the NCAA. Malik Williams is the most gifted athlete of the group but Nwora's upside is crazy.
You don't become a finalist for Mr. Basketball in Indiana unless you are a pretty darn good player. Malik Williams is going to be a really good player. Talk about versatility. This kid can bang down low and can take his game out to 20 feet. He's got to add some strength and bulk to his frame and once that happens this kid is going to make a lot of money someday. And he is going to help Louisville win a lot of basketball games.
It didn't take me long to be in complete awe of Darius Perry's court presence. This kid has so much moxie and his game is very smooth. He's got the handles and can create his own offense. Being a smaller guy he's had to play against bigger kids his whole life. He's learned to play to his strengths and take advantage of his skill. He had some stop and pop moments on Saturday night that got me out of my seat. Not going to be shocked to see him on the court for extended periods next season.
Lance Thomas is the project of this group. All of these guys will need to add some strength and bulk but Thomas has the most work to do. He's got a great frame and the foundation of a next level player is there. If he works hard and buys into what Coach Pitino has planned for him he could end up being very successful.
I was really excited after watching the 2015 guys play in the Derby Basketball Classic. This 2017 group made me feel the same way. So much upside and promise. I think Coach Pitino and his staff really outdid themselves. Looking forward to seeing how this group will fit in and what they will add to an already loaded team.
Jordan Nwora Derby Basketball Classic Post Game:

Malik Williams Derby Basketball Classic Post Game:

Lance Thomas Derby Basketball Classic Post Game:

Darius Perry Derby Basketball Classic Post Game:

Want to give a shout out to the Derby Basketball folks for putting on another great event.


-I'm optimistic after the Spring Session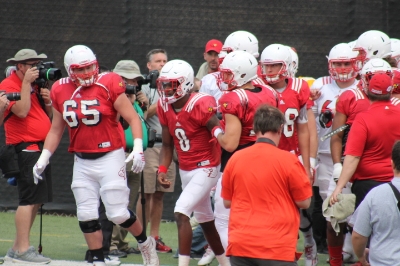 It was a beautiful day for some Louisville football. Over 14,000 fans came out to cheer the Cardinals on as they wrapped up the spring session with a solid scrimmage. The first team offense didn't dazzle me but they scored 52 points while the Red team defense locked down the white team holding them to just 7 points. Expectations seem to vary along media lines but I felt today was a very workman like performance from the Cardinals.
I felt that the Cardinals offense had become very one dimensional at the end of last season. It became very easy for teams to shut the Cardinals down especially on 3rd downs ending up 60th in the country in conversion pct. After watching a few Spring practices and now having watched the Spring game it is obvious that Coach Petrino wants to get back to a more multidimensional approach attacking defenses at all levels.
Lamar Jackson had 346 passing yards with 3 passing touchdowns and just 38 rushing yards with one rushing touchdown. Jackson looked comfortable going through his reps and some improvement was noticeable with better accuracy, arm strength and field command. He was able to spread the ball around completing passes to eight different guys. I love to see Lamar break away on those long runs and he did have a 34-yard trot today. I think getting more folks involved in the game plan will help Lamar be a better player and the play calling this spring was leaning towards that.
I really like our length and speed on the outside. We have one of the more athletic wide receiving corps in the ACC. Dez Fitzpatrick looked impressive today with 176 yards and two touchdowns. Charles Standberry was impressive for the white team 76 yards in the loss. Emonee Spence (64 yards), Seth Dawkins (33 yards), and Devante Peete (42 yards) were also productive. This is a very deep group and should have a great season.
Coach Petrino says that he wants to get the ball in Reggie Bonnafon's hands more and wants to make sure that he is a bigger part of the offense this season. Reggie seen his number called several times on Saturday involved in 13 plays with 49 yards rushing and 12 yards receiving. He also had a rushing touchdown. I like Reggie coming out of the backfield in the rushing attack but I think we really need to get Dae Williams and Jeremy Smith back healthy for this area of the team to be complete. I think Malik Williams could have a say in things as well.
The defense has been simplified and I think you can tell that just by how the players approached their game-plan on Saturday. The defense seems a lot more active and less reactive. The guys seem to be getting to the play quicker allowing for 4 interceptions, 9 break-ups and 10 tackles for loss. The standouts on Saturday were CB Ronald Walker (9 tackles), LB Stacy Thomas (7 tackles), S Dee Smith (13 tackles, 1 interception), LB Malik Staples (8 tackles, 1 interception), and Jaire Alexander (7 tackles, 1 interception). I really like Alexander and he is a leader on the field. This defensive group has a lot of potential.
I must give an honorable mention to back-up QB Jawon Pass. He is a good one to have standing on the sidelines waiting for an opportunity. This young man is already so poised and steady in the backfield. His vision and ability to make football plays make him a very solid player. Very pro-style approach. I think we are going to be very good at the QB position for years to come. Jawon had 162 yards passing on Saturday.
Really can't tell too much about the offensive line in these scrimmages but have confidence that this group will see a level of improvement especially if they take on some of the intensity of their new coach.
These Spring scrimmages aren't a be all end all predictor of how the upcoming season will look, but it is a great opportunity to see how certain players have improved their games and gives you an idea of just what the offense and defense will look like come September. I'm optimistic and think that this team overall will be more complete than last year's group. Can't wait until September.


The Grantham Era Ends and The Sirmon Era Begins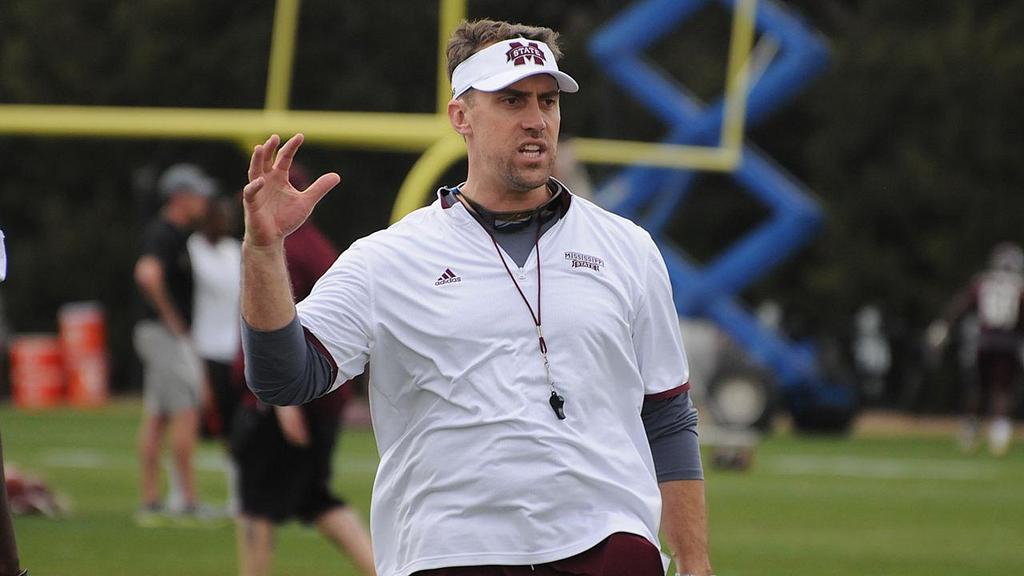 Cardinal fans got the news a few hours ago about another big coaching shake-up with the Louisville football team. Coach Todd Grantham is out and the Peter Sirmon era will begin. I never had a problem with Coach Grantham but did think he benefited greatly from what Charlie Strong had built before he left and I don't think Grantham was here long enough to establish his own culture. I'm a big fan of young, hungry up and coming guys like Sirmon and think he will bring a lot of energy to the defensive side of the ball. He will have a chance to build his own culture with the defensive unit.
Grantham had the luxury of riding the coat tails of the last Louisville coaching staff but Sirmon will have to find his own way and quick. He will have a great young group of defensive players to work with but will have to find some leadership within that group in order to get things rolling again this spring. By all accounts Sirmon is really respected by his players and his peers. He is a guy that has played the game at the highest levels. He had a great college career with Oregon and had a solid NFL career with the Tennessee Titans. This should help him establish an instant rapport with his new team and goes along way with establishing mutual respect.
I like Peter Sirmon because he has Football in his DNA. His father played Division I and his three older brothers played the game well. Thad Sirmon played at Oregon State, John Sirmon played at Idaho, and David Sirmon played at Montana. Peter's son, Jackson also plays football. There are also nephews who play the game pretty well including a 5* QB in the class of 2018 Jacob Sirmon who holds a Louisville offer. This football family reminds me of another great football family from Louisville. Nobody has impacted the game of football in this state like the Brohms have. The Sirmon's are a very similar bunch.
Everything that I have read on Peter Sirmon tells me that somehow and in some way he will end up being a great football coach whether that happens at Louisville or not remains to be seen. By all accounts he is a guy that has worked hard for every opportunity he has got and is a guy that won't rest on his laurels. This Sirmon quote that I found really backs up this sentiment: "It's the ultimate motivation of, if you don't perform, you don't have a job," Sirmon said. "The only person that can control you is you. When you get an opportunity, you need to be prepared because you don't get another opportunity."
I should be ecstatic about the Louisville Football program with a guy like Lamar Jackson leading our offense and a great group of young defensive players returning, but at times I have found myself being skeptical. With the coaching shake-up today that skepticism still remains but after reading up on and researching our new defensive coordinator Peter Sirmon I am looking forward to what the future holds for the program. I'm looking forward to getting out to the practice fields in the spring and seeing how this guy gets after it. Welcome to the Cardinal Nation Coach Sirmon! Go Cards!
Here is Peter Sirmons Wiki:
Peter Sirmon

Sport(s) Football

Current position

Title Defensive Coordinator

Team Louisville

Conference ACC

Biographical details

Born February 18, 1977 (age 39)

Wenatchee, Washington

Playing career

1996–1999 Oregon

2000–2006 Tennessee Titans

Position(s) Linebacker

Coaching career (HC unless noted)

2008 Central Washington (LB)

2009 Oregon (GA)

2010 Tennessee (GA)

2011 Tennessee (LB)

2012 Washington (LB)

2013 Washington (LB/RC)

2014–2015 USC (AHC/LB/RC)

2016 Mississippi St. (DC/LB)

2017–present Louisville (DC)

Peter Sirmon (born February 18, 1977 in Wenatchee, Washington) is a former American football linebacker in the National Football League. He was drafted in the 2000 NFL Draft by the Tennessee Titans and played for them for his entire career from 2000 to 2006. Sirmon played college football at the University of Oregon, and high school football at Walla Walla High School for the Blue Devils where he played quarterback and Safety.

In 2008, Sirmon became the linebackers coach at Central Washington University. He was the linebackers coach at the University of Tennessee under head coach Derek Dooley in 2010 and 2011, and was the linebackers coach at the University of Washington.[1] He was brought in by Steve Sarkisian as his linebackers coach when he was hired by the University of Southern California.[2]

On January 12, 2016, information leaked that Peter Sirmon will be announced the new Defensive Coordinator at Mississippi State University.[3]


-Coach Pitino Gets His Halloween Treat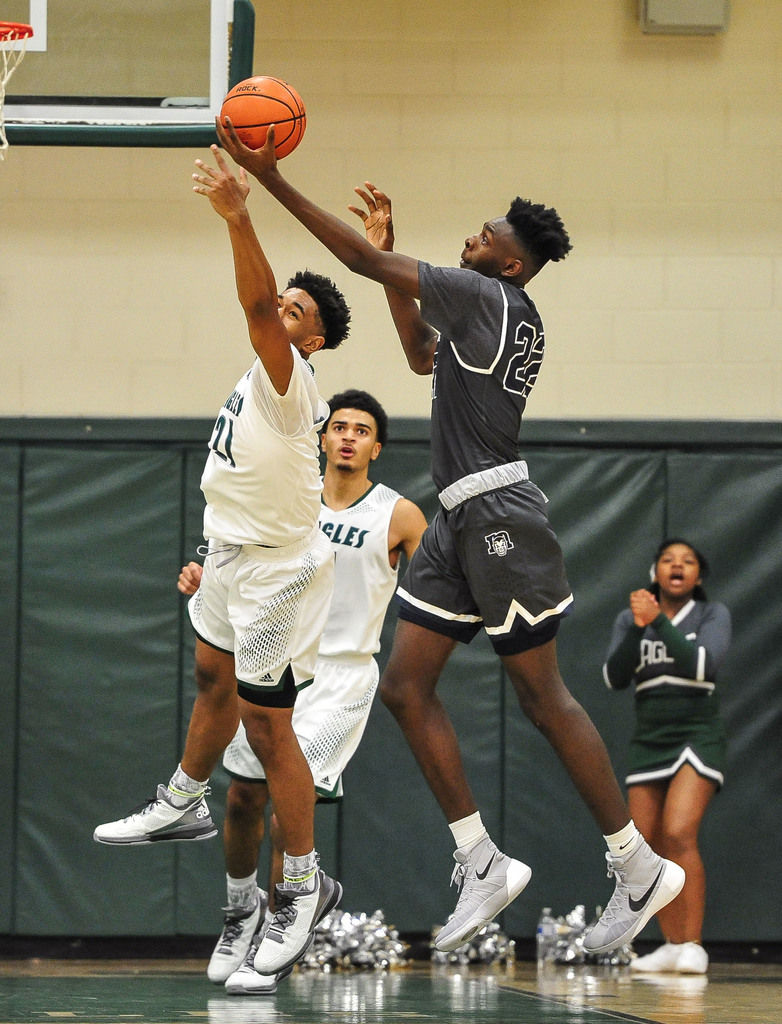 (Photo Courtesy Kyle Hess)

With only 10 days left until the early signing period Coach Pitino and his staff finished strong today landing a verbal commitment from four-star power forward (6-9, 210) Lance Thomas from Norcross, Ga. He is considered to be one of the best Power Forwards in the country by all of the scouting sites. FUTURE150, 247SPORTS, SCOUT, RIVALS, and ESPN. You can tell in the picture of him above just how lengthy this guy is. Thomas had Louisville in his final four which also included USC, Miami, Florida…
We have watched this coaching staff for years be able to go out and find high ceiling guys and Thomas is another one. Thomas is an extra-long, athletic, hard playing aggressive power forward that attacks the rim on the break where he finishes above the rim on all clear paths. He handles the ball well for his size and has pretty good touch in and around the lane with comfortable range out to about 15 feet. He is a rim level rebounder in and out of his area and a high energy shot blocker.
He will join what will be an elite front-court that will feature 5* VJ King and 4* Deng Adel for Louisville during the 2017-18 college basketball season. Coach Pitino was quoted at the Tip-Off Luncheon this past week saying "fans don't like to hear wait till next year, but we are going to be really good in 2018." There were also a lot of mentions about hanging another banner soon. I've always thought that the 2015 Class would win another championship for the University of Louisville. There is a lot of heart, discipline and talent in that group. This 2017 group just assures thought.
It has been a really good week for Cardinal Nation both on and off the field. Winning big games and solidifying that the University of Louisville will continue to compete at a high level for years to come. Kudos to all of the coaches and staff for logging the hours and putting in the work to get it done. Go Cards!

Lance Thomas Highlights



Coach Pitino adds a Bombino to his 2017 Class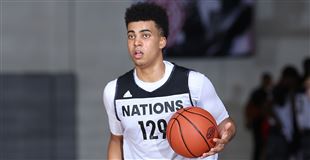 As the Louisville Basketball team gets ready to embark on another season today Coach Pitino seemingly adds the final piece to his 2017 recruiting class with a verbal commit from 4*  Jordan Nwora. Nwora will blend in great alongside fellow top 100 players Malik Williams, and Darius Perry. Williams is the future paint presence, Perry will eventually take over at the point and Nwora will provide scoring from the perimeter as well as being a scoring threat from all over the floor.
Nwora became a household name during the Nike EYBL summer session and has continued to see his stock rise. Described as a late bloomer by most of the scouting services Jordan is a player that is only beginning to see the evolution of his game. This kid can score in bunches and in a variety of ways. He shoots it well off the catch or the dribble and can surprise with his open floor athleticism when he finds himself alone in space. And he is one of the best three point shooters in the 2017 Class. He's going to have immediate value as a floor spacer, pick-and-pop threat.
Nwora will compliment the current group of Cardinals with his much needed three-point shooting and scoring punch. We have several guys that can create their own shots and score off designed plays but there isn't a roster full of pure shooters currently. Quentin Snider and Ryan McMahon will have to fill that role this season. I have seen some folks compare Nwora's shooting prowess to Luke Hancock. We all know how that worked out.
Jordan Nwora is considered by most of the scouting outlets to be among the top 100 players in the 2017 Class. This is a great commit for Coach Pitino and the Cardinals. Coach Pitino is wanting to go back to more of that run and gun type of offense that he has been known for and adding a player like Nwora doesn't hurt that effort. Coach Pitino still has one scholarship available for the 2017 Class but it is not known yet whether or not he will use that on a 2017 player or hold it for another possible graduate transfer. Those have worked out pretty well for the Cardinals also.
Here's the ESPN Evaluation:

Strengths:

Nwora is an elite shooter of the basketball capable of getting hot and making shots in bunches at virtually any time. He has a quick and compact release and special ability to make tough shots, both off his back foot as well as with very little separation from his defender. His shot-making ability gives him a clear and obvious niche from day one and makes him potentially valuable trailing the break, in pick-and-pop action and both setting and using screens off the ball. Without the ball, the threat of his jumper also allows him to be an ideal floor spacer. Nwora has also shown an ability to rebound his area effectively, which will be a necessity if he's to play the four at the next level.

Weaknesses:

Physically, he has some obstacles to overcome in order to thrive at the highest level. He has a naturally stockier build with slower feet and very little explosion aside from the occasional uncontested run-out. He's consequently better suited to defend fours rather than threes. On the offensive end, he tends to hunt his shots and needs to show better decision-making both in terms of his shot-selection and also in being more of a ball-mover when he isn't his team's primary offensive option. He isn't much of a threat to put the ball on the floor, even when run off the arc, and could also finish better at the rim.

Bottom Line:

Nwora is a truly elite shooter of the basketball who can change a game from behind the three-point arc but he needs to find other ways to impact the game when his shots aren't falling.


The Bluegrass Version of "Game of Thrones"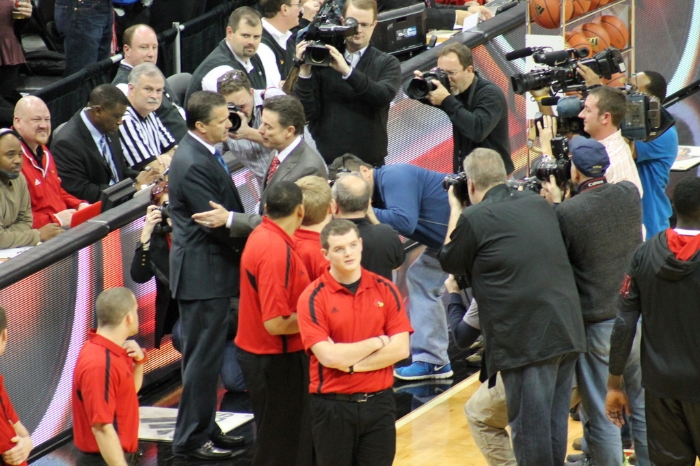 The seemingly bitter rivalry between Coach Pitino and Coach Calipari had simmered in recent years. Calipari has owned the head to head battle between the two and has two NCAA victories to his advantage. Since I'm a firm believer in backing up your smack I don't really mind when shots are fired from Lexington's head man.
I think it was his intention to heat things back up in Kentucky's version of Game of Thrones when he made some guided comments on the Mike Lupica Show recently. Lupica asked Calipari about recent college sports scandals. "How much does the coach know and how much is a coach responsible for his program?" Lupica asked.
"All I can tell you is this: If it happens on your campus and it happens with your assistants and those people you probably have a pretty good idea of what's going on," Calipari said. "If it happens back in their home town, it happens back with their family or other ways there's no way you can know. You just don't know. So, all I would say is most coaches have an idea if it happened on their campus. You might not be the first to know about it, but you eventually hear about it."
Today Coach Pitino came on to talk with Terry Meiners and when he pressed Pitino about Calipari's comments: Rick responded as such
"Whether it's Duke last month or us this month, these type of comments – we're here to build up the image of college basketball, not tear people down,"

"I don't live in a glass house, and I don't throw stones,"

"I don't have time to figure out what he did or didn't mean," Pitino said. "If our paths cross this summer, I'll ask him."
I don't know if their paths will cross this summer, but "Winter Is Coming". I hope that this recent exchange of words has lit some fire back under Coach Pitino. I hope he remembers how much he dislikes his arch rival. It's time for the Father of Cardinals to take Kentucky's Basketball throne back from King "John"Frey…
You can hear Terry's full interview with Coach Pitino here:



Cards Hire a New DB's Coach, and Reputable Recruiter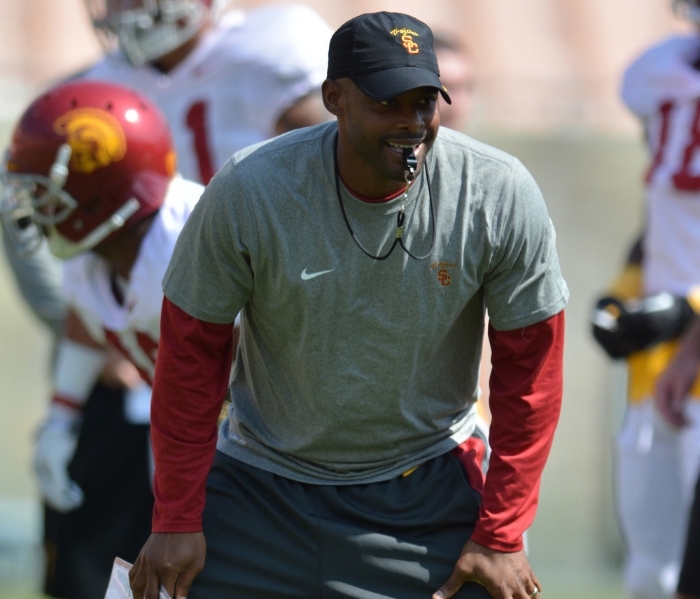 Coach Petrino has added a new staff to the Louisville program and the first new hire since his return. Former USC defensive backs coach and defensive passing game coordinator Keith Heyward will now be a Cardinal. This guy brings with him 11 years of solid coaching and word of being a great west coast recruiter. He has coached and developed many great athletes and has sent his fair share of them into the NFL. I don't get too caught up in these secondary coaching hires and trust that Coach Petrino knows how to vet in his hiring process. By all accounts this is a good one.
Heyward started his coaching as a graduate assistant at Oregon State. He worked two seasons at OSU (2005-2006), the first season working mainly with the cornerbacks and the second season with the defensive line through the Sun Bowl. His next coaching position was as the linebackers coach at Cal Poly San Luis Obispo in 2007. While coaching at Cal Poly, the Mustang's defense was ranked first in the Great Western Conference and their total defense third in the league.
After coaching at Cal Poly he returned to Oregon State for 4 seasons (2008-2011), this time as the secondary coach. In 2011, Heyward coached second-team All-Pac-12 cornerback Jordan Poyer and safety Lance Mitchell, both of whom earned honorable mention all-conference.[4] During his time at OSU, Heyward also coached future NFL players including: Brandon Hughes, Keenan Lewis, Brandon Hardin, Al Afalava, James Dockery and Suaesi Tuimaunei. Oregon State played in the 2008 Sun Bowl and 2009 Las Vegas Bowl.
Following his time at OSU, Heyward became the secondary coach at the University of Washington for two seasons (2012-2013). Under Coach Heyward, UW's pass defense in 2012 ranked 23rd nationally and safety Sean Parker had 11 career interceptions. During his time at UW, Heyward also coached future NFL players including: 1st round draft pick Desmond Trufant, Greg Ducre and Marcus Peters. In those two seasons, the Huskies went to the 2012 Las Vegas Bowl and 2013 Fight Hunger Bowl (he did not coach in the Fight Hunger Bowl).
December 2013 Heyward joined the Trojans where he was the University of Southern California's defensive backs coach and pass game coordinator for two seasons (2014-2015).[3] "In 2014, safety-outside linebacker Su'a Cravens made Sophomore All-American first team and All-Pac-12 first team, while cornerback-wide receiver-returner Adoree' Jackson was a Freshman All-American first teamer. Cornerback-safety Josh Shaw was a fourth round NFL draftee."[3] In 2015, USC inside linebacker Cameron Smith was named Freshman All-American and Pac-12 Defensive Freshman of the Year. Under Heyward's coaching, the Trojans played at the Holiday Bowl (2014) where they defeated Nebraska, and won the PAC-12 South Championship (2015). (WIKI)
Keith Heyward officially introduced as the Cardinals secondary coach:



Louisville Baseball Has Arrived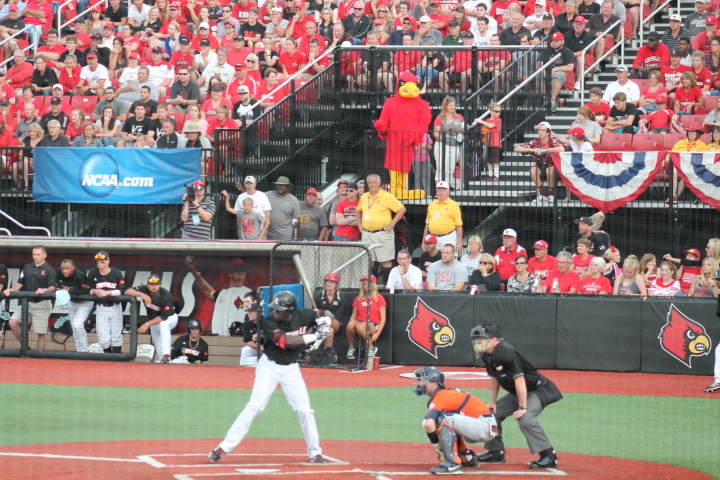 Since its inception in 1909, the Louisville baseball program had been a 96-year see-saw session in which the Cardinals would contend for a few conference titles and fifth-place finishes with equal frequency. That all changed when Dan McDonnell took over as coach in 2007 and he has built Louisville into a consistent winner that now must be considered among the nation's top powers. The month of June in Louisville has now become a yearly celebration of the Cardinal Nine.
They rolled through their first season in a very competitive ACC winning 25 of their 30 regular season conference games, setting a conference record on the way to a 43-16 overall record and winning the ACC regular season Title. This past June the Cardinals hosted a College World Series regional for the third year in a row, the fifth time in program history. To add to that they were selected as a No. 3 seed in the tournament, marking only the second time the baseball team has been ranked in program history. I have really enjoyed watching this program elevate and being at Jim Patterson stadium during the regionals you could tell that Cardinal Fans have embraced the baseball program. We didn't make it to the College World Series but just being able to make another great run was special and another great program builder for sure.
The future sure looks bright for the Louisville Baseball program as the Collegiate Baseball newspaper tabbed the Cardinals' 2015 class at No. 21 nationally. The program has also been getting its fair share of love from D1Baseball.com as they have tabbed the Cardinals one of the programs without a College World Series Title to win one in the next 5 years. They also ranked the Louisville Baseball program 6th in their top 100 programs of the modern era. Just over the last couple of days Louisville was ranked No. 2 in Collegiate Baseball Newspaper Preseason Poll. It is the highest pre-season ranking in school history, and Brendan McKay was named Preseason Player of the Year; while Corey Ray, Kyle Funkhouser, Zack Burdi are preseason 1st-Team All-Americans.
We often talk about how far the football program has come up over the years but I think one could argue that there hasn't been a bigger rise from the ashes story than with the baseball program. It is great to see them getting respect from some of the national publications and I can't wait to get out there and see them next season. Never been a huge baseball guy but they have made me a fan.