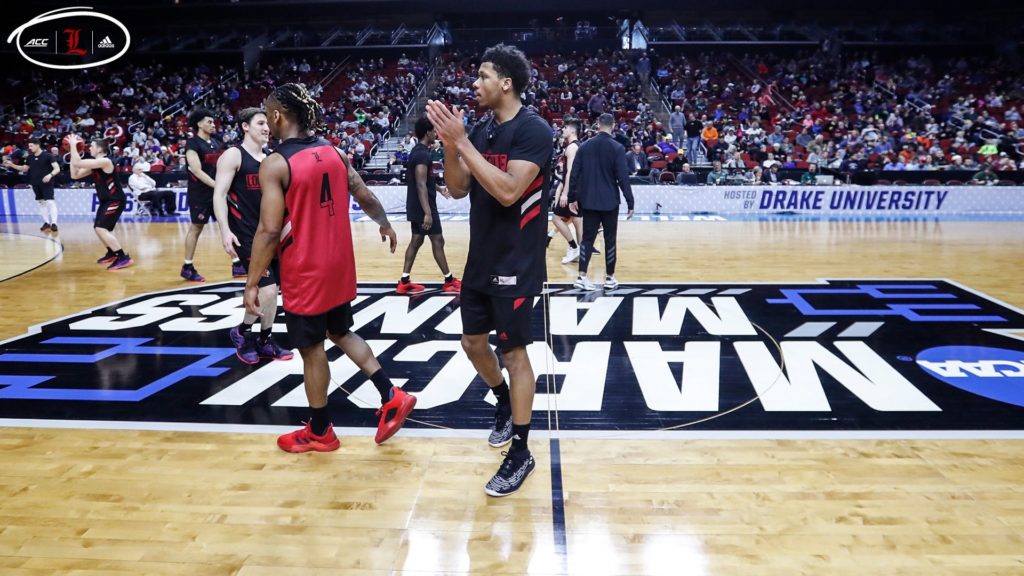 (photo courtesy of @LouisvilleMBB)

We missed out on the fun last season but the wait is almost over. Our Cardinals will literally kick off the 2019 NCAA Tournament when they play Minnesota at 12:15 pm. First round games have a history of being a topsy-turvy of events especially in games where the Seeds are more evenly paired. As a Louisville fan, I have some horrible memories of first-round games. I don't want this to be one of those occasions.
As a fan you want this first game of the NCAA Tournament to be as drama free as it can be. Watch your team cruise to an easy win and move on to battle for a spot in the second weekend. The NCAA Tournament Committee did their part to make sure this first game was anything but drama free for Louisville. Speaking of Past. Louisville can't seem to get away from theirs.
I have intentionally tried to stay away from all of the "Pitino" rhetoric this week. Coach Mack said that he had tried to keep it away from his team this week. Listening to some of the comments from the open practice yesterday it doesn't sound like these players care to much about it either. They appear to be in the moment. This team has been good at staying in the moment all season.
The Cardinals had the misfortune of facing some tough opponents in the tail end of their season, but they really didn't get blown out in any game and held their own against the top-tier opponents for the most part. They overcame some tough losses along the way but were able to take on the season one game at a time. They'll have to do that over the next few weeks to survive and advance.
I don't expect this to be an easy one against the Gophers. They play hard for their Coach. His teams are known for their effective offense, and they make opponents earn points on defense. I can assure you that they will press and press some more. I respect their X's and O's and they also have some pretty good Jimmys and Joes. Amir Coffey and Jordan Murphy are a great one/two punch for them. Murphy averages a double-double per game with 14.8 points and 11.5 rebounds. He is the kinda dude that can take one over.
Louisville will have the best player on the floor in this game. I hope that Jordan Nwora can rise to this occasion. It will be his first appearance under these bright lights. He has managed the pressure of being the "go-to" guy this season but being the "go-to" guy in the NCAA Tournament is a different pressure. I don't think Minnesota has anyone that matches up well with Jordan but they'll have a plan to slow him down.
This Louisville team has done a better job of cultivating offense in other ways than just launching bombs from the outside. But they are a live by the three and die by three type of team. It's just who they are. Hitting that outside shot effects every aspect of their game and can even dictate their defense at times. We just have to hope they hit em.
It would be nice to see someone emerge from nowhere and get some important production. I feel like a great Tournament team always has this guy. For Louisville, I think that guy could be Akoy Agau. Wouldn't be shocked to see him impact the game in some way. A big rebound or shot. At this point, it is so cliche to say that VJ King could have a big game. He really could have a big game and a good Tournament. He's been playing with more confidence lately. This team is only one impact wing player away. Just sayin.
Back to Minnesota… They really didn't look great against Michigan, but otherwise, they've performed pretty well lately. Still, the Gophers have had some trouble against the more stout defenses out there. This Louisville team has been solid on the defensive end of the floor lately. I think they match up well.
I just want to get past this first round game. I think this team needs to get past this first one. This game could also go a long way of moving us past that other stuff. It really is time to bury it. The program has moved on.
I love the NCAA Tournament and am glad that my Cardinals are back in the big dance. It's going to be an event filled with drama as 65 games are played over the next three weeks. There will only be one team left standing. I hope that team is Louisville. I can hope.
Can't I?
Go Cards!