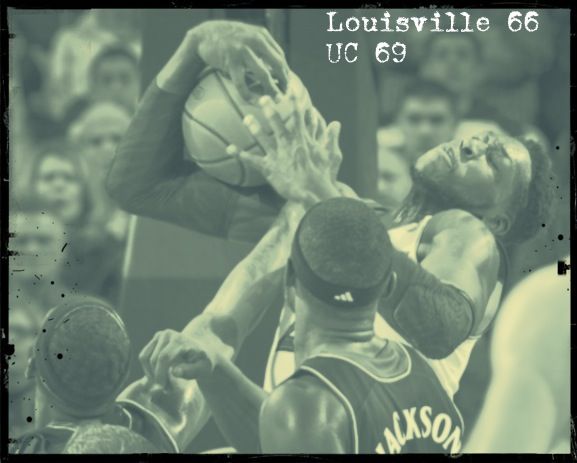 (Photo UofL Sports)
Welp! That game was a back breaker. The Bearcats had come into this game tonight with a 12 game win streak and unfortunately they left on a 13 game win streak as they beat our Cardinals tonight 69-66. The Bearcats are on a roll and now take sole possession of first place in the American Conference. Our Cardinals who had won four straight will now go back to the drawing board and will still be in search for their first big time win of the season. They are 0-4 against top 25 teams and have now lost to all 3 rivals this year Kentucky, Memphis and Cincinnati.
Tonight was old school night in the KFC Yum Center and the first half had an old school feel about it. It was tough gritty defense on both ends of the floor by both teams and low scoring. It was an ugly start and the Cards were down 28-20 at half. They were 8 of 26 from field, and UC was 11 of 28. It was the second fewest point total for a half for Louisville at the Yum Center. Things picked back up in the second half and the Cards turned up the defense and the offense started to flow. They did have that "Boom" moment and came back from 17 points down to take the lead on what was one of the most "Russdiculous" moments you will see in a game this year. With a little over five minutes to play and four seconds on the shot clock Russ launched a three point shot from about 30 feet and sank it. After that shot it looked like it might be a great night, but the Cardinals wouldn't hit another field goal. Coach Pitino said in his post game "We just didn't block out at a key point in the game and it cost us." Cincinnati missed only seven shots in the second half, and got the offensive rebound on five of those, got put-backs on three. With 1:43 left in the game Justin Jackson made a two Point tip shot that gave UC the lead 65-64. That was a crucial play in the game. Coach Pitino would say in post game "You don't (block out) on that key play, you deserve to lose. You really do." So that truly was the story in this one. Cards would be out-rebounded in the game 36-25.
Luke, Montrezl, Mango, Russ and Terry got the start tonight. Montrezl had a big night leading the way with 18 points and 6 rebounds and the two man game between he and Luke was about as good as I've seen in a long time. They were a big reason for the come-back. The Cardinals got good offensive production from every spot except Mango at the 5. This continues to be a huge problem for this team. The five spot is not developing enough for them to beat good teams. It's 5-on-4 on the offensive end of the floor.
Wayne Blackshear got recognized for his academic achievements today, but he may be one of the biggest head cases on the basketball court that I've seen in a long time. Every time the Cardinals play a top 25 team he disappears. Against 4 ranked teams this year he has 7 points, 8 rebounds in 46 minutes. It has to be a mental thing because he has shown us moments of greatness and shown he is capable of being the man. They could have really used him in this game tonight. He got in foul trouble played 5 minutes and had 2 rebounds and one blocked shot. Coach Pitino said after the game "Proud of the effort, not proud of the defensive execution. We can't hang our heads, we've got to get ready for UCF." That is a plus for this group they do give it all they got and do play with a purpose on each end of the floor. They are going to have to figure out how to finish games and figure out how to get points from the 5 spot.
Like coach Pitino said these guys don't have time to hang their heads. UCF comes to town for a rare Saturday 9PM tip. This one was a tough one to take and I know I'm not alone in feeling down about it. But we gotta keep the faith. About a year ago we lost that heart breaker to Notre Dame and then went on a tear to win the National Title. Still a long way to go and some great things could still happen. This Cardinal team is only a few things away from being really good.
Coach Pitino after the loss:

Montrezl after the Cardinal loss:

Terry after the Cardinal loss:

Russ after the Cardinal loss: