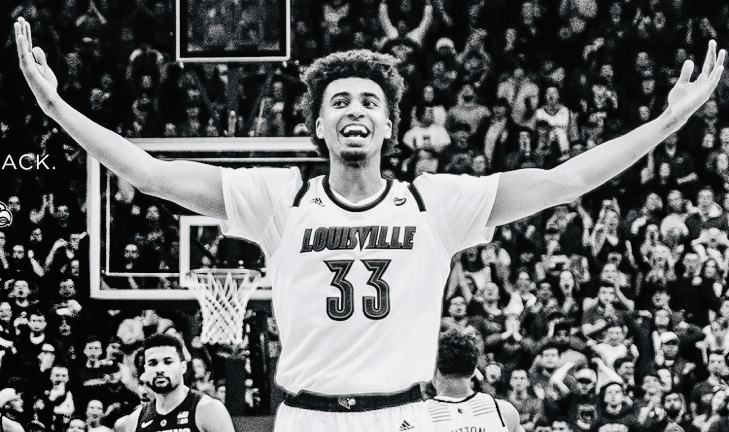 (Photo courtesy LouisvilleMBB)

Touting a consensus top 10 recruiting class and a solid group of returning veterans Coach Mack met with the local media on Tuesday afternoon to provide a summer update. Along with Coach Mack two potential ACC all teamers Jordan Nwora and Steven Enoch. None of these guys shied away from from the National Title talk and seem to be embracing the high expectations that already surround this team.
"I think you come to a place like Louisville to embrace those kinds of expectations…We're not going to run from those expectations. Those guys that came here came to win a national championship." – Chris Mack
Louisville basketball coach Chris Mack discusses Nwora and Enoch opting out of the NBA draft to stay at U of L and expectations for next season.
Both Nwora and Enoch echoed these sentiments as they addressed the media. I love it! This is the Louisville Basketball program I grew up watching. A consensus preseason top 5 team heading into the summer even the talking heads have jumped back on the Louisville bandwagon. Jeff Goodman is one of the few of them I pay attention to and he has Louisville ranked #3 in his latest preseason poll. Saying in a tweet "And yes, I also have Louisville in front of UK."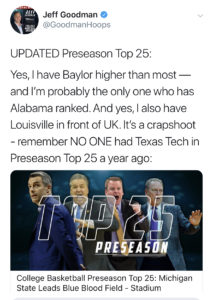 "Louisville in front of Kentucky"… That didn't take long. But talk is cheap and this team's first task will be to take back some of the respect lost in the rivalry.
Adding freshmen like McDonald's All American Samuell Williamson and the freakishly athletic basketball sensation known as the 'Irish Hulk' Aidan Igiehon along with a grad transfer named "Fresh" who comes in averaging 15.6 points in NCAA competition to a roster returning 56.7 points, and 28.1 rebounds you can't blame Louisville for having their Swag back. Right?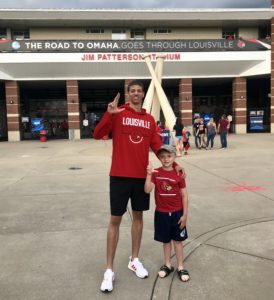 It's about time Louisville basketball and its fans get in a little chest thumping. The practice gym on Floyd Street will be bursting at the seams with basketball talent this winter. I've heard the players say Coach Mike Peques often refers to a quote found in Proverbs 27:17 "iron sharpens iron". "As iron sharpens iron, so one man sharpens another." There is mutual benefit in the rubbing of two iron blades together; the edges become sharper.
You can talk with any coach in America and they'll tell you that its the competition in practice that makes a team better. I don't think you'll find another gym in the country with a more competitive environment than the Planet Fitness Kueber Center will have.
The theme here is Swag. And there hasn't been a player in the last 10 years with more of it than Jordan Nwora. Since the first day, he walked into a Louisville gym just a young guy that knows how to carry himself. And won't accept anything less than what he intends. My favorite player I affectionately call him Swag. This dude is the biggest offseason acquisition in college hoops and its not close. Already being mentioned as a potential First Team All American by some. With his size and ability, he is one of the best players in the country. On a team like this, he will be able to just fill his role. I think that will help him become the player he wants to be. That is a good thing for the Cardinals and Jordan.
Jordan Nwora discusses passing on the NBA draft to return to Louisville
In talking about the obvious I'm not ignoring the impact Ryan McMahon (best spot up shooter in the country), Dwayne Sutton (best sixth man in the country), Malik Williams (one of the best shot blockers in the country) and Darius Perry (one of the most energetic guys) will have this season.
Folks this team is loaded and for good reason, the swagger is back. Stick your chest out and look forward to the winter ahead. I expect that the hype will only grow as we get closer. Louisville isn't just a player in the game this season they just might be the game. Louisville Basketball has its Swag back and I love it. Go Cards!