-Early Birds w/Coach P, Siva Scholar-Athlete, Cardinal Caravan
Our basketball coach Rick Pitino called into the early birds this morning on Sports radio 790am with Drew Deener. Drew and coach talked about several topics. The first thing up was Pitino's thoughts on the NBA finals. I don't really care about the NBA so I tuned that out.
Next issue was about the Rakeem Buckles transfer. Coach explained what I mentioned yesterday in my comments about the situation. He said that it came down to playing time with Rakeem. He wanted to go somewhere he could be a major contributor and give himself a chance to play at the next level.
Rick was also ask about the Stephan Van Treese situation. Sounds like he was given the option to go to Bellarmine and then return to Louisville. Coach Pitino said that Stephan and his father wanted to do their own thing.
Next topic was about new recruit Montrezl Harrell, and Coach Pitino seems very impressed with his newest young recruit. Says that he is a very aggressive player with a motor that won't stop. Coach Pitino seems very confident in his ability.
Coach was asked about the current players and how their development over the summer was going. Coach said that the players that have improved the most are Russ Smith and Kevin Ware.
It was very good to hear Coach P this morning talking about the upcoming season that will be here in about a 114 days. I can't wait. Been a long time since I've been this excited for a season to start.

(Courtesy Sports Radio 790am & Drew Deener)
In an example of brains and braun we found out today that our star point guard Peyton Siva has been named the recipient of the 2011-12 BIG EAST Conference Scholar-Athlete Sports Excellence Award for men's basketball. The award recognizes academic and athletic achievement as well as community service. Siva has a 3.41 Gpa and was named to the 2011-12 Capital One Academic All-District 2 men's basketball first team. We all knew that this young man was special. He is going to be very successful in what ever he does.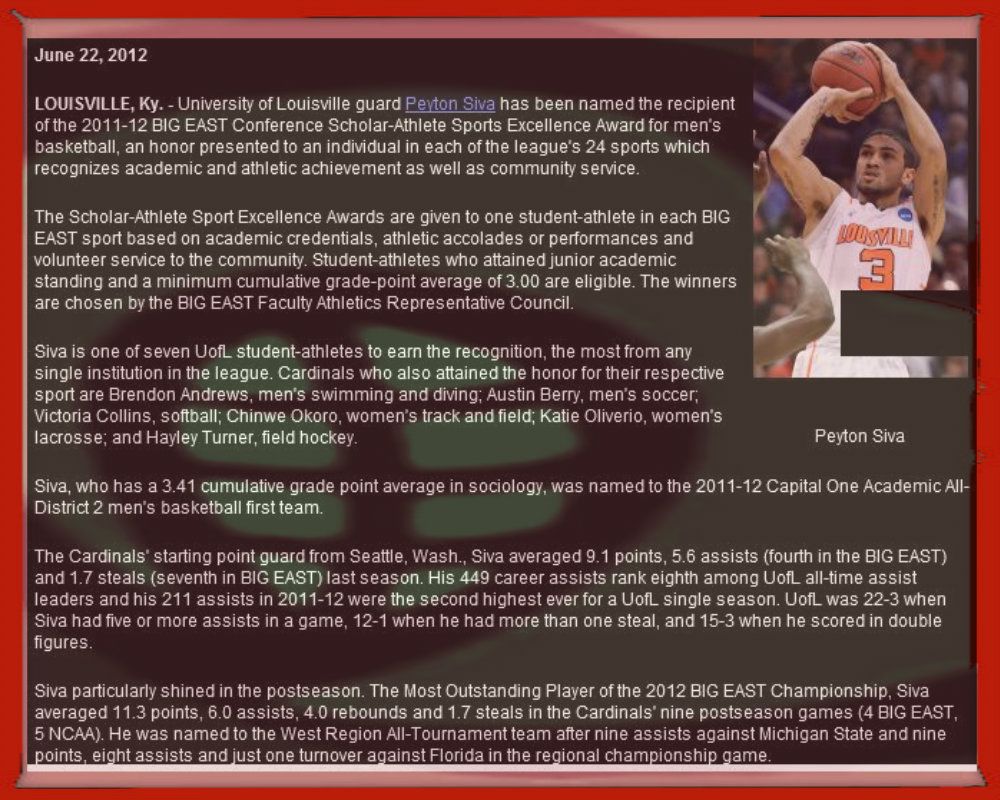 (Courtesy of UofL Sports)
And last but not least the announcement was made today about the 2012 Cardinal Caravan. We learned that the Caravan will make five stops this summer and will kick off in my neck of the woods Frankfort Kentucky. Was very excited to learn that among those traveling around with the Caravan are Cardinal basketball players Peyton Siva, Russ Smith, and Gorgui Dieng. Very excited to meet those guys and to wish them the best for the upcoming season. If you haven't been to a Caravan event I would highly suggest it. Great way to get up close and personal with the Cardinal athletic program.
Cardinal Caravan 2012: Register for any one of the Cardinal Caravans!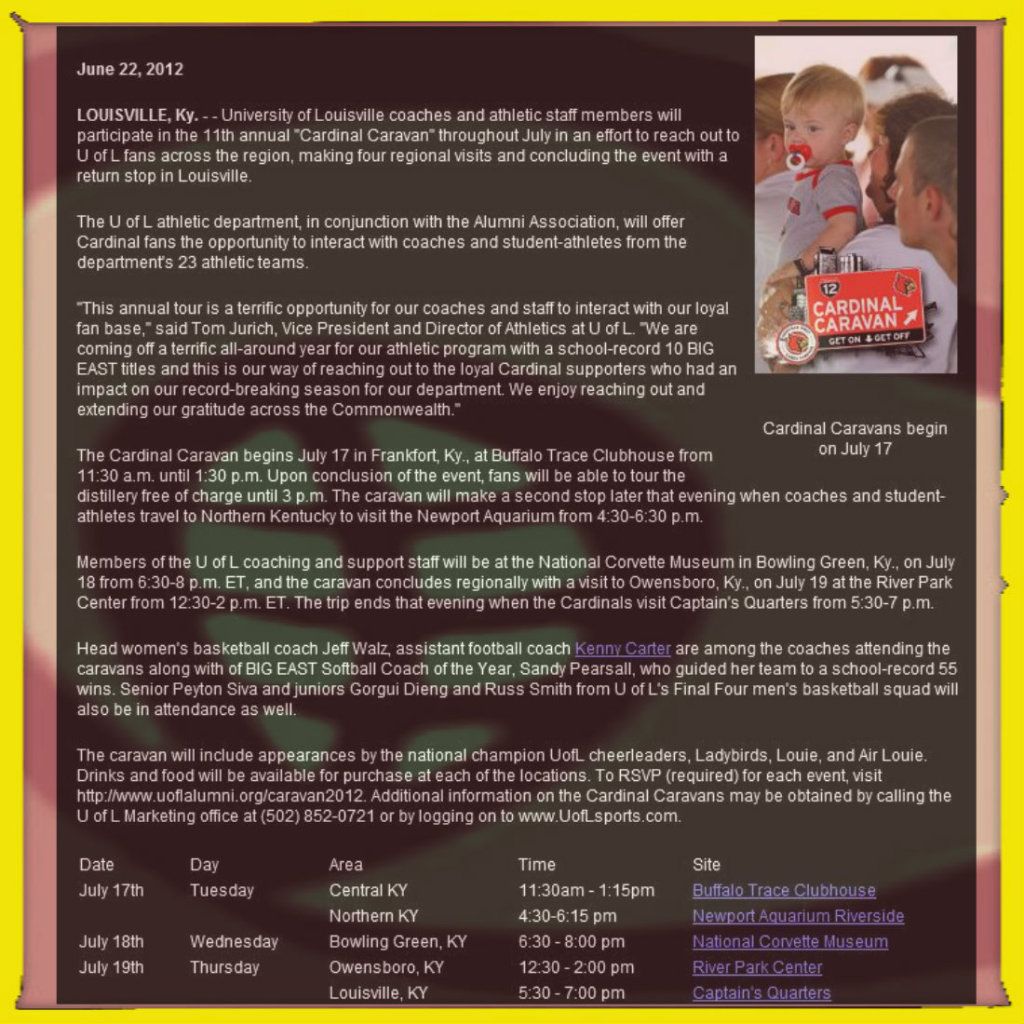 (Courtesy UofL Sports)