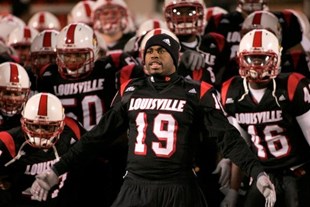 Once thought to be a cheap knockoff of College football the Thursday/Friday college game has become a staple of the season. These weeknight throwdowns started with much skepticism. Some college football fans and media folks thought that the games degraded the product. As the popularity of the mid-week game has increased that negative talk has decreased and even the NFL is now cashing in on the market.
The University of Louisville has been a part of ESPN Prime-time College Football Thursday/Friday nights since the late 90s. They were playing on Thursdays/Fridays before they were cool and now prepare for another big match-up on an ESPN Friday night telecast.
The impact Tom Jurich had on the Louisville athletic programs is nothing short of amazing, and a huge factor in all of the success especially as far as the football program is concerned can be directly linked to his willingness to be a part of ESPN's weekly college football games. Jurich was quoted after he was hired saying "The thing we need to do right away is to get exposure and get this program branded, and that is something I feel is most essential."
The Cardinals had played in mid-week games throughout the 90s, but those games were regional broadcast and it wasn't until ESPN that those games went national. Louisville football had five national telecasts on ESPN or ESPN2 during the 2001 season and mid-week games were a big reason why. In the ten years, prior Louisville had a total of 28 games broadcast.
Since 2001 Louisville has regularly appeared on national television and the surge in nationally broadcasted games is linked to Louisville's embrace of weeknight games. Jurich was quoted saying "That's helped us immensely; ESPN has helped us build this program. I look at them as a full partner."
Having the undivided attention of college football fans across the country has paid off, and the Cardinals haven't disappointed. Louisville Football is 19-14 in Friday games. And there have been some good ones in these weekly telecasts.
Ironically it was the game in 2002 against Florida State that got it all started in a big way when the Cardinals beat the #4 Seminoles in OT 26-20. In 2006 Louisville and West Virginia set the mark that I think still holds today as one of the most watched Thursday night games in ESPN history. 4,916,000 households watched the #5 Cardinals beat the #3 Mountaineers 44-34. At the time it was the second-biggest college football audience ever for an ESPN game (any day or time slot).
Thinking back about those games I'm reminded of all the highs and lows I've felt over the years. The field goal at Rutgers was probably the biggest low, but that was replaced by many highs including the Thursday night win against Rutgers that got us to the Sugar Bowl. And the game in 2013 against Cincinnati when the Cardinals took home the Keg of Nails for the final time. Most recently the big wins against UCF in some weeknight smackdowns.
Heroic performances by Cardinal greats the memories just go on and on. One of those guys responsible for some of those big moments is Michael Bush. UofL to Honor Michael Bush Friday Night
They laughed at us for playing the weeknight games but who's laughing now? I think it's been one helluva ride and I'm looking forward to that next great moment.
We may not have to wait long for another weeknight classic on ESPN at Cardinal Stadium. The Florida State Seminoles come to town looking for their first 3-0 start since 2015. Louisville is looking to build on the momentum of that big win last Friday night and for a signature win to keep moving the program forward. Should be another classic ESPN Friday night football game. Go Cards!